How to keep running during a heatwave - three common problems solved
It's hot and sweaty out there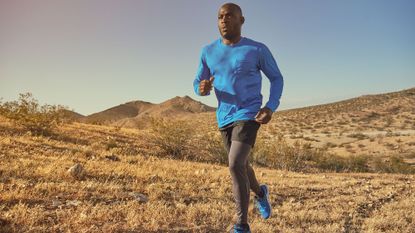 (Image credit: Getty Images)
Running in the heat can become difficult - with dehydration, chafing and overheating becoming a big problem.
Whether you're jogging 5K or training for a longer run, such as a marathon, you'll need the right clothes in order to avoid chafing, lots of water so you don't dehydrate and of course sun cream.
Chafing is a big problem and can occur anywhere on the body, says Richard Edmonds, co-founder of Runderwear, "but the thighs, groin, underarms, under breast and nipples are particularly vulnerable."
While Richard, who has just launched Runderwear's ultra-light shorts, just in time for the heatwave, added: "The repetitive movement, and skin-to-skin contact of multiple body parts, combined with sweat makes for an extremely sore feeling post-workout. Salt residue from perspiration aggravates the skin, acting like sandpaper, an irritation we just don't need!"
Choose sweat-wicking fabrics
So it's important when running in the heat, to think carefully about what you're wearing, in order to avoid chafing. "Seamless, breathable and sweat-wicking fabrics are the best choice," says Richard.
"The layers of clothing closest to the skin should be a moisture-wicking fabric, delivering sweat away from the body and minimising rubbing or irritation."
While if you want to help save the environment, while you reduce the chafing as your run, Vicky Windle, co-founder of Kit Change adds: "To avoid rubbing, lightweight, sweat-wicking, four-way stretch fabrics are the best option as they provide a smoother, softer finish on the outside which reduces any irritation on bare skin in contact with the fabric.
"Kit Change running kit is made from recycled polyester – made from waste plastic bottles- and is developed with a very high elastane content so the four-way stretch factor really works in your favour and ensures the garment only moves with you, not against you."
If you're not sure what to wear in the heat, we've rounded them up for you in our guides to the best workout shorts, and the best workout clothes for women.
Stay hydrated throughout the day

During a heatwave, pay close attention to your bodily cues. "Feeling thirsty is your body's way of telling you that you are dehydrated," says the experts at Supplements Place, "so make the effort to carry a bottle of water when you venture outside on a hot day.
"Observe the colour of your urine and if it's anything more than clear, that's your cue to reach for the water."
Richard adds that if you are dehydrated, your body is unable to flush salts away from your skin as easily, so recommends to: "Drink lots of water before, during, and after exercise, allowing you to perspire freely so the perspiration doesn't dry into salt crystals that can enhance chafing."
Lather on the suncream
Although it's lovely to run with the sun on your face, you should also be careful to cover anything that may burn or make sure you're applying your daily SPF.
Recent stats from Bondi Sands shows that only one in six Brits are actually using SPF in their daily skincare routine - which not only means red faces when you run, but it could also lead to sun stroke.
If you have a running cap, its a great time to pull it out: "Hats not only protect your head from overheating, but also prevent the premature development of wrinkles on your face and neck," adds the Supplements Place experts.
While they also advise running earlier in the day, or later in the evening: "To avoid the risk of heatstroke, if possible, minimize direct exposure to the sun between 11:00 am and 3:00 pm."
Get the Fit&Well Newsletter
Start your week with achievable workout ideas, health tips and wellbeing advice in your inbox.
Sarah is a freelance journalist who writes about fitness and wellbeing for the BBC, Woman&Home and Tech Radar. During lockdown she found her love of running outside again and now attempts to run around 50 miles a month. When it comes to other fitness, she loves a sweaty cardio session – although since she's been working out from home she's sure her downstairs neighbors aren't too happy about it. She also loves to challenge herself - and has signed up to do hiking holidays, intense bootcamps and last year she went on her dream activity holiday: paddle boarding around deserted islands in Croatia. On her rest days, she loves to recover with a simple yoga flow session – the perfect antidote to her active fitness schedule.