'I tried light therapy to see if it works – this is what happened'
Our writer dons her bikini and escaped to the 'beach' to try light therapy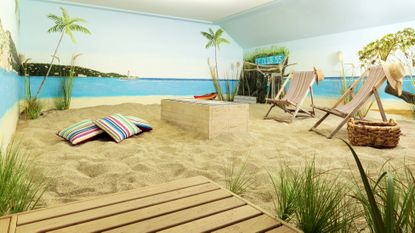 (Image credit: Ye Olde Bell Hotel and Spa)
As our feet hit the warm sand, a wall of heat washed over us as we made our way to the two deckchairs on the beach. With the sound of the waves lapping in the background, and a beautiful view of the French Riviera, we kicked our flip-flops off and settled down into our seats.
The thing is, my friend Anne-Marie and I were not actually in Italy (we are still in a global pandemic, after all). Instead we were sitting on a fake beach at a multi-million pound spa, about to try light therapy.
During the Sabbia Med sunlight treatment at Ye Olde Bell Hotel in Retford, Notts, the beach room – which is heated at a glorious 30-32C / 86F-89F - went from darkness into sunrise, then intense sunshine and back to a sunset in a 30-minute cycle.
Benefits of light therapy
Light therapy involves exposure to artificial light in order to target a range of issues associated with lack of sunlight.
As part of the Sabbia Med treatment, low levels of UV are emitted to release vitamin D, which we usually absorb through exposure to sunlight (and, to a lesser extent, foods rich in vitamin D). Sorry guys, but this treatment won't give you a tan! Sunshine is, however, meant to kick-start the metabolism, which is great if you are trying to lose a few pounds.
Meanwhile, specialised lamps are used to alleviate the symptoms of seasonal affective disorder (SAD), a type of depression brought on by the longer, darker nights in winter. And at £25 / $32 per person for half an hour, it's way cheaper than a budget flight and you don't need to queue at the airport.
What's more, light therapy has also been shown to improve various health conditions, from sleep and skin problems, anxiety to joint pain and jet lag.
Light therapy is considered relatively safe, however it's not advised for anyone suffering from bipolar disorder (as it may trigger mania). This treatment is also not suitable for epileptics because of the flickering light. If in any doubt, check with your doctor.
My light therapy experience: Sabbia Med at Ye Olde Bell
With my holiday cancelled this year thanks to Covid, walking barefoot onto hot sand with the sound of waves and seagulls ringing in my ears was instantly relaxing. The whole treatment was a real assault on the senses from the get-go, from the stripy deckchairs to the warm sand and the sounds of the seaside. The beach room was designed for ultimate relaxation and had a calming feel to it.
I loved how on the wall behind our seats was a cheeky painted beach sign pointing to destinations 'Politics', 'Stress', 'Cellulite', 'Mosquitos' 'Strike' and 'Cholesterol' – reminding us to leave our troubles behind us as we enjoyed this uplifting treatment.
The room was comfortably warm, and as we settled into the deckchairs I couldn't help feeling a little sleepy as we enjoyed the view of the French Riviera painted on the wall. As the light show began, easing us into the treatment with a gentle sunrise, I had a feeling of peace as I switched off from the daily grind and enjoyed the sounds of the waves lapping and the seagulls in the distance. All we needed was a chilled glass of rose, or an ice cream (it was only 11am, after all).
It felt deeply relaxing to just sit and 'be' as the gently flickering light got brighter and brighter then softened into a cosy sunset and eventually total darkness! With no other distractions, this is a great treatment for anyone who struggles to sit still and switch off. As we left the beach room, we both admitted to feeling really chilled out and stress-free, as if we'd just woken from a lovely nap.
Light therapy as a mood booster
One of the main benefits of light therapy is that it's said to be a natural mood booster, which is why it's so good as a treatment for SAD. Sufferers tend to feel lethargic, anxious, and unable to perform normal daily functions during winter months. Studies have shown that the light impacts our body's level of serotonin, known as the happy hormone.
I fortunately don't suffer from SAD, but I can say that the Sabbia Med light therapy left me feeling very uplifted and calm so it's a great mood booster. It's ultra relaxing and provides some much-needed escapism after a very tough few months of lockdown and uncertainty. The whole place was spotless (there was sanitiser everywhere and spa 'butlers' wiping down areas the minute someone had left). We couldn't fault the staff - they were incredibly attentive without being intrusive.
My light therapy results
Without a doubt, after light therapy I felt calm, relaxed and happy. I would recommend this treatment to anyone who needs a bit of me time, as it's a great stress buster and let's be honest, who doesn't feel good sitting in a warm room that looks and feels like a beach?
It's hard to pinpoint if it was just the treatment, or the fact that I had enjoyed 24 hours off from parenting two kids under four whilst working full-time, but I definitely left the hotel feeling calmer, lighter and more positive in general. The whole experience felt like a big hug from someone you love - and what's better than that?
Maddy stayed at the gorgeous 17th century Ye Olde Bell and enjoyed treatments at the multi-million pound spa, which has ten thermal experiences, an indoor-outdoor vitality pool, the Herb Garden Brasserie and alfresco relaxation.
Get the Fit&Well Newsletter
Start your week with achievable workout ideas, health tips and wellbeing advice in your inbox.
Maddy Biddulph is a freelance journalist specializing in fitness, health and wellbeing content. With 25 years in consumer media, she has worked as a writer and editor for some of the bestselling newspapers, magazines and websites in the US and UK.
She is also a qualified L3 personal trainer and weight loss advisor, and helps women over 40 navigate menopause by improving their physical and mental strength. At Maddy Biddulph Personal Training, she runs one-to-one and small group training for menopausal women who want to get fit to ease symptoms and feel like themselves again.