Vitamin D foods: how to top up your levels following link to coronavirus
We reveal the key vitamin D foods to eat more of - and how they can help you lose weight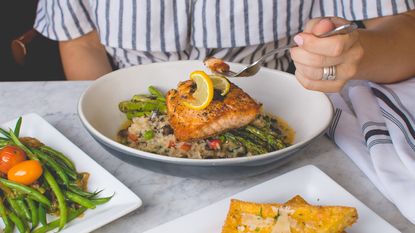 (Image credit: Unsplash)
Getting your daily dose of vitamin D isn't always possible, especially during the darker months when a key source - exposure to sunlight - is in short supply. This makes a diet rich in vitamin D foods a priority.
But why is vitamin D so important? Well, it's essential for many aspects of good health, including bone health, the immune system and general mood.
What's more, a recent study found a link between vitamin D deficiency and coronavirus.
Researchers testing Covid-19 patients at a hospital in Santander, Spain found that 82% of them also had a vitamin D deficiency.
Nutritionist Rob Hobson explains: 'Vitamin D is essential to keep your immune system in shape, which in turn means you're less likely to get poorly.'
Rob adds: 'Many people suffer from SAD (Seasonal Affective Disorder) during winter, whereas if your vitamin D levels are up, you'll find that your mood improves.'
Vitamin D is also one of the best vitamins for women over 50, playing an important role in helping to absorb calcium and prevent age-related bone fractures.
Low levels could also be bad news if you're trying to lose weight, according to the experts.
'Latest research shows that vitamin D deficiency can make you accumulate more fat, therefore making it harder to lose weight,' say Shona Wilkinson, nutritionist at Superfood UK.
Even after a week or two abroad, glum weather and working indoors during the year may mean your levels are still low, with Shona warning that one in five of us is deficient.
Public Health England recommends that everyone gets 10 micrograms (mcg) of vitamin D a day. This is easily achieved during sunny summer sunny months, but a lot harder when the days get shorter and darker.
So what can we do to naturally increase our levels? A vitamin D-rich diet is key. Below we outline the vitamin D foods that will help you hit your daily dosage, and also outline a five-day diet plan that has the added benefit of helping you lose weight.
Essential vitamin D foods
Nutritionist Rob recommends that the following foods play a major role in your daily diet to ensure you get all the vitamin D you need a day.
Salmon and other oily fish
Oily fish is rich in vitamin D, so a smoked salmon salad is perfect for lunch. Add some veg and brown rice to keep things healthy. 100g of salmon contains around 13mcg vitamin D. Other good sources include tuna, mackerel, trout, herring, sardines and pilchards.
Eggs
Forget egg-white omelettes - it's the yolk where all the vitamin D goodness lies. One large egg contains around 1mcg. Try poached eggs on toast for breakfast or whip up an easy mushroom omelette for a quick dinner. Speaking of which…
Mushrooms
When it comes to vitamin D levels, mushrooms have a magic trick up their sleeves (or should that be stalks?). 'If you put them in the sun, they'll turn the sunlight into vitamin D,' says Rob. Leave yours on the windowsill for a couple of hours before use, then opt for a mushroom stir-fry with chicken and colourful veg for dinner.
Bran flakes and other fortified foods
These include other breakfast cereals, fortified nut and plant milks, yoghurts and orange juice. Rob explains: 'In a 30g serving, you'll find a substantial amount of vitamin D.' Bran Flakes contain 2.5mcg per 30g serving.
Our five-day vitamin D food diet
Wondering how to work more of these foods rich in vitamin D into your diet? Follow our easy five-day plan to not only top up your levels, but also help burn fat and lose weight.
Day 1
Breakfast: Muesli with cranberries and milk (or nut milk such as almond). Mix 4tbsp oats, 1⁄2tbsp pumpkin seeds, 1⁄2tbsp chia seeds, 1⁄2tbsp sunflower seeds, 1⁄2tbsp unsweetened coconut flakes, 1⁄2tbsp flaked almonds, 1tbsp cranberries. Add milk as desired.
Lunch: Summer salad with sardines. Mix salad leaves, cucumber, tomato, peppers, red onion and black olives. Add a can of sardines. Dress with olive oil, red wine vinegar and black pepper.
Dinner: Mushroom stir-fry. Stir-fry 300g chopped shiitake mushrooms in a wok in hot olive oil with garlic, chilli and ginger (remember to leave them out to soak up some vitamin D first!). Mix with 1 portion of cooked pasta. Sprinkle over Parmesan, black pepper and sliced spring onions.
Day 2
Breakfast: Red pepper and goat's cheese frittata. Flash-fry some chopped red peppers and onion with olive oil. Whisk two eggs in a bowl with salt and pepper. Pour eggs over the pepper and onion. Sprinkle over some crumbled goat's cheese.
Lunch: Salad Niçoise. Mix salad leaves, tomatoes, new potatoes, green beans, red onion and asparagus with a small can of tuna and sliced boiled egg. Add vinaigrette.
Dinner: Spicy salmon with spinach and brown rice. Marinate 1 salmon fillet in chilli, coriander, cumin, paprika, salt and pepper, and bake. Serve with a handful of spinach and 1 portion brown rice.
Day 3
Breakfast: One small pot natural live yogurt with added blueberries, nuts, seeds and mint leaves.
Lunch: Grilled portobello mushroom with halloumi cheese. Grill one portobello mushroom, halved, topped with sliced halloumi. Serve in 1 wholemeal pitta bread with chopped red onion and salad leaves.
Dinner: Tuna steak with green veg and sweet potato wedges. Coat tuna with honey, soy sauce and olive oil. Pan-fry and serve with vegetables and baked sweet potato wedges.
Day 4
Breakfast: Poached egg with a good handful of wilted spinach.
Lunch: Tofu and vegetable stir-fry. Stir-fry chopped tofu and vegetables (eg, green beans, carrots, etc.) in olive oil with chilli, garlic and ginger.
Dinner: Pork chops with mushroom sauce and vegetables. Grill two small chops. Make sauce of 1tbsp cream, 3tbsp white wine, 1⁄2tbsp olive oil, herbs and veg stock. Serve with colorful veg such as carrots, broccoli and sweetcorn.
Day 5
Breakfast: One large tbsp cottage cheese with chives on 1 slice rye bread.
Lunch: Seafood salad with papaya. Mix prawns, mussels and shrimps with salad leaves, spring onions, green peppers, cucumber and sliced papaya. Drizzle with olive oil and lemon juice.
Dinner: Grilled fish with vegetables. Grill one portion fish – choose from trout, salmon, fresh mackerel or herring. Serve with a selection of vegetables.
Lucy is a freelance journalist specializing in health, fitness and lifestyle. She was previously the Health and Fitness Editor across various women's magazines, including Woman&Home, Woman and Woman's Own as well as Editor of Feel Good You. She has also previously written for titles including Now, Look, Cosmopolitan, GQ, Red and The Sun.
She lives and breathes all things fitness; working out every morning with a mix of running, weights, boxing and long walks. Lucy is a Level 3 personal trainer and teaches classes at various London studios. Plus, she's pre- and post-natal trained and helps new mums get back into fitness after the birth of their baby. Lucy claims that good sleep, plenty of food and a healthy gut (seriously, it's an obsession) are the key to maintaining energy and exercising efficiently. Saying this, she's partial to many classes of champagne and tequila on the rocks whilst out with her friends.