It only takes 15 moves and 15 minutes to develop muscle all over without weights
Build strength, boost your metabolism, and develop your core using just your body weight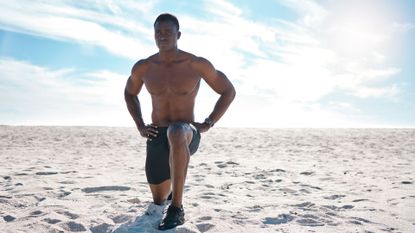 (Image credit: Getty)
Home workouts often follow a similar pattern: burpees-rest-burpees-rest, then to finish (you guessed it) more burpees. So, it's no wonder that thousands of people each month are searching for no-repeat workouts online.
This session from NASM-certified personal trainer Jay Maryniak (opens in new tab) is a prime example of this popular format, featuring 15 interesting moves performed back to back in as many minutes for a short, effective workout.
You don't need any equipment to try it either, so you can do it at the gym, at home, even at your desk in your office if you wanted to (though we're not sure we'd recommend that last one).
A yoga mat (opens in new tab) can be handy to provide a little bit of extra cushioning for your knees and forearms during some movements, but this isn't essential. If you haven't got one, you can fold up a towel to place under your knees.
To try this workout, simply find a bit of space then perform the 15 exercises in Maryniak's video below back to back. Complete 40 seconds of work for each one, rest for 20 seconds, then start the next exercise.
Watch Jay Maryniak's full-body workout
The main advantage of a no-repeat workout like this one is that it stops mid-workout boredom setting in. When you're challenged to learn a new movement each minute, you don't have time to slip into cruise control, so your mind and body stay stimulated throughout.
We also like how accessible this workout is. For each exercise, Maryniak provides modifications that are slightly easier, meaning there's something to suit most fitness levels.
Among the 15 exercises there are moves to target your chest, shoulders, core, legs, and back, so you can enjoy a comprehensive full body workout in just 15 minutes. These exercises will help you build strength and muscle, with the added benefit of raising your heart rate to burn calories and boost your metabolism (opens in new tab).
If you want to try this workout, you can use it as a standalone session or add it as a finisher to a strength training piece like this six-move beginner-friendly workout (opens in new tab).
Or, if you want a less intense way to get your body moving, you might want to try taking on these anti-aging yoga moves (opens in new tab), or starting our Pilates plan for beginners (opens in new tab).
Harry Bullmore is a fitness writer covering everything from reviews to features for LiveScience, T3, TechRadar, Fit&Well and more. So, whether you're looking for a new fitness tracker or wondering how to shave seconds off your 5K PB, chances are he's written something to help you improve your training.
When not writing, he's most likely to be found experimenting with a wide variety of training methods in his home gym or trying to exhaust his ever-energetic puppy.
Prior to joining Future, Harry wrote health and fitness product reviews for publications including Men's Health, Women's Health and Runner's World. Before this, he spent three years as a news reporter with work in more than 70 national and regional newspapers.