Juice detox diets: Why science doesn't back the popular health diet fad
Scientific studies old and new have been busting the myths about juice cleanses and detox diets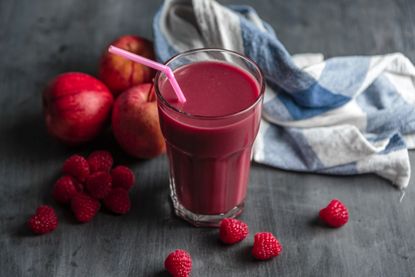 (Image credit: Francesca Hotchin (Unsplash))
Juice cleanse diets are very popular, especially for those attempting to lose weight. It's said to "detox" the body (which sounds good, but many people aren't really sure what it means) and help you in your weight loss goals.
Only 28% of the public is said to actually eat five portions of fruit and vegetables every day, so cramming all those nutrients into a single glass is a very appealing prospect.
However, there's some dubious science around the juice cleanse detox idea. We'll go through why the diet might not be all it's cracked up to be, and the takeaways you can use to benefit your health.
Juices can provide a lot of micronutrients, packing lots of vitamins and minerals into your diet. Cranberry juice, for example, is full of potassium and vitamins C, E and K, all essential for a healthy body to function.
Add in super smoothies with blended and juiced kale, carrots cucumber and other vegetables, and you've got a great micronutrient profile packed into a single healthy glass. Vegetable juices can have an oxidative function, which guards against cancer, reduce your heart disease and cholesterol risk according to a report by Harvard University.
This is all great news: increasing your servings of vegetables fends off a whole vista of healthy problems, contributing towards your five a day. However, this isn't the whole story with juices.
Juicing removes the pulp and skin of fruits and vegetable, which loses a significant amount of minerals, vitamins and antioxidants. Juicing also strips a great deal of fibre from the fruit and vegetables, which is essential for a healthy intestine.
Juices, like fruit, are very high in sugar. However, when you eat a full piece of fruit, like an orange, that is considered a single portion. In addition, one study found eating fruit whole sated an appetite much better than consuming the fruit in its liquid form.
This means if you're considering a juice-only diet, you're likely to ingest more of the high-sugar fruit than you would otherwise, with a reduced fibre and antioxidant content. It's actually healthier (and more satiating) to simply eat the fruit whole.
This also casts doubt on the juice cleanse's weight loss prospects, as you're ingesting a higher volume of sugar, which will contribute to fat storage.
Finally, the juice cleanse's reputed "detox" prospects. The UK's National Health Service defines a detox diet as "the idea behind it is that we need to periodically clear the 'toxic waste' from our body in order to stay healthy".
This toxic waste in the body are often referred to as 'toxins', or harmful substances in the body. The idea that you can "flush" those toxins out from the body is a myth, according to a separate Harvard University report.
When it comes to juice cleanses, the science seems to be to drink juice in moderation, and otherwise eat fruit whole in conjunction with a balanced diet.
Liked this?
Matt Evans is an experienced health and fitness journalist and is currently Fitness and Wellbeing Editor at TechRadar, covering all things exercise and nutrition on Fit&Well's tech-focused sister site. Matt originally discovered exercise through martial arts: he holds a black belt in Karate and remains a keen runner, gym-goer, and infrequent yogi. His top fitness tip? Stretch.