Best Fitbit deals: top savings on fitness trackers, smartwatches, and scales
The best Fitbit deals save you money on the company's top wearable fitness gadgets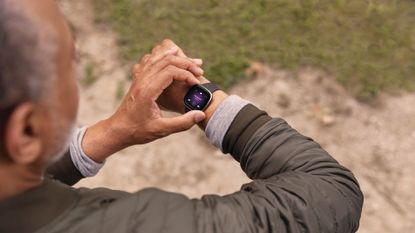 (Image credit: Fitbit)
The best Fitbit deals are a great way to invest in your health without breaking the bank. The company's fitness trackers and smartwatches are among the most popular and easy-to-use gadgets for monitoring your health and fitness.
But if you've been weighing up investing in one of the best running watches, these cheap Fitbit deals are a budget-conscious way to track your steps, keep tabs on your sleep, and monitor your heart rate.
Fitbit has an extensive range of wrist-worn trackers, so whether you're looking for a stylish smartwatch packed with features or a minimalistic fitness tracker for recording your exercise, we'll help you find the best prices available right now.
To save you hunting around for the best Fitbit deals, we've listed them all in one place, covering Fitbit's current range of trackers, smartwatches, and smart scales, so you can find a model that suits your needs and budget.
Best cheap Fitbit Sense deals
The Fitbit Sense is the company's most-advanced smartwatch to date. An electrodermal activity sensor embedded in the back of the watch can monitor your stress levels in addition to your activity, recommending guided meditations or breathing exercises during particularly tumultuous periods.
It presents them back to you in a single stress metric, just like its sleep score. This is a fantastic fitness watch with all Fitbit's usual features, including notifications, a full suite of activity tracking, and support for third-party apps.
With six days of battery life despite the super-bright OLED screen, all-day heart rate monitor, and an electrocardiogram (ECG) app. It comes in three colors, and you can customize the look of the Fitbit Sense by switching the straps.
Best cheap Fitbit Versa 3 deals
The Versa 3 is the latest model in Fitbit's ever-popular mid-range smartwatch collection. It is the first Versa with in-built GPS, so you never need to get lost on your trail runs. Its sophisticated sleep tracking functions can monitor your blood oxygen levels to keep tabs on your cardio health.
When we tested it for our Fitbit Versa 3 review, the brand's activity tracking features were here in force, with thousands of workouts available on your wrist at the touch of a button. It's got fast charging too, with a huge six days of battery life from only a couple of hours at the socket.
Best cheap Fitbit Versa 2 deals
Some of the best Fitbit deals include the ever-popular Versa 2, the predecessor to Fitbit's current mid-range smartwatch. It sports a similar design to the newer Versa 3 and has many of the same features, like step tracking, activity recording, and sleep monitoring.
In our Fitbit Versa 2 review, we liked that you can access the watch's data using the Fitbit app on your smartphone, and the watch supports Amazon Alexa for voice commands. It also integrates with Spotify so that you can control your playlists from the watch.
Best cheap Fitbit Charge 5 deals
The Fitbit Charge 5 is Fitbit's latest and greatest fitness tracker, packed full of smartwatch-style features but in a more miniature wearable. As we found in our Fitbit Charge 5 review, the wrist-worn gadget focus on helping you improve your physical health and mental wellbeing.
It has a built-in GPS for tracking your runs, heart-monitoring EDA and ECG sensors (to check your heart's electrical activity and provide data to the Charge 5's stress management tools), and menstrual health tracking. Handily, it can last seven days off a single charge, and it's water-resistant up to 50m, so you can wear it all day without worry.
Best cheap Fitbit Charge 4 deals
Now that the Fitbit Charge 5 is available, you can pick up a cheap Fitbit Charge 4, saving you money on the company's wearable tech. It still has plenty of the latest features, like an OLED touchscreen, heart rate monitor, and water resistance up to 50m.
There's also an NFC chip for making contactless payments with Fitbit Pay and a built-in GPS sensor for tracking your outdoor workouts without your phone. Plus, Fitbit has added support for Spotify for music streaming, and the Charge 4 has impressive seven-day battery life.
Best cheap Fitbit Luxe deals
Some fitness trackers have a more functional than fashionable design. That's not the case with the Fitbit Luxe, stylish addition to the company's range of wearables. It also has several jewelry-inspired swappable bands, helping you match it to your style.
The Luxe is available in four colors and includes Fitbit staples like step and activity tracking and sleep monitoring. Plus, the built-in heart rate sensor keeps tabs on your cardiovascular health, and Fitbit collates your data into a Stress Management Score to improve your wellbeing.
Best cheap Fitbit Ace 3 deals
Although many of the best Fitbit deals focus on the brand's adult-orientated trackers, you can also find discounts on Fitbit's kid-friendly wearable, the Ace 3. It comes in three bold colors with a rugged design to keep the tracker safe, no matter what's thrown at it.
The tracker is suitable for children over six and helps them stay motivated with a range of fun on-screen animations when they hit their goals. To add to the fun, there's a Family Challenge mode as a gently competitive way to keep the whole household moving too.
Best cheap Fitbit Inspire 2 deals
The Fitbit Inspire 2 is one of its entry-level fitness trackers, making it a great option if you're after a cheap Fitbit. It has an easily viewable touchscreen display and a physical button on the side to browse through the tracker's menus.
You don't miss out on Fitbit's core features, as the Inspire 2 can keep tabs on your steps, track your sleep, and monitor your heart rate all day. It has a 10-day battery life, syncs to the Fitbit app on your smartphone, and is water-resistant, so you can take it in the shower or for a swim.
Best cheap Fitbit Aria Air deals
Fitbit's smart bathroom scales track your weight and BMI, helping you spot trends and hit your fitness goals. Our Fitbit Aria Air review found that the scales sync via Wi-Fi to your Fitbit account, so you can see your weight alongside other data from your fitness tracker or smartwatch.
The Aria Air scales come in black or white to suit your bathroom decor and support multiple users, so everyone in the household can track their weight over time. And you won't need to keep charging the scales, as three AAA batteries power them.
When is the best time to buy a cheap Fitbit?
Like many tech-focused companies, Fitbit releases new models annually around late summer or early fall. Retailers then begin discounting older editions, so you can typically find the best Fitbit deals later in the year in the run-up to Black Friday.
Fitbit has been manufacturing fitness trackers since 2009 and refreshes its lineup each year. Over time, the collection has expanded from wrist-worn fitness trackers to include smartwatches and connected scales.
Although this varies each year, typically, the company will launch one smartwatch, a premium fitness tracker, and an entry-level model. These have been iterative updates to past models in recent years, like new Versa smartwatches or Charge trackers.
Our on-page tech finds the best deals and lowest prices available right now to help you save money on the latest fitness trackers and smartwatches or pick up an earlier model at the best price around.
James is a London-based journalist and Fitness Editor at Fit&Well. He has over five years experience in fitness tech, including time spent as the Buyer's Guide Editor and Staff Writer at technology publication MakeUseOf. In 2014 he was diagnosed with a chronic health condition, which spurred his interest in health, fitness, and lifestyle management.
In the years since, he has become a devoted meditator, experimented with workout styles and exercises, and used various gadgets to monitor his health. In recent times, James has been absorbed by the intersection between mental health, fitness, sustainability, and environmentalism. When not concerning himself with health and technology, James can be found excitedly checking out each week's New Music Friday releases.
With contributions from