Try Kate Hudson's 3-move leg & butt workout - it's super simple and effective
The star shared a peek at her Barre-inspired workout and the burn is real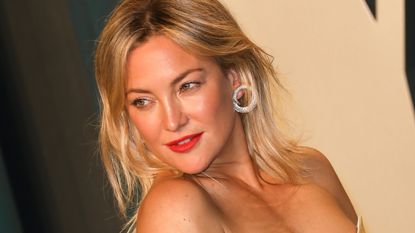 (Image credit: Toni Anne Barson/WireImage)
Kate Hudson is known for giving us a snapshot into her tough workout routine - and now she's shared some barre moves via her Instagram page.
In a new post, the 42-year-old star is seen giving her legs and glutes an intense workout, incorporating key moves you'd typically find in the best leg workouts and the best glute workouts, including lunges, standing splits and kickbacks.
The leg and glute moves are part of a longer barre workout, which Kate is known to love. The ballet-inspired workout is a great way to tone the legs and glute areas, as the small isometric movements can help you burn around 200 calories in one class.
It's clear from her smile during the workout that Kate gets a kick (no pun intended) out of the workout, as the post's caption also indicates: 'Happy legs 🍑 #keepgoing #repeatrepeatrepeat'
After seeing Kate's leg and glute workout, we spoke to Chiara Becuti, head of Pilates and barre at FLY LDN . She reveals that the key to Kate's simple barre workout being so are effective is that it exclusively involves compound movements, mixing mobility and toning.
We also spotted that Kate is wearing a set of ankle weights for her workout, which Becuti says adds extra resistance: "They weights are perfect for toning and for making sure the movement is performed with maximum precision. With the ankle weights, it's hard to swing the leg, so you will have to activate your muscles properly in order to perform the movement."
How to copy Kate Hudson's moves
For a 15 minute short burner workout, Becuit recommends doing 20 reps of Kate's three moves, repeated twice on both legs. Here's what you need to do...
"The first move is a light compound toning move, which combines mobility of the hip through a side lunge (and inner thigh stretch) then a kickback which works the glute (mainly glute max). To copy this move lean on one knee, while you lunge into the other one. Then after the lunge, kick it back behind you with the toe pointed."
"The second move is a standing split and side kick, concentrating on toning the glute medius and glute minimus. Lean on one knee, with your hands as balance and kick your leg back, out to the side and back again, then as you do, raise the leg you are knelt on and kickback."
"In the third move, she combines a ballet attitude derrière and a kickback - again, to work the glutes medius and glute minimus - and as it's performed in external rotation it's great for hip mobility. Kneel on one leg and balance on a chair with your hands, bring one leg in at an angle then flick it behind you with a pointed toe."
Kate is also a massive fan of Pilates, telling Women's Health: "I know I'm at my strongest is when I'm doing my Pilates because it never gets easier.
"The more you do Pilates the harder the things you can do become. I love how flexible I feel and I like what it does to the shape of my body."
If you're keen to copy her on that front too, check out our four-week Pilates abs workout (and invest in one of the best yoga mats to do it on).
Get the Fit&Well Newsletter
Start your week with achievable workout ideas, health tips and wellbeing advice in your inbox.
Sarah is a freelance journalist who writes about fitness and wellbeing for the BBC, Woman&Home and Tech Radar. During lockdown she found her love of running outside again and now attempts to run around 50 miles a month. When it comes to other fitness, she loves a sweaty cardio session – although since she's been working out from home she's sure her downstairs neighbors aren't too happy about it. She also loves to challenge herself - and has signed up to do hiking holidays, intense bootcamps and last year she went on her dream activity holiday: paddle boarding around deserted islands in Croatia. On her rest days, she loves to recover with a simple yoga flow session – the perfect antidote to her active fitness schedule.