Science reveals the best bedtime for improving heart health
A recent study has unpacked the best time to go to sleep in order to limit our risk of heart disease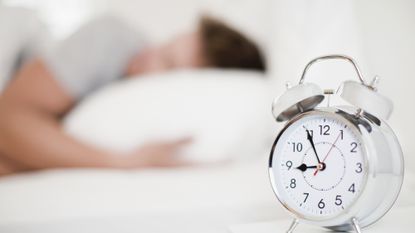 (Image credit: Getty)
As we age sleep becomes more and more important. Sleep is essential for good health whether that be or our cognitive performance or our energy levels or how it affects our mood and mental health. Scientists have recently revealed that the time we go to sleep can also play a big role in our heart health.
Many of you will already try to optimize your sleeping quality by sleeping on top of a best mattress topper in order to have as comfy a night's sleep as possible. Of course, it is beneficial to invest in ways to up your quality of sleep but it can also be important to take not of when you are getting into your bed to get some shut-eye.
Researchers at the University of Exeter have published a study in the European Heart Journal which found going to sleep between 10:00 and 11:00 pm could be more effective at lowering the risk of heart disease than going to your bed either earlier or later than these times.
They conducted the study across 88,026 Brits aged between 43 and 79, with an average age of 61 across the group. They gathered general health data from the participants first. To gain as accurate results as possible the sleep results weren't self-reported but rather accumulated via a wrist-worn accelerometer.
Looking to identify how many developed cardiovascular disease, the scientists discovered that 3,172 of the participants developed cardiovascular disease. This was highest among those who went to sleep at midnight or later.
There was a 25% greater risk of cardiovascular disease for those who went to sleep at midnight or later, a 12% higher risk for those who had a bedtime between 11:00 and 11:59, and a 24% higher risk for those who fell asleep earlier than 10:00 pm. A deeper look into the study results found that overall, women were most at risk of cardiovascular disease.
The study author, Dr. David Plans proposed why the risk was slightly higher for women. Part of his reasoning suggests that this could be due to the fact that many of the women in the study could be around the age of going through menopause - something else that increases cardiovascular risk for women.
If you are at this stage in womanhood yourself we have a list of the best menopause supplements to help ease various symptoms.
However, the main focus of the study was sleep and it concludes that going to bed between 10:00 and 11:00 pm could be best for us to avoid developing heart disease.
Dr Plans explained, "Our study indicates that the optimum time to go to sleep is at a specific point in the body's 24-hour cycle and deviations may be detrimental to health. The riskiest time was after midnight, potentially because it may reduce the likelihood of seeing morning light, which resets the body clock."
If you find that you miss out on seeing sunlight in the morning due to when you wake or perhaps it is darker where you live depending on the season, then a best sunrise alarm clock is a good way to give yourself a more natural awakening with light that mimics the sun.
Jessica is an experienced fitness writer with a passion for running. Her career in journalism began in local news and she holds a Masters in journalism. Jessica has previously written for Runners World, penning news and features on fitness, sportswear and nutrition.
When she isn't writing up news and features for Fit&Well covering topics ranging from muscle building, to yoga, to female health and so on, she will be outdoors somewhere, testing out the latest fitness equipment and accessories to help others find top products for their own fitness journeys. Her testing pairs up nicely with her love for running. She recently branched out to running 10Ks and is trying to improve her time before moving on to larger races. Jessica also enjoys building on her strength in the gym and is a believer in health and wellness beginning in the kitchen. She shares all of this on her running Instagram account @jessrunshere which she uses for accountability and for connecting with like-minded fitness lovers.