Short on time? Strengthen your core in only 10 minutes with this bodyweight routine
Improve your stability and develop a strong core with this quick workout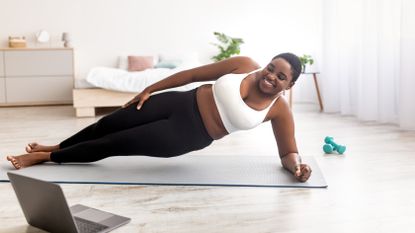 (Image credit: Getty Images/Prostock-Studio)
Core workouts aren't hard to come by nowadays. Whether you're on the hunt for a weighted routine, a bodyweight session or a tough workout to test your midsection muscles, a quick search online will return hundreds of results.
But, because there are so many to choose from, it can be hard to find one that perfectly fits your needs, especially if you're in a rush and don't have any equipment to hand. Fortunately, we've found a 10-minute routine that's ideal for a quick core hit.
The workout has been created by Mr and Mrs Muscle, a YouTube coaching duo with level three diplomas in personal training under their belts.
It exclusively using bodyweight exercises too, so you don't need any specialist gear to try it for yourself. Although, if you're working out on a hard surface, you might benefit from using a yoga mat for some added cushioning.
Check out the routine from the trainers below and try to mirror their form to make sure you're using the right technique for each exercise.
Watch Mr and Mrs Muscle's core strengthening routine
Despite the two terms being used interchangeably, there are a few differences between your core and your abs. Your abdominal muscles, which include your rectus abdominis six-pack abs muscles, form just a fraction of your core.
Your core is a section of mid-body muscle responsible for connecting your upper and lower body. Strengthening this area helps improve your balance and stability, with your core playing a crucial role in compound exercises like kettlebell swings which constantly pull you off balance.
This routine is broken into three rounds of four exercises targeting different muscles within your core, developing comprehensive midsection strength. If any of the moves look tricky, the trainers have helpfully provided slightly less challenging modifications of each exercise.
If you're new to core and abs workouts like this, you'll likely feel sore the next day. This is known as delayed-onset muscle soreness (or DOMS) and is caused by tiny tears in your muscles fibres that your body needs protein to repair.
This is why many people use supplements like the best protein powders for weight loss in a post-workout shake to promote recovery.
Lois Mackenzie is a fitness writer producing news, features, buying guides and reviews for Fit&Well and sister site Coach. She is an avid runner and hill walker, and can often be seen sporting her trusty waist lead as she trains for her first marathon with her two border collies in tow. Lois has a Master's in Digital Journalism from Strathclyde University and was previously a senior SEO reporter at Newsquest Media Group.