Should I get the flu shot this year? All your vaccine questions answered
Is the flu shot safe? Could it give you flu? And does it work against Covid-19? Our experts explain all...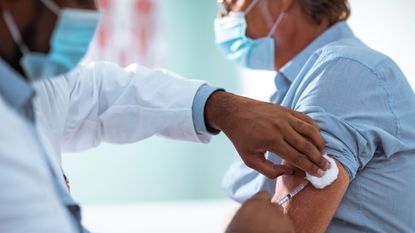 (Image credit: Getty Images)
It's that time of year again when vaccination for the winter flu begins. But, this year, there's the added complication of Covid-19.
In the UK, the NHS is doubling up on the number of free jabs offered, from 15 million to 30 million, whilst in the US the Centers for Disease Control and Prevention (CDC) are stressing the importance of getting a shot this winter.
Why is getting a flu shot important?
'Flu can cause severe illness, and can be fatal in vulnerable people,' says Dr Rob Hicks. 'Those in at-risk groups are more likely to develop serious complications of the flu, such as pneumonia.'
What's more, like coronavirus, flu can spread quickly and affect millions. 'On average, 17,000 die from flu each year in the UK,' says pharmacist Pareena Patel. 'The jab can help reduce incidences and mortality.'
How does the flu shot work?
The shot stimulates your body's immune system to make antibodies to fight off the flu virus. 'Vaccines aim to generate the same long-lived immunity we would get following a naturally-occurring infection without the disease burden experienced during a live-virus event,' says Dr Walton.
Why do I need to have a flu shot every year?
The flu bug changes, so last year's jab won't offer ongoing protection. 'The surface structure of the virus changes as part of the battle against the human immune system alongside mixing with other strains of influenza,' says Dr Ross Walton, an immunologist and founder of A-IR Clinical Research.
'The ability of the immune system to detect the virus after such a change is significantly reduced. Therefore, a new vaccine is generated each year, which incorporates key components of the current circulating viruses during that season. This facilitates ongoing protection even as the virus changes.'
When should I get the flu shot?
The earlier the better. 'Once administered, the flu vaccine takes around two weeks to become effective,' explains Pareena. 'So it's important to book your vaccine as early as you can, to help provide protection for longer.'
Does the flu shot work against Covid-19?
No. 'Vaccines provide protection against specific pathogens and provide little or no cross-protection against even linked or associated infections,' says Dr Walton. But having the flu jab will help reduce the spread of flu this winter, easing the pressure on medical services, which could still be dealing with the unprecedented demand of the pandemic.
It could also help your immune system. 'Both the winter flu and Covid-19 viruses can have an impact on the respiratory system,' explains Anne. 'So if you can prevent flu, it can be a huge benefit to your overall health.'
Does the flu shot give you the flu?
No. 'Vaccines do not involve delivery of live, replicating virus and therefore cannot lead to a viral infection,' explains Dr Walton.
'The exception to this rule is the nasal flu vaccine, which is given to children,' says Pareena. 'The nasal flu vaccine does contain a live dose of flu. However it's weakened, so will still not cause flu in healthy individuals.'
You may experience slight soreness at the site of the injection. 'Some people develop a raised temperature and aching muscles a couple of days after having a flu vaccination, which is the body's response to having a vaccination,' says Dr Hicks.
Side effects of the nasal spray can include a runny or blocked nose, headache and loss of appetite.
Is the flu shot free?
In the US, there are various ways to get a free flu shot. Many insurer providers cover the cost of the shot, so check your plan. If you're covered, you can get it at your doctor's surgery, urgent-care centers, some local pharmacies such as Walgreens, CVS, Duane Reade and Rite Aid, and other stores including Wegmans and Walmart.
Some colleges and employers also offer free flu shots, so check your entitlement.
Meanwhile in the UK, the flu jab is available free on the NHS to anyone deemed 'at risk'. This includes everyone aged 65 and over because, once we pass middle age, our immune systems weaken and don't respond to viruses as well. It's also offered to adults and children with weakened immune systems or underlying health conditions, such as heart or respiratory disease or diabetes, and to pregnant women.
This year, there are also plans to offer the jab free to everyone over the age of 50 to help reduce the strain on the NHS from the COVID-19 pandemic.
If you don't fall into one of these groups, you can get the flu jab at pharmacies such as Boots, Lloyds and Rowlands, and at in-store pharmacies in supermarkets including ASDA and Tesco.
The flu shot and reduced dementia risk
Older people who get their yearly flu jabs are less likely to develop Alzheimer's, according to recent research from the University of Texas. The study linked the vaccination to an almost 6% reduced risk of developing the disease over 16 years for patients aged 75-84.
Scientists want to conduct more research to find out whether the jab has protective qualities or whether it means that people who keep up to date with it look after their health better generally through diet and exercise, which is known to help lower your chance of dementia.
Tanya has written about health, fitness and lifestyle for the past 20 years. She is currently Health Editor of Woman's Weekly and writes regularly for women's lifestyle titles including Woman & Home, Woman and Woman's Own. She has also written for newspapers such The Express and Australian titles where she spent a year travelling and working. Tanya is an avid runner, and is a particular lover of parkruns and half marathons. She completed the London Marathon in under four hours – but that was 20 years ago, and she hasn't been brave enough to run that far again since. Although she thinks next year might be time! She's also a keen tennis player and walker who has climbed Kilimanjaro and the UK's three highest peaks (Ben Nevis, Snowdon and Scafell Pike). Post-lockdown, Tanya walked half of the 100-mile South Downs Way, "dragging" her family - two teenage daughters, one husband and a loopy Weimaraner called Luna - with her. She plans to walk the other half soon – when the rest of the family are back talking to her!