Covid-19 linked to vitamin D deficiency - here's how to up your intake
New research underlines the need for maintaining vitamin D levels, especially during the winter months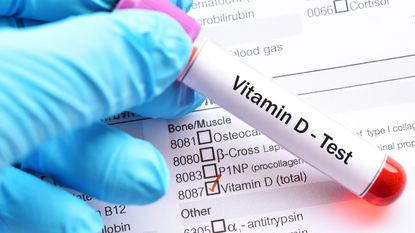 (Image credit: Getty Images)
Get the Fit&Well Newsletter
Start your week with achievable workout ideas, health tips and wellbeing advice in your inbox.
Thank you for signing up to Fit And Well. You will receive a verification email shortly.
There was a problem. Please refresh the page and try again.
Researchers testing recent COVID-19 admissions to a hospital in Spain have found that large numbers had low levels of vitamin D. Their findings have been published in a new study, following tests conducted at the Marqués de Valdecilla University Hospital in Santander.
The research revealed that of 216 people tested, 82% of the coronavirus patients had a vitamin D deficiency. Women were less affected than men. By comparison, researchers found that only 47% of people in a control group without the virus had low levels of the vitamin.
Another key finding from the research highlighted increased serum levels of inflammatory markers such as ferritin, which tend to rise as the body battles with an infection. However, the researchers found no connection between depleted vitamin D levels and the severity of symptom in COVID-19 patients.

Vitamin D is primarily absorbed by the body through exposure to sunlight - however, during the winter months the sun is not usually strong enough to facilitate absorption of the required quantities.
Plus, as the days grow shorter and colder, time spent outside reduces. This is set to be an even bigger health issue this year, with a study commissioned by Healthspan finding that one in four admitted the lack of commute and Covid-19 restrictions mean they will spend even less time outside.
Health experts therefore frequently remind us how keeping up our vitamin D level is vital at this time of year - and why it is so important. Alongside its ability to help maintain healthy bones and teeth, vitamin D can help your body absorb calcium. Crucially though, vitamin D can boost your immune system and aid muscle function.
Taking a supplement between October and March is one sensible way to boost your intake. In the US the recommended dietary allowances ranges from 10 micrograms for babies up to the age of 1 year, 15 micrograms for children and adults up to 70 years rising to 20 micrograms for the over 70s.
For the UK, the NHS advises that babies up to the age of 1 year need 8.5 to 10 micrograms of vitamin D a day. Children from the age of 1 year and adults need 10 micrograms of vitamin D a day.
Upping your intake of vitamin D foods can also help raise your levels. Try integrating more salmon and other oily fish into mealtimes as a starting point.
Not a fan of fish? The yolks of eggs are well known for their vitamin D properties, while mushrooms are also a great source of the vitamin. In fact, if you pop a punnet of your favourite 'shrooms on a sunny windowsill for an hour or two, they will become even more vitamin D enriched in time for a healthy stir-fry come dinner time.
If you're wondering what other vitamins you should take, supplement your vitamin D levels by boosting your iron, omega-3, selenium, vitamin B12 and calcium intake, for a well-rounded package of measures that can help fend off a raft of winter woes.
Vitamin D deficiency in the winter month often contributes to Seasonal Affective Disorder (SAD), too. If you find yourself feeling low, consider investing in one of the best SAD lamps, which use light therapy to boost mood.
Get the Fit&Well Newsletter
Start your week with achievable workout ideas, health tips and wellbeing advice in your inbox.
Tech expert Rob Clymo covers multiple bases when it comes to both reviewing and staying in shape, tackling everything from cars and bikes to coffee machines, as well as the latest fitness kit. Keen cyclist Rob can often be found working out, usually by manhandling very large kitchen appliances in and out of the house for testing purposes – one notorious incident saw his plasterwork damaged by LG's weighty and steam-powered 'smart wardrobe', the Styler.