Strengthen your abs without sit-ups using this six-minute core workout
Boost your balance, improve your stability, and make every day lifting tasks easier with this short routine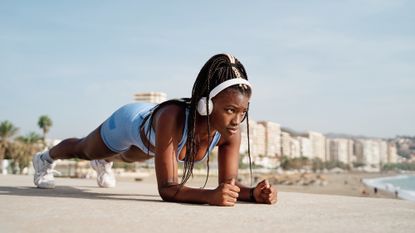 (Image credit: Getty Images)
Sit-ups have been synonymous with abs workouts for decades. But, while this classic exercise can be effective, we can't help but feel it is a bit, well... boring.
Luckily, there are plenty of other fun, effective ways to train your midsection muscles, with several on show in this six-move workout from the London Fitness Guy (real name James Stirling).
What's more, none of them need any equipment, so you can do this session pretty much anywhere. The only thing you might want is a yoga mat for some extra cushioning on hard floors.
Stirling suggests completing the six moves as a circuit, performing them for 40 seconds each with a 20-second rest in between. You can do this once through for a six-minute ab-focused routine, or repeat the sequence a further three times for a 24-minute workout.
It's important to get the technique right so that you engage your core and don't accidentally arch your back instead. So, watch Stirling's demonstrations for each of the exercises, set a timer, and get stuck in.
Watch the London Fitness Guy's abs workout
When people use the term abs, they are usually referring to the muscles on the front of the stomach responsible for the six-pack shape—or rectus abdominis, to give them their proper name.
The primary role of these muscles is flexing (bending) the spine, so strengthening them is important. However, the difference between abs vs core training is that the latter will hit all the muscles connecting your upper and lower body.
Exercises like the bear taps and hip raises in Stirling's workout will hit deep core muscles like the spine-stabilizing transversus abdominis, while twisting movements like the plank rotations target the obliques (sometimes colloquially called the side abs).
Developing these muscles can help you improve your balance, coordination and posture, as well as taking the strain off your lower back when lifting things. So, by strengthening these areas, Stirling's workout offers a far more comprehensive core workout than a couple of sit-ups or crunches.
However, training your muscles hard causes tiny tears to form and leads to delayed-onset muscle soreness (DOMS). You can help your body repair with a post-workout smoothie packed with the protein you need to strengthen and grow your muscles.
Harry Bullmore is a Fitness Writer for Fit&Well and its sister site Coach, covering accessible home workouts, strength training session, and yoga routines. He joined the team from Hearst, where he reviewed products for Men's Health, Women's Health, and Runner's World. He is passionate about the physical and mental benefits of exercise, and splits his time between weightlifting, CrossFit, and gymnastics, which he does to build strength, boost his wellbeing, and have fun.
Harry is a NCTJ-qualified journalist, and has written for Vice, Learning Disability Today, and The Argus, where he was a crime, politics, and sports reporter for several UK regional and national newspapers.