These are the most accurate heart rate monitors - and why you should use them
Heart rate monitors track workout performance and overall health and researchers have found the most accurate options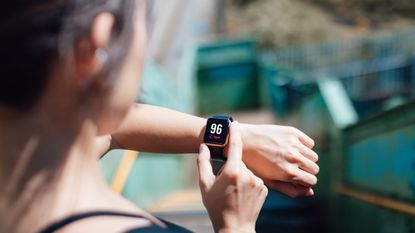 (Image credit: Getty Images)
Heart rate monitors are standard in healthcare settings, though they've become increasingly popular for monitoring your heart during exercise. These relatively inexpensive devices attach to your body and send data back to your smartphone so you can track your rates over time.
If you're interested in keeping tabs on your cardio performance, it's worth picking up any of the best heart rate monitors. Researchers have helpfully found the most accurate consumer monitors you can buy if you need a medically reliable option.
The study, which included several smartwatches and heart monitor straps, found that some devices were more accurate than others when compared against ECG readings. The participants were asked to wear a three-lead ECG alongside a Polar H7 chest strap and two randomly assigned wrist-worn monitors.
The test units included the Apple Watch Series 3, Fitbit Ionic, Garmin Vivosmart HR, and TomTom Spark 3. At the time of the study, these were some of the most top-of-the-range choices and were widely available in many shops.
Once attached to the trackers, the participants ran on a treadmill for a brief period to elevate their heart rate. The exercise started at 4 miles per hour before graduating up to 9mph. Following the tests, the researchers found that the Polar H7 chest strap was the most accurate, followed closely by the Apple Watch.
The remaining devices all performed similarly, though not as accurately as the chest strap and Apple-branded smartwatch. This isn't necessarily an issue, though, as it depends on your reasons for wearing a monitor in the first place.
Your heart rate is a good measure of your overall health and cardiovascular performance. Generally, you want to exercise to lower your heart rate over time so that you have a resting heart rate between 60 and 100 beats per minute and reach around 150bpm during intense exercise.
If you want to track performance and changes over time, the most crucial thing is consistency, so you wouldn't want to jump to a different brand with wildly different methods or results. But it's not essential that the device accurately mirrors medical-grade equipment, so long as it's close.
Conversely, health-related monitoring should be as accurate as possible, especially if you're using it to inform healthcare decisions or detect sudden heart rhythm changes. For instance, the Apple Watch can notify you of irregular heartbeat, so it's reassuring its measurements almost resemble the ECG readings.
The research highlights that investing in a dedicated heart rate monitor gives the most accurate results. However, many of the best fitness trackers also come with heart rate monitoring. So, it's worth picking one up if you're looking for a stylish, practical device for exercise tracking.
James is a London-based journalist and Fitness Editor at Fit&Well. He has over five years experience in fitness tech, including time spent as the Buyer's Guide Editor and Staff Writer at technology publication MakeUseOf. In 2014 he was diagnosed with a chronic health condition, which spurred his interest in health, fitness, and lifestyle management.
In the years since, he has become a devoted meditator, experimented with workout styles and exercises, and used various gadgets to monitor his health. In recent times, James has been absorbed by the intersection between mental health, fitness, sustainability, and environmentalism. When not concerning himself with health and technology, James can be found excitedly checking out each week's New Music Friday releases.