This 20-minute HIIT workout is all you need to burn fat and get stronger
This short, no-equipment Joe Wicks workout raises your heart rate for effective results in no time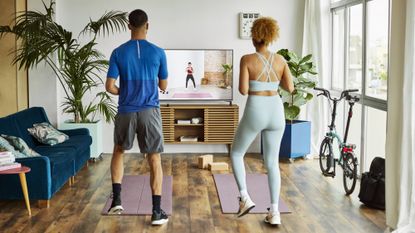 (Image credit: Getty Images)
Between work, family, and social activities, it's not always easy to fit a long exercise session into your schedule. Fortunately, Joe Wicks' high-intensity workout burns fat and builds muscle in just 20 minutes.
There's a place for home exercise equipment like the best treadmills or the best rowing machines, but there are plenty of routines you can do without equipment from anywhere that are ideal for a quick session when you have a spare moment.
This session from personal trainer Joe Wicks, also known as the Body Coach, is designed to target your whole body in just 20 minutes and includes moves like burpees, running on the spot, squat jumps, and lunges.
Wicks makes use of a technique called High Intensity Interval Training (HIIT), where the aim is to keep the intensity up throughout, so you'll exercise for 40 seconds, take a 20-second rest, and then move on to the next activity.
He demonstrates each move, so you can follow along to perfect your form and get the most from the routine. This will keep your heart rate high and deliver fat-burning, muscle-building results for hours after you finish.
Watch Joe Wicks' 20-minute HIIT workout
Wicks, best known for his PE with Joe live YouTube workouts in 2020, focuses on accessible routines that you can do anywhere with little equipment. Generally, you'll only need a set of the best adjustable dumbbells, even for the weighted exercises.
Although he tends to demonstrate with fixed-weight dumbbells, it's worth having an adjustable pair for at-home workouts. They combine several dumbbells into one and quickly change mid-exercise, which is excellent for HIIT routines.
If you're after something more low-impact, Joe Wicks' 10-minute joint-friendly workout is ideal for staying active later in life. As there are no jumps or runs, it also makes a quiet option for those of us living in an apartment.
You can keep track of your training and monitor your progress with one of the best fitness trackers. These wrist-worn devices log your exercise, record your steps, analyze your sleep, and monitor your heart rate.
And whether you're just starting or an experienced exerciser, these intense sessions work your muscles hard, so it's worth using one of the best foam rollers to promote recovery and reduce soreness after your workout.
James is a London-based journalist and Fitness Editor at Fit&Well. He has over five years experience in fitness tech, including time spent as the Buyer's Guide Editor and Staff Writer at technology publication MakeUseOf. In 2014 he was diagnosed with a chronic health condition, which spurred his interest in health, fitness, and lifestyle management.
In the years since, he has become a devoted meditator, experimented with workout styles and exercises, and used various gadgets to monitor his health. In recent times, James has been absorbed by the intersection between mental health, fitness, sustainability, and environmentalism. When not concerning himself with health and technology, James can be found excitedly checking out each week's New Music Friday releases.