This guy chronicles his eating disorder brought on by social fitness content
Too much of anything – even health – can be a bad thing, as YouTuber Josh Brett recounts his battle with orthorexia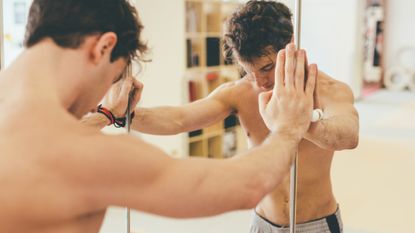 (Image credit: Getty Images)
Sometimes, there are times when being a little unhealthy is good for you. Treating yourself to a burger or slice of pizza when out with friends. Having a lie-in. Looking at the big picture means realising that living a healthy, balanced life means not obsessing over your image, and a little of what you fancy does you good – however, there are an increasing number of people who find it very difficult to strike that balance.
There's no denying a session on the best treadmill or best elliptical machine is good for your health, whether you're training for a marathon or you want to lose a few pounds. But some people take an obsession with health and fitness into dangerous territory, spurred on by influencers offering deceptive means to achieve unrealistic physiques.
YouTuber Josh Brett (opens in new tab) is one of those people. In a new YouTube video essay, Brett charts his journey from healthy, active teenager who took part in sports such as soccer and karate, to a fitness obsessive who was blending tuna into smoothies, suffering from poor performance, lethargy, depression symptoms and declining mental health.
"I was progressing fine until I remember seeing a series of images that changed everything," said Brett. An endurance athlete, he saw loads of fitness memes about how sickly and frail adult marathon runners looked in comparison to cyclists, bodybuilders and other muscular athletes. His journey led him to bodybuilding forums, where he saw posts decrying a 225lbs bench press as not manly enough. "They were talking about how you should only wear a vest if you're 200lbs and lean. At the time, I could barely bench press the bar."
Watch YouTuber Josh Brett's battle with orthorexia here:
Even though Brett was, by his own admission, a fit and healthy young man, he wanted to gain muscle, and began obsessively following influencers. YOu can listen to his full account of that time in his life in the video below:
"I felt like I was struggling to keep up, feeling skinny and malformed. I ended up eating so clean, that I couldn't chew the can of plain tuna I was supposed to eat as my meal." So he blended it and chugged it down, in order to hit his protein intake for the day.
"I would eventually binge-eat random things, such as a whole loaf of bread... I began adding weights to my schoolbag, and wearing ankle-weights around the house. I kept trying a range of exclusionary diets, hoping each one in turn would be superior."
What is orthorexia?
Orthorexia nervosa is an obsession with healthy eating. This can range from overdoing fasting to excluding food groups and eating only what you percieve as being "healthy". Many popular diets, such as the ketogenic diet, Atkins diet and more focus on cutting out certain food groups, but there's a reason many of these diets are unsustainable when taken to the Nth degree – reaching the point where it's actually detrimental to your health.
Orthorexia can often come about by consuming too much fitness content, and "despite a focus on eating, orthorexia nervosa may lead to malnourishment, loss of relationships, and poor quality of life" according to research (opens in new tab).
At Fit&Well, we publish a lot of articles about losing weight, building muscle, getting flexible and eating healthy. But these goals should be in service of a better quality of life, and never be the cause of feeling down about yourself. A healthy life should be a happy life, and vice versa.
Matt Evans is an experienced health and fitness journalist and is currently Fitness and Wellbeing Editor at TechRadar, covering all things exercise and nutrition on Fit&Well's tech-focused sister site. Matt originally discovered exercise through martial arts: he holds a black belt in Karate and remains a keen runner, gym-goer, and infrequent yogi. His top fitness tip? Stretch.