This guy just did 4,100 pull-ups in 24 hours, breaking a world record
Truett Hanes took on the gruelling 24-hour pull-up maration challenge, taking a toll on his back, arms and hands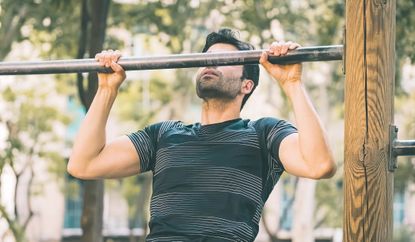 (Image credit: Getty Images)
On 7th September, Truett Hanes posted a video online documenting his experience doing 4,100 pull-ups in 24 hours. He was challenged to do so by the previous record holder: former Navy SEAL, author and "productivity personality" David Goggins, who managed 4,030 pull-ups in the same time frame.
If you're just learning how to do a pull-up for the first time, this might seem like an impossible achievement, but Janes is no stranger to exhaustive fitness challenges: his father, Cameron Hanes, is said to run a full marathon at least twice a week, lifts weights and hunts game animals like elk for their meat with an 80lbs compound bow.
It's unbelievable how much of a toll this sort of thing takes on the body. Hanes' hands alone became thick with blisters and sores. But he did it, and seemed to take it all in his stride. You can watch the incredible feat of calisthenics fitness below.
Watch the record-breaking pull-up achievement below:
How is this possible?
To get good at pull-ups, you have to do a LOT of pull-ups. One way to do this is to get a pull-up bar installed in your house, or a temporary one to hang onto your door-frame. While you might not be able to do 4,100 pull-ups in a day, you will develop a stronger set of lats, back muscles, shoulders, biceps, core and forearms if you do a couple of pull-ups every time you walk through that door.
Pull-ups are what people call a compound exercise, working multiple sets of muscles at the same time. It's one of the best muscle-building bodyweight exercises you can do. Along with push-ups, which works the opposite set of muscles – namely chest and triceps instead of back and biceps – you can get a complete upper-body workout with variations on those two moves alone.
Our how to do a push up guide can tell you everything you need to know about different move variations.
Finally, it's all about endurance. You need to be able to keep moving, and keep doing pull-ups, long after your mind quit. While you can only get better at doing more pull-ups by, well, doing more pull-ups, you can improve your cardiovascular, endurance and mental toughness with long runs. Hanes regularly follows his father into insane fitness challenges, reportedly running as many as 90 miles straight, according to the elder Hanes' appearance on the Joe Rogan Experience podcast.
If you've never trained for an endurance challenge before, this half-marathon training plan is a good place to start.
Matt Evans is an experienced health and fitness journalist and is currently Fitness and Wellbeing Editor at TechRadar, covering all things exercise and nutrition on Fit&Well's tech-focused sister site. Matt originally discovered exercise through martial arts: he holds a black belt in Karate and remains a keen runner, gym-goer, and infrequent yogi. His top fitness tip? Stretch.