This three-move ab workout builds core strength without crunches
You don't need sit-ups and crunches to work your abs, boost your balance, and improve your stability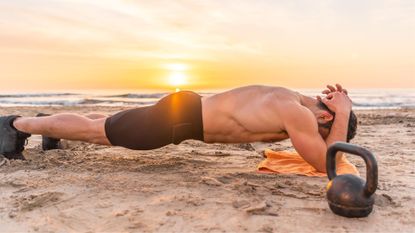 (Image credit: Getty)
Sit-ups and crunches are the quintessential ab exercises, but there are better ways to build comprehensive core strength.
We've found a kettlebell workout capable of challenging all your core muscles by using a range of movement patterns rather than just flexing your spine. What's more, there isn't a sit-up in sight.
If you don't have one of these weights, you can shop the top options on the market with our handy guide to the best kettlebells. (opens in new tab) Otherwise, you can use a dumbbell, weight plate, or even full rucksack to give these exercises a go.
The exercises have been selected by personal trainer and kettlebell specialist Pavel Krotov (opens in new tab). If you want to combine them into a workout, perform each movements for 40 seconds, rest for 20 seconds, then move on to the next exercise.
Repeat this three-move circuit three times through for a challenging ab workout in just nine minutes. Be sure to follow Krotov's demonstrations to perfect your form. This will make sure you hit the intended muscles and reduce your risk of injury.
Watch Pavel Krotov's kettlebell ab workout
Sit-ups (opens in new tab) and crunches (opens in new tab) require you to flex (or curl) your spine, but that's a small portion of the core's overall purpose.
A strong core is also responsible for providing stability to the spine and improving your balance, as well as allowing your trunk to bend and rotate. These factors are pivotal in most sports, as well as everyday tasks like carrying your shopping.
The core is more than just one muscle too. The rectus abdominis is the best-known element, responsible for the six-pack shape people associate with abs, but you should never overlook the likes of the transverse abdominis, and the internal and external obliques.
These muscles are key for stabilising your spine and aiding twisting movements respectively. That's why the best ab workouts (opens in new tab) (like this one from Krotov) should work the core through multiple planes of motion.
As this is such a short workout, it works well as a finisher for a longer workout. It would also work well as an add-on to a longer resistance (or weight) training session, like this six-move gym workout for beginners (opens in new tab) or our selection of the best leg workouts for building strength (opens in new tab).
Harry Bullmore is a fitness writer covering everything from reviews to features for LiveScience, T3, TechRadar, Fit&Well and more. So, whether you're looking for a new fitness tracker or wondering how to shave seconds off your 5K PB, chances are he's written something to help you improve your training.
When not writing, he's most likely to be found experimenting with a wide variety of training methods in his home gym or trying to exhaust his ever-energetic puppy.
Prior to joining Future, Harry wrote health and fitness product reviews for publications including Men's Health, Women's Health and Runner's World. Before this, he spent three years as a news reporter with work in more than 70 national and regional newspapers.