This workout helps you stay independent as you age—Here's how
Use this kettlebell workout to improve functional strength and make everyday tasks feel easier as you age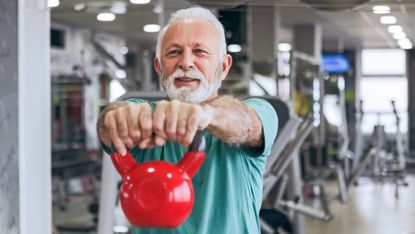 (Image credit: Getty)
The older you get, the more important it is to maintain good functional strength. Functional strength training will help you to perform everyday tasks and activities with less difficulty and it doesn't require lots of equipment or time.
This form of training is beneficial because it works multiple muscles at once, mimicking everyday movements such as squatting, which we all do as we sit down. Other exercises like learning how to deadlift properly or how to do a push up properly will also fall under the functional strength umbrella.
You can just use your own bodyweight for functional training but if you'd also like to increase your muscle mass and develop strength then this functional bodybuilding training method is a good shout.
Six-time CrossFit Games athlete, Marcus Filly, created this blend of workouts and you can give it a go with his twelve-minute total-body kettlebell routine.
All you will need to complete this workout is a couple of weights; one that is light for the first circuit and another that feels moderate for you to complete the second circuit with. Filly uses kettlebells for this workout, and you can find two for yourself from our best kettlebells roundup.
Total-body functional strength workout
As you progress through the workout, you will cover exercises that involve hinging, pressing, and single-leg training - all of which aid your ability to complete everyday tasks on your own. The whole routine is split into two parts and you will complete three rounds of each.
You might prefer to follow it at your own pace. If so, you will find a list of the exercises included in each circuit below. Be sure to keep one of the best water bottles for the gym nearby to keep hydrated as you work out.
Strength workout circuit 1
Swing
Single arm
Swing press
Single arm press single-leg
Single arm rack split squat rotation
Half-kneeling chop and lift
Strength workout circuit 2
Swing
Single arm clean press
Single arm push press
Single-leg
Goblet cossack squat rotation
Half kneeling windmill
The CrossFit athlete who also works as a fitness trainer wrote that this type of training develops strength, muscle mass, mobility, and conditioning. It can also be a good preventative tool for burnout or injury from other exercise.
In terms of how it impacts aging, research proves that it won't hurt to place more emphasis on functional strength training. For example, this systematic review published in the European Review of Aging and Physical Activity journal concluded that this form of training may be a better option for improving elderly adults' ability to perform activities and daily tasks than strength training alone.
The study especially emphasized that the best gains are achieved when the training closely mimics everyday activities. So don't worry if the workout above looks too demanding for your fitness level. Regular practice of things like squats and lunges will also help to build up muscle strength in your legs.
The stronger we are in these types of exercises the stronger you should feel later in life when you're older and are carrying out tasks like walking to the shop or bending down to pick up something without difficulty.
Always remember and stretch out after any workout you do, using a best foam roller will help to relieve any tensions in your muscles.
Jessica is an experienced fitness writer with a passion for running. Her career in journalism began in local news and she holds a Masters in journalism. Jessica has previously written for Runners World, penning news and features on fitness, sportswear and nutrition.
When she isn't writing up news and features for Fit&Well covering topics ranging from muscle building, to yoga, to female health and so on, she will be outdoors somewhere, testing out the latest fitness equipment and accessories to help others find top products for their own fitness journeys. Her testing pairs up nicely with her love for running. She recently branched out to running 10Ks and is trying to improve her time before moving on to larger races. Jessica also enjoys building on her strength in the gym and is a believer in health and wellness beginning in the kitchen. She shares all of this on her running Instagram account @jessrunshere which she uses for accountability and for connecting with like-minded fitness lovers.