Three unexpected changes that happen when you give up dairy
Ditching this dietary staple could improve your health, reduce the risk of disease, and strengthen your body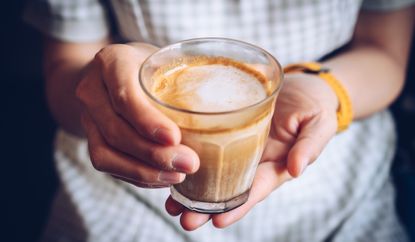 (Image credit: Getty Images)
For many people, milk is a staple of their daily diet. The dairy product gets added to coffee, cereals, protein shakes, and many other food products. Most of us will have heard the supposed benefits of milk, like stronger bones and high protein levels.
However, there's growing evidence that milk may actually make your bones more brittle, negatively impact your health, and increase your risk of disease. Fortunately, if you need a plant-based option for muscle building, many of the best protein powders are vegan-friendly and can be made with alternative milks.
Despite its reputation as a source of protein, milk also includes lactose, a type of sugar. While some people can digest it without issue, many find it challenging and suffer from lactose intolerance, a medical condition with a range of symptoms affecting almost 2 in 3 people.
It can be a severe condition, though it's possible to have mild symptoms which you might not have linked to lactose intolerance. The symptoms include diarrhea, nausea and vomiting, stomach cramps, bloating, and gas, and these should resolve themselves if you ditch the dairy.
These uncomfortable effects usually show up with two hours of consuming dairy, but there are longer-term problems. Researchers have linked increased milk consumption with a higher risk of breast cancer, while a separate study found that the milk protein casein was associated with prostate cancer.
Decades of public health messaging and ad campaigns told us drinking milk improves bone strength, except even this well-known benefit may also not be true either. A long-term study followed 96,000 participants over 22 years to consider the link between milk consumption and bone health.
Across the decades, there were 1,226 hip fractures in women and 490 in men. Despite accounting for fewer injuries, the researchers found that each additional glass of milk during teenage years caused a 9% increase in the risk of hip fracture in men.
This is one of the most extended studies on bone strength and milk intake, but it's not the only reason to think that drinking milk doesn't make your bones stronger.
Whether you choose to ditch the dairy entirely or want to cut back, it's worth picking up one of the best vegan cookbooks for plenty of great dairy-free recipes.
James is a London-based journalist and Fitness Editor at Fit&Well. He has over five years experience in fitness tech, including time spent as the Buyer's Guide Editor and Staff Writer at technology publication MakeUseOf. In 2014 he was diagnosed with a chronic health condition, which spurred his interest in health, fitness, and lifestyle management.
In the years since, he has become a devoted meditator, experimented with workout styles and exercises, and used various gadgets to monitor his health. In recent times, James has been absorbed by the intersection between mental health, fitness, sustainability, and environmentalism. When not concerning himself with health and technology, James can be found excitedly checking out each week's New Music Friday releases.