Try 30 days of daily yoga to improve your mental health and all-round wellbeing
Yoga with Adriene's latest free 30-day yoga calendar is a great introduction to the benefits of a regular yoga practise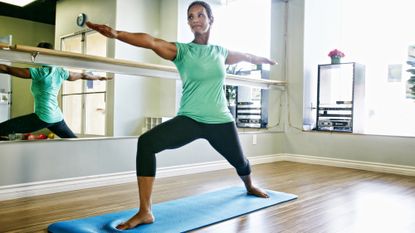 (Image credit: Getty Images)
If you're finding the return to pre-pandemic life a little overwhelming after the past 18 months, you might want to build a regular yoga practice. Sometimes referred to as moving meditation, yoga is a way to settle a busy mind, bring calm to your body, and focus on the present moment.
Fortunately, it's easy to get started: once you've invested in one of the best yoga mats, we highly recommend checking out Yoga with Adriene's latest 30-day calendar yoga plan.
The popular online yoga teacher - who has over 10 million YouTube subscribers - releases a downloadable planner with links to daily YouTube yoga sessions each month.
These are usually videos already available on her channel, but she curates the month's playlist on a specific topic. The plan for September 2021 is based around Reset, with classes tackling social anxiety, meditation, renewal, creativity, and stress relief.
As the yogi herself writes, "September is a time for new beginnings, as the seasons change, as many return to adopt habits that will help focus for school, for work, and for healthy habits that serve us mentally, emotionally, and physically. And, as we continue to navigate the unknown, show up for social change, September is also and perhaps, above all, remembering to find joy."
If this sounds a little too much like self-help to you, the good news is that yoga's ability to reduce stress and anxiety, protect against depression, and even help you lose weight are all scientifically proven benefits of the practice.
If you're a complete newcomer to yoga, don't worry - it's easy to get started. Why not try our 30-minute yoga flow below, which is perfect for all levels including beginners.
Of course, few teachers would suggest taking up yoga specifically to lose weight, but a study published in 2016 found that the combined effect of the yoga community, improved mood, and healthier eating habits all contributed to a lower weight.
Similarly, past research has linked a regular yoga practice with increased HDL levels, the so-called 'good' form of cholesterol, which protects your cells, has an anti-inflammatory effect, and transports excess cholesterol to the liver.
Recent investigations have even found that yoga may reduce migraine headaches by up to 50% too. Alongside reducing physical pain, the practice can help our mental health, too, as there's evidence that yoga reduces stress, anxiety, and depression.
This is partly thanks to yoga's stimulation of the parasympathetic nervous system rather than the fight-or-flight response of the sympathetic nervous system. The breathing techniques you learn help you breathe deeply through your diaphragm, activating the parasympathetic nervous system and bringing awareness to the present moment.
At this point, the evidence for yoga's positive effects on our bodies and minds is undeniable. Whether you're a seasoned practitioner or a relative newcomer, it's worth trying out some of Yoga with Adriene's free Rest sessions this month, taking a class at a studio near you, or trying our five-minute morning yoga routine.
That said, if yoga isn't your thing, you can get many similar benefits from learning how to mediate instead. You don't have to choose one practice over the other either, as they complement one another. Though, it's also worth investing in one of the best diffusers for essential oils to bring an all-day sense of calm to your home too.
James is a London-based journalist and Fitness Editor at Fit&Well. He has over five years experience in fitness tech, including time spent as the Buyer's Guide Editor and Staff Writer at technology publication MakeUseOf. In 2014 he was diagnosed with a chronic health condition, which spurred his interest in health, fitness, and lifestyle management.
In the years since, he has become a devoted meditator, experimented with workout styles and exercises, and used various gadgets to monitor his health. In recent times, James has been absorbed by the intersection between mental health, fitness, sustainability, and environmentalism. When not concerning himself with health and technology, James can be found excitedly checking out each week's New Music Friday releases.