Try this 12 days of Christmas challenge for a full-body workout in just 10 minutes
12 moves, 10 minutes and no equipment needed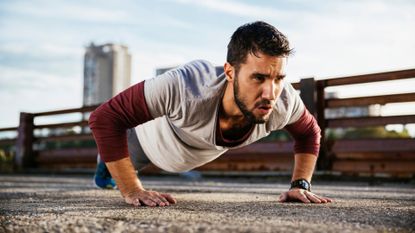 (Image credit: Getty)
There's a reason Christmas is considered "the most wonderful time of the year"; time with friends and family, tasty food, festive movies... the list goes on. However, the holiday season isn't something people often associate with working out.
It makes sense then that, if you do find time to exercise amid the festivities, you'll want a fun, accessible session that gives you a great workout without taking hours out of your day. If that's the case, look no further than the London Fitness Guy's (opens in new tab) 12 days of Christmas challenge.
Using exclusively bodyweight movements, this workout is sure to put your fitness to the test and work every major muscle group in your body. As a result, you don't need any special equipment to try it for yourself (though the extra cushioning of one of the best yoga mats (opens in new tab) is always appreciated during floor exercises).
It's quick too. There are 12 exercises and you only have to perform each one once. The exercises get progressively easier, but the twist is that with each new move you add an extra repetition on to your set.
You start with one commando plank before moving on to two butterflies, then three tuck jumps, four toe taps and so on. Try to keep rest times to a minimum and finish it as fast as possible, while keeping good form. If you want a challenge, aim to complete all reps in under 10 minutes, or add an extra round to really feel the burn.
Watch the London Fitness Guy's video below to find out what exercises await you, and keep a close eye on how he performs each one to learn the correct technique.
Watch the London Fitness Guy's 12 days of Christmas workout challenge
This workout is a good option if you're looking for a HIIT workout for fat loss (opens in new tab). Using a combination of compound exercises (opens in new tab) (movements that use multiple joints and muscle groups), intense bursts of activity and minimal rest times, it will raise your heart rate and burn an impressive amount of calories in a short space of time.
Don't just take our word for it though. A study published in The Journal of Strength and Conditioning Research (opens in new tab) found that high-intensity interval training (HIIT) burned more calories than endurance cycling or a steady-state session on one of the best treadmills (opens in new tab).
The London Fitness Guy's session is also efficient, activating several major muscle groups in lightning-quick time. Squats, tuck jumps and lunges will work your legs and glutes, push-ups recruit your chest, triceps and shoulders, and there are some of the best ab workouts (opens in new tab) like jack knives and climbers thrown in for good measure too.
So, you can enjoy a full-body burn in less than 10 minutes — consider it a Christmas gift from the Fit&Well team.
Harry Bullmore is a fitness writer covering everything from reviews to features for LiveScience, T3, TechRadar, Fit&Well and more. So, whether you're looking for a new fitness tracker or wondering how to shave seconds off your 5K PB, chances are he's written something to help you improve your training.
When not writing, he's most likely to be found experimenting with a wide variety of training methods in his home gym or trying to exhaust his ever-energetic puppy.
Prior to joining Future, Harry wrote health and fitness product reviews for publications including Men's Health, Women's Health and Runner's World. Before this, he spent three years as a news reporter with work in more than 70 national and regional newspapers.