Use Chris Hemsworth's eight-move ab workout to build core strength
The Thor actor has shared his 'go-to core workout' — and you don't need a gym to try it for yourself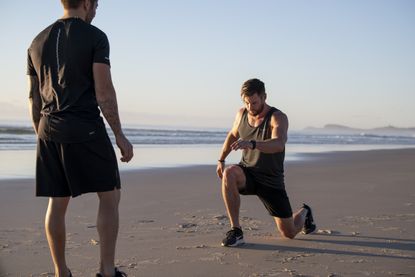 (Image credit: Centr )
Ever since he made his bow as Thor, God of Thunder, in 2011, it's been common knowledge Chris Hemsworth is in fighting fit shape. But, while the Australian actor is known for training hard in the gym, he recently revealed his go-to core workout doesn't need much equipment at all. As if to prove this point, Hemsworth shared a video of himself on Instagram completing the session on board a boat.
The only tool the Marvel star uses is a medicine ball (though a pair of the best adjustable dumbbells (opens in new tab) are visible in the background, presumably for more boat-bound muscle-building workouts). However, if you don't have a medicine ball, you can substitute this for a dumbbell, kettlebell, or even a full backpack for the purposes of this accessible session.
In his Instagram video, which you can watch below, Hemsworth (opens in new tab) demonstrates eight ab workouts (opens in new tab) and describes how to use them as part of an effective core workout. To begin with, you need to perform 10 repetitions of each exercise as a circuit, resting as little as possible between them; this is one round.
Rest for 60 seconds at the end of each round to get your breath back and allow your abs to recover slightly, then it's time to launch into the next. The workout is complete when you've finished five rounds and performed each exercise 50 times (giving you an impressive 400-rep total for the session).
He then leaves his army of more than 56 million Instagram followers with some advice for tackling the workout, along with a few words of encouragement.
"Try at your own pace but keep pushing yourself! Follow along and don't stop until you hit 50 reps! You've got this!"
Watch Chris Hemsworth's eight-move core workout
With its high volume and minimal rest times, Hemsworth's favorite core workout (opens in new tab) is an example of high-intensity interval training (or HIIT, as it's commonly known). This training method has become increasingly popular over the last two decades thank to its time-efficient approach to exercising. It also tends to use minimal equipment, making it a great option for those working out at home.
But the benefits don't begin and end with its practicality. HIIT has also been shown to have many health benefits. A review published in the British Journal of Sports Medicine (opens in new tab) concluded that HIIT if an effective way to improve VO2 max, decrease body fat percentage and lower resting heart rate.
Hemsworth's session is also better than many ab workouts as it works multiple muscles within the core — which is made up of several components including the rectus abdominis (or six-pack abs, as they're colloquially known), obliques and the transversus abdominis. These are responsible for bending, twisting and stabilizing your mid-section, respectively.
So, moves like the butterfly sit-up will work the rectus abdominis, bicycle sit-ups will call the obliques into action, and the transverse abdominis will be engaged during bird dogs, giving you a comprehensive core workout.
To help with post-workout DOMS (delayed onset muscle soreness), it's important to get enough protein in your diet to promote recovery. The best protein powders for weight loss (opens in new tab) help keep you topped up for lean muscle growth, especially if you use one of the best blenders for protein shakes (opens in new tab) to turn them into a tasty after-exercise snack.
Harry Bullmore is a fitness writer covering everything from reviews to features for LiveScience, T3, TechRadar, Fit&Well and more. So, whether you're looking for a new fitness tracker or wondering how to shave seconds off your 5K PB, chances are he's written something to help you improve your training.
When not writing, he's most likely to be found experimenting with a wide variety of training methods in his home gym or trying to exhaust his ever-energetic puppy.
Prior to joining Future, Harry wrote health and fitness product reviews for publications including Men's Health, Women's Health and Runner's World. Before this, he spent three years as a news reporter with work in more than 70 national and regional newspapers.