Try this six move leg workout for the ultimate thigh burn
Build and tone the muscle in your thighs with this no-equipment, speedy workout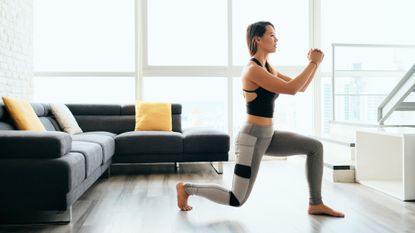 (Image credit: Getty)
If you think that you have to use weights to strengthen and tone your legs - we have good news. Using only your body weight along with the right exercises can effectively help you to build stronger and leaner legs (and other muscles for that matter).
If the idea of building in an extra bit of resistance to your workouts is appealing but you don't like the idea of weights then it might be worthwhile building in some best resistance bands to your workouts. They can be a safe and effective way to provide muscle-building tension. But this is just one way to upgrade strength building workouts.
Blogilates founder, Cassy Ho, is known for her creativity when it comes to finding game changing workout hacks and, more often than not they require zero equipment.
In a recent Instagram post the online fitness star shared a six move workout that will push you through a thigh burning leg set in what she calls a 'killer leg combo'.
The post includes clips of her performing examples of each move. While they may look simple, each exercise requires a good level of stability and strength to get maximum results from the quick and easy to follow leg workout.
Watch how to do the six move leg workout:
Ho specifies how many reps you should carry out for each move - we have listed them below for you to try out yourself.
Leg swings = 15 each side
Single heel plié = 25 each side
Double heel plié = 20 each side
Plié relevé pusles = 25 each side
Narrow squat pulse = 25 each side
Duck squats = 12 each side
The variation of exercises will workout your legs, targeting the thighs especially, helping you to tone and build muscle there. This is an area of the lower body that is used to perform everyday tasks and plays an important role in helping your body to maintain good balance.
All the moves in Ho's set are classed as callisthenics. Callisthenic exercise is a form of resistance training that simply uses bodyweight to strength train instead of using traditional weights like the barbell or dumbbells.
This 2018 study is an example of how effective callisthenic exercises are. The researchers sought out to discover if callisthenic push up training is as effective as bench press training for improving muscle strength and thickness. They found that using different progressive variations of callisthenic exercises can improve muscle strength.
Cassey Ho's video is just one example of how versatile your workouts can be without incorporating traditional gym-style weights into them. She uses six body weight moves to target one area of the body.
Of course, it's really important you are consuming enough protein with your everyday diet and especially if you are regularly engaging your muscles in strength training.
Eating adequate amounts of protein will help you to maintain muscle and promote muscle growth. If you don't think you eat enough naturally, we can help you find a best protein powder for women in one of our guides. Protein powder can be blended into a shake, or a fruit smoothie or into a bowl of oats.
Jessica is an experienced fitness writer with a passion for running. Her career in journalism began in local news and she holds a Masters in journalism. Jessica has previously written for Runners World, penning news and features on fitness, sportswear and nutrition.
When she isn't writing up news and features for Fit&Well covering topics ranging from muscle building, to yoga, to female health and so on, she will be outdoors somewhere, testing out the latest fitness equipment and accessories to help others find top products for their own fitness journeys. Her testing pairs up nicely with her love for running. She recently branched out to running 10Ks and is trying to improve her time before moving on to larger races. Jessica also enjoys building on her strength in the gym and is a believer in health and wellness beginning in the kitchen. She shares all of this on her running Instagram account @jessrunshere which she uses for accountability and for connecting with like-minded fitness lovers.