Use this 10-minute stretching routine boost your flexibility and soothe aching muscles
Relieve muscle aches caused by sitting at a desk all day with this short stretching sequence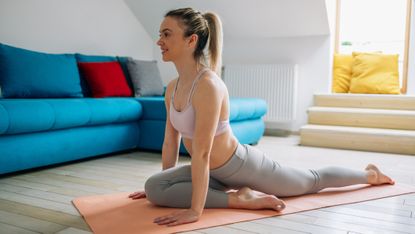 (Image credit: Getty)
After scheduling in time for work, socializing, and exercise, finding space in your day to work on your mobility can feel a stretch too far.
Luckily, you don't need to spend hours stretching to benefit your body and mind. This simple routine from certified Pilates instructor Georgia Weibel, founder of the Pilates With Georgia app, takes less than 10 minutes.
"I love to show people the importance of slowing down and nourishing your body with slow yet intentional movements," Weibel told Fit&Well. "The benefits not only affect your body, but also your mental health and performance."
This routine consists of four stretches that will mobilize your entire body. For the first three moves, flow into each pose, hold it for one or two deep breaths, then ease out of it, repeating this sequence eight times. Hold the final stretch (butterfly pose) for one minute.
Watch Weibel's videos below for a demonstration of each movement, then unroll your yoga mat and get ready to stretch.
Watch Pilates With Georgia's four-move stretch routine.
This routine is designed to be completed slowly and intentionally, so don't rush through the poses. Moving slowly will help you get a deeper stretch and relax your mind—a welcome change of pace from your hectic schedule.
As a result, it's a great low-cost self care idea. You don't have to be a dedicated yogi to appreciate that taking some deep breaths and moving your body gently can improve your mood and help you manage stress.
As a more moderate, stretching-based style of Pilates, Weibel's session has plenty of physical health benefits to offer too. It can help reduce your risk of injury by relieving tension in aching muscles and improving your flexibility, counteracting stiffness caused by sitting at a desk all day.
Ready to take your flexibility to the next level? This 25-minute full-body stretch routine can help undo the damage caused by sitting at a desk all day. You can also invest in one of the best foam rollers to massage trigger points in your aching muscles.
Alice Porter is a freelance journalist covering lifestyle topics including health, fitness and wellness. She is particularly interested in women's health, strength training and fitness trends and writes for publications including Stylist Magazine, Refinery29, The Independent and Glamour Magazine. Like many other people, Alice's personal interest in combining HIIT training with strength work quickly turned into a CrossFit obsession and she trains at a box in south London. When she's not throwing weights around or attempting handstand push-ups, you can probably find her on long walks in nature, buried in a book or hopping on a flight to just about anywhere it will take her.