Want to lower your cholesterol? Science suggests a heaped teaspoon of mustard a day
Add a kick to your meals and help to improve your heart health with this yellow sauce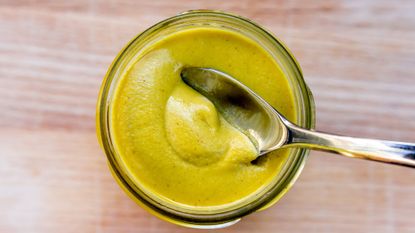 (Image credit: Getty)
If you are someone who likes their food to have a bit of a bite, whether that be an added kick to your greeny salads or perhaps on the side of a protein packed steak night, then science has got some good news for you. Adding wholegrainmustard to your meals can improve your blood glucose and cholesterol levels helping to prevent serious diseases like diabetes.
You may already take action to protect your blood sugar levels and cholesterol by consuming things like the best vitamins for over 50s or best fish oils supplements which can offer various health benefits. But you aren't limited to just taking a tablet or two and could in fact be consuming something more flavourful with your meals.
A new study presented at the European Federation of Food Science and Technology (EFFoST) has revealed that a heaped teaspoon (10g to be exact) of wholegrain mustard eaten everyday can help you achieve healthy blood glucose levels and cholesterol levels.
The study was carried out by Tracklements in association with Cardiff Metropolitan University who recruited 51 individuals to eat 10g of wholegrain mustard everyday for twelve weeks. The participants ate the mustard on a small cracker before bed for the duration of the study.
The researchers discovered that 86% of participants experienced a significant drop in either their blood glucose levels or cholesterol levels, and in some cases a decline in both.
Why does this matter?
The body requires glucose (sugar) to provide it with a source of energy. But if our blood sugar levels are too high you may be at risk of damaging your blood vessels - the British Heart Foundation states this. They say that high blood sugar levels may mean that you have either type 1 or type 2 diabetes or you are at high risk of developing type 2 diabetes.
Secondly, it is sensible to try keep your cholesterol levels low by adopting a healthy lifestyle of eating well and keeping as active as possible. If you aren't making a habit of this you could be at risk of heart disease or a stroke. This 2019 study published in the British Medical Journal found that high levels of bad cholesterol (LDL), as an adult, can increase your risk of cardiovascular disease in later life.
Lola Biggs, registered dietician at Together Health told Fit&Well, "Mustard seeds have been used as food and even medicine for centuries".
She adds that mustard seeds and leaves are associated with health benefits ranging from reducing inflammation, protecting against infection and lowering blood sugar levels (as the study above highlights).
Three tips on how to consume more mustard in your diet - from a dietician:
A homemade dressing using honey and mustard is often much healthier than shop bought and is easy and quick to make. It consists of a mix of of natural honey, wholegrain or Dijon mustard, apple cider vinegar, extra virgin oil, a pinch of sea salt and a grind of black pepper.
A great twist on festive sprouts, add a tangy mustard and garlic dressing to bring out the flavour when roasted.
Mustard also works well with fish. Take one part honey, one part wholegrain mustard, olive oil, a dash of lemon juice and salt mix, and pour over salmon fillets before baking.
Jessica is an experienced fitness writer with a passion for running. Her career in journalism began in local news and she holds a Masters in journalism. Jessica has previously written for Runners World, penning news and features on fitness, sportswear and nutrition.
When she isn't writing up news and features for Fit&Well covering topics ranging from muscle building, to yoga, to female health and so on, she will be outdoors somewhere, testing out the latest fitness equipment and accessories to help others find top products for their own fitness journeys. Her testing pairs up nicely with her love for running. She recently branched out to running 10Ks and is trying to improve her time before moving on to larger races. Jessica also enjoys building on her strength in the gym and is a believer in health and wellness beginning in the kitchen. She shares all of this on her running Instagram account @jessrunshere which she uses for accountability and for connecting with like-minded fitness lovers.