Weight loss: Why dieting DOESN'T work if you want to lose weight
Studies have shown dieting is actually a predictor of weight gain. It's better to eat healthy for weight loss than yo-yo diet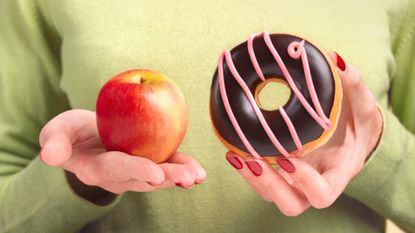 (Image credit: Getty Images)
Diets are big business when it comes to weight loss. You only have to look at the thousands of diet plans lining bookshelves, or different brands of the best protein powder for weight loss, to know everyone wants to find the key to getting slim quickly. However, studies have shown most calorie-restricted or extreme diets are actually bad for us – instead, we should just be adhering to general healthy principles rather than go through six-week cycles of dieting and binging.
One study in particular, published by researchers from Columbia University and Drexel University, looked at this phenomenon in more detail. Looking at 25 different studies, they found a common trend: People who followed temporary diets were more likely to gain weight in the future. On the other hand, people who exhibited "restrained eating" on a regular basis were less likely to do so.
The study's authors said: "Dieters and restrained eaters do not differ in terms of an underlying proneness toward weight gain, but restrained eating represents a more effective means of preventing it.
"Normal weight individuals who diet do so because they are resisting a powerful predisposition toward weight gain which dieting ultimately fails to prevent."
The study's authors believe dieting to prevent weight gain is actually ineffective in the long term, and rather than following an unsustainable diet plan, regular "restrained eating" habits are more effective. These habits could include portion control, cooking healthy meals, drinking water and limiting your intake of high-salt, high-sugar foods.
If you're not sure where to start in developing a "restrained eating" approach to life, the four tips above are a great place to start. Portion control helps to recognise what constitutes a healthy plate and teaches you not to overstuff yourself at meal times.
Research from the Cleveland Clinic finds we often mindlessly eat portions far too big for us: instead, we should incorporate the Japanese mindful eating practice of Hara Hachi Bu and eat until you're 80% full. Our guide to portion control can help you here.
Cooking healthy meals on a regular basis is another great habit to get into: while you might still treat yourself to the occasional burger, browsing the net will yield plenty of healthy, wholesome recipes that can be prepared in minutes. A word of warning: even healthy stuff like vegetables can have calories added to them by frying them in butter or oil. Instead, try using our best steamers or one of our best grill list to prep your food in guilt-free fashion.
Finally, drinking water has been proven to help you lose weight. One study found drinking water before meals can help curb your appetite slightly in addition to all the benefits that come with good hydration. Everything from your energy levels to the function of your internal organs takes a nosedive when you're dehydrated.
Matt Evans is an experienced health and fitness journalist and is currently Fitness and Wellbeing Editor at TechRadar, covering all things exercise and nutrition on Fit&Well's tech-focused sister site. Matt originally discovered exercise through martial arts: he holds a black belt in Karate and remains a keen runner, gym-goer, and infrequent yogi. His top fitness tip? Stretch.