Women or men: Who's better at getting fit, burning fat and losing weight?
This new study tells us why women in general, and fit people in particular, tend to burn fat more efficiently than most men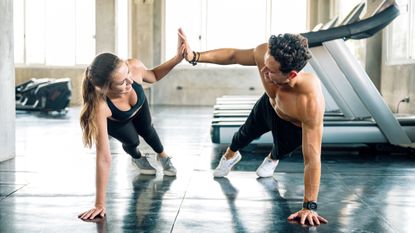 (Image credit: Getty Images)
The factors and mechanisms that influence the body to burn fat have always been a bit of a mystery. We know the basics – calories in, calories out – but for a long time, we didn't really know why some people seem to hold onto fat and others seem to drop weight quite quickly. Some of us can try a few of the best exercises for weight loss and see the weight fall off, while for others, it takes a long time. Thanks to a new study, however, we're a bit closer to understanding why.
The study, published by researchers at the University of Bath's Centre for Nutrition, Exercise & Metabolism, studied the various factors that most influenced individuals' capacity to burn body fat when undertaking endurance sports.
The first part of the study involved 73 healthy adults aged between 19 and 63. It tested the lifestyle and biological factors for burning fat by asking the participants to take part in a cycling fitness test and organising the results based on their day-to-day lifestyles.
Their results were surprising. The study found that women and those men who were physically fitter burned fat more efficiently, right across the age ranges.
Ollie Chrzanowski-Smith from the University of Bath said: "Our study found that females typically have a greater reliance upon fat as a fuel source during exercise than males.
"Understanding the mechanisms behind these sex differences in fuel use may help explain why being female seems to confer a metabolic advantage for insulin sensitivity, an important marker of metabolic health."
Women's bodies burn fat more efficiently, meaning they tend to lose weight easier than men. This is good news for women, but it means men need to be stricter with their diet and exercise regime when embarking on their weight loss journey.
Fortunately, it does get easier. The study also pointed out people who were already physically fit tended to burn fat very efficiently, so the fitter you get, the easier it will be to maintain that level of fitness, preventing you from "yo-yoing" back to your original weight.
An easy way to get started, for both men and women, is food journalling. Taking 15 minutes a day to write down everything you ate has been proven to effectively double your weight loss progress, according to researchers at the Kaiser Permente Center for Health Research.
You can also opt for healthier methods of cooking, such as using one of the best air fryers instead of pan-frying or deep-frying foods, and trying a fitness plan with a goal, such as our Couch to 5K plan.
Matt Evans is an experienced health and fitness journalist and is currently Fitness and Wellbeing Editor at TechRadar, covering all things exercise and nutrition on Fit&Well's tech-focused sister site. Matt originally discovered exercise through martial arts: he holds a black belt in Karate and remains a keen runner, gym-goer, and infrequent yogi. His top fitness tip? Stretch.