You only need one dumbbell, six moves and six minutes to strengthen your core and improve your posture
Build functional midsection strength and protect yourself from injury with this short circuit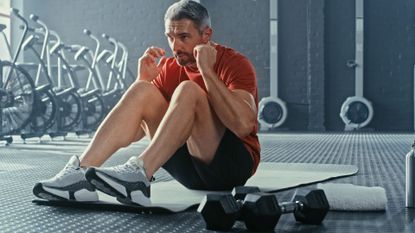 (Image credit: Getty / Kobus Louw)
A comprehensive core workout doesn't need to take hours; this session will strengthen your midsection muscles in just six minutes.
The workout from Jay Maryniak (@JTM_Fit) challenges you to complete six exercises as a circuit, performing each one for 50 seconds followed by a short 10-second rest.
This format keeps things fresh by negating the need to repeat any exercise. So, unlike with other abs workouts, there's no chance you'll succumb to mid-workout boredom after your seventh set of sit-ups.
You only need a single dumbbell to take it for a spin too (although an adjustable dumbbell can be handy so you can switch the weight to suit your strength level).
Watch Maryniak's videos below to find out which six moves await you, then practice each one to nail down your technique. When you feel comfortable with every exercise, all that's left to do is set your stopwatch and get started.
Watch JTM_Fit's six-minute functional core workout
Three of the moves in this workout (the single-arm single-leg hollow V-ups, straight-arm sit-ups and side plank lifts) are unilateral exercises, meaning they work one side of your body at a time.
When performing these movements, Maryniak instructs you to complete 25 seconds of work on either side of your body during each set, so make sure to switch halfway through.
Unilateral exercises are great for ridding your body of muscular imbalances, and they also recruit your core muscles to keep you balanced while supporting an off-center weight (the dumbbell). These aren't the only benefits of this core workout, either.
Maryniak describes it as a "functional" session, and we're inclined to agree with him. This is because it hits a wide range of core muscles responsible for bending and twisting motions, as well as connecting the upper body and supporting the spine.
Strengthening these muscles can improve your stability, take strain away from your lower back to prevent injuries and even improve your performance in other sports and activities.
For example, a stable trunk lays a sturdy foundation for multi-muscle compound exercises like weighted squats and deadlifts.
If you want to add this session into your weekly exercise plans, you can use it as a quick way to sprinkle some extra movement into your day. Or, if you have a bit more time on your hands, try adding it to the end of a strength training workout like this six-move full-body dumbbell routine.
Harry Bullmore is a Fitness Writer for Fit&Well and its sister site Coach, covering accessible home workouts, strength training session, and yoga routines. He joined the team from Hearst, where he reviewed products for Men's Health, Women's Health, and Runner's World. He is passionate about the physical and mental benefits of exercise, and splits his time between weightlifting, CrossFit, and gymnastics, which he does to build strength, boost his wellbeing, and have fun.
Harry is a NCTJ-qualified journalist, and has written for Vice, Learning Disability Today, and The Argus, where he was a crime, politics, and sports reporter for several UK regional and national newspapers.