Optimum Nutrition Gold Standard 100% Whey Protein review
Optimum Nutrition Gold Standard 100% Whey Protein unflavored review: a good quality, versatile protein powder suitable for both sweet and savory use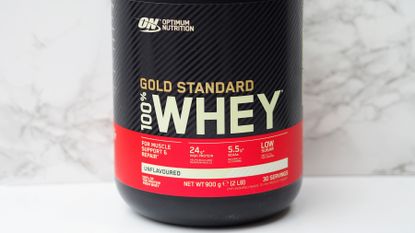 (Image credit: Getty)
Optimum Nutrition Gold Standard 100% Whey Protein unflavored is an excellent choice if you want a high quality protein powder that can be used in a variety of different ways. Smooth and easy to mix, it has a neutral taste that will let you flavor it however you wish.
Reasons to buy
+

Good neutral flavor

+

Mixes well

+

Limited number of ingredients
Reasons to avoid
-

Not pure whey isolate

-

Packaging not eco friendly
Why you can trust Fit&Well Our expert reviewers spend hours testing and comparing products and services so you can choose the best for you. Find out more about how we test.
Optimum Nutrition Gold Standard 100% whey unflavored is one of the most versatile protein powders that you can buy. Its very mild flavor means you can successfully put it to many different uses from shakes to savory dishes.
Some protein powders don't mix easily but Optimum Nutrition Gold Standard 100% whey quickly combines with both water and milk to provide a smooth shake without any difficulty and has a pleasant consistency once added to liquid, making it one of the best protein powders for weight loss.
It provides solid value for money, especially if you buy the larger sizes. Although it contains some whey concentrate, so may not be so good for anyone with a sensitive stomach, it's a good quality product. We suspect that with a little imagination it could fast become a regular addition to your diet to boost your protein intake.
Optimum Nutrition Gold Standard 100% Whey Protein unflavored: price
The price varies according to the size you buy. For example, a 4.9lbs (2.25kg) tub costs $74.69/ £55.98, a 1lbs/0.4kg tub costs $21.33/£15.99, or a 899g/1.9lbs tub costs $37.34/£27.99.
Optimum Nutrition Gold Standard 100% Whey Protein unflavored: nutrition
If you opt for a different flavor the nutritional values will vary slightly. Here's the values per serving for the unflavored powder:
Protein = 24g
Carbohydrate 1.6g
Fat 1g
Optimum Nutrition Gold Standard 100% Whey Protein unflavored: texture
Optimum Nutrition Gold Standard 100% Whey Protein unflavored scored highly on texture. As with all our tests, we tested it by mixing it with both water and then with oat milk, and shook it for 30 seconds. By about 10-15 seconds it had already mixed thoroughly, creating an even texture with no lumps.
The mouth feel was smooth and pleasant with no chalkiness, but without feeling overly thin.
Optimum Nutrition Gold Standard 100% Whey Protein unflavored: taste
In our testing, we were impressed with the taste of Optimum Nutrition Gold Standard 100% Whey. The one we tested was unflavored but in common with all unflavored protein powders, this doesn't mean it has no flavor whatsoever. As you would expect from a whey product, it tastes a little milky, but this is in no way overpowering and there was no aftertaste. Combined with oat milk, its flavor disappeared altogether.
In addition to testing it with water and oat milk, we also tried it in a shake with frozen fruit and some strawberry flavor drops, and it tasted just like a strawberry milkshake (perfect for any sweet-tooths out there).
We also tried mixing it with mashed potato, which was a great success - it mixed in beautifully, adding a smooth silkiness and not affecting the flavor in any significant way - this makes it a great way to add some protein to a carbohydrate-heavy dish.
Optimum Nutrition Gold Standard 100% Whey Protein unflavored: user reviews
Reviewers are, on the whole, very enthusiastic about this product. They note that it mixes easily and praise the quality of the ingredients and the fact that there's no aftertaste.
There are a few grumbles - some of the user reviews include complaints about the cost complain about the cost, especially following some recent price rises, though others consider it good value, and one or two reviewers would prefer more eco-friendly packaging - the solid black tub is hard to recycle.
Optimum Nutrition Gold Standard 100% Whey Protein unflavored: verdict
If you want a one size fits all protein powder, this is a superb option. With a neutral flavor that disappears when mixed into even the mildest-tasting product, you can use it to up your protein levels in a wide variety of sweet and savory options.
It mixes like a dream so you won't need to fiddle with mixer spirals or blenders if you just want a simple shake, and it has a great, smooth consistency. The price is reasonable, especially considering the quality of ingredients.
There are only a few downsides. It's not suitable for vegans, and the packaging isn't the most eco-friendly. It's not pure whey isolate - it's a mix of whey concentrate, whey isolate and hydrolyzed whey protein isolate, so if you're super sensitive to whey, you may need to go for a pure isolate alternative or a plant-based powder.
Also consider
Now Organic Pea Protein
The Optimum Nutrition Gold Standard 100% Whey Protein is whey based so contains dairy. If you're looking for a plant-based unflavored alternative that doesn't contain whey, try Now Organic Pea Protein.
MyProtein Impact Whey Isolate
If you want an unflavored pure whey isolate instead of a blend of whey and isolate, consider MyProtein's Impact Whey Isolate unflavored, which is a great all-round unflavored protein powder that is only made from whey isolate.
Patricia Carswell is a freelance journalist, specialising in health and fitness. She has written for a huge variety of national newspapers and magazines, including Healthy, Top Santé and Women's Fitness, and writes a monthly column for British Rowing's content hub. She's the founder and host of rowing blog and podcast, Girl on the River, where guests have included Sir Matthew Pinsent and multiple Olympian Frances Houghton MBE.
She won Rowperfect's Rowing Blogger of the Year several years in a row, the Endurance Award in the MyProtein Blog Awards and was runner-up in the Sports & Fitness Category in the UK Blog Awards in 2017.
She keeps fit by rowing, walking and swimming, and is at her happiest when on or in the water.