I used Alo Moves for two weeks to add yoga and meditation to my routine — here's what happened
Alo Moves helped me practice mindfulness, focus in the middle of a busy day, and boost my mobility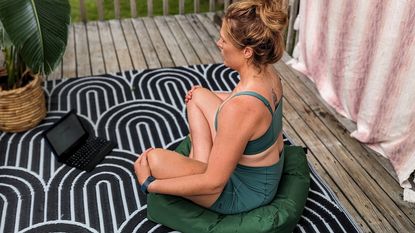 (Image credit: Rachel MacPherson)
Alo Moves is an excellent workout app if you want to slow things down, stretch out your muscles, and boost your wellbeing. The app's instructors make each class engaging, while the variety makes you want to come back for more. There's not as much focus on muscle-building exercise, but for mindful movement, there isn't anything else I'd recommend.
Reasons to buy
+

Fun, effective classes

+

Can download videos for offline practice

+

Lots of variety, with meditation, yoga, and HIIT

+

Dedicated sessions for developing specific skills
Reasons to avoid
-

Not many traditional strength workouts

-

Structured plans are quite short
Get the Fit&Well Newsletter
Start your week with achievable workout ideas, health tips and wellbeing advice in your inbox.
Thank you for signing up to Fit And Well. You will receive a verification email shortly.
There was a problem. Please refresh the page and try again.
I've been lifting weights, going for runs, and taking up sports since I was a kid. I enjoy highly active, fast-moving, powerful activities, like baseball, jiu-jitsu, and weightlifting. Lifting heavy things will probably always be my favorite pastime, but I realized something is missing.
My routines don't allow for slow movements to calm my busy mind. As an adult with ADHD who has trouble with focus and feeling calm, I do need some guidance here. While many of the best workout apps have mindfulness areas, I wanted something dedicated to mindful movement.
Alo Moves is a bit different from many fitness apps, as its main focus is yoga, Pilates, and mobility work. Although I've used it for years, I've only really tried the HIIT warm-ups, some mobility sessions before lifting, or to challenge myself, although I still haven't mastered a handstand.
But for this Alo Moves review, I wanted to see if I could make a noticeable difference to my wellbeing. I'm so glad I did. For two weeks, I practiced meditation, yoga, and restorative classes to calm my mind, relax my body, and boost my focus.
1. You don't need lots of time each day
My regular workout routine takes about an hour, plus I add in two hours of sport each week. To avoid eating into this exercise time, I allowed myself 20-30 minutes with Alo Moves, but some sessions only took 10 minutes, while others were a bit longer.
I chose to do this in the morning and afternoon, depending on the training session selected for the day. But learning to add short breaks to move, breathe, and re-center provides far-reaching benefits for your mind and body.
As the sessions were typically short, I could slot them in around work tasks, which meant I took a break but didn't get distracted by something less rewarding. Learning how to meditate isn't always easy, but the Alo Moves classes helped develop my practice.
The quick morning meditations were particularly impactful, allowing me to set intentions for the day, much like you might find if you do a morning yoga routine. The app has themed packs, too, so you can focus on reducing stress, calming your mind, or releasing anxiety.
2. The classes were varied and fun
As a personal trainer, I've always pushed people to slow down and take rest days or do an active recovery day workout, but I haven't found it easy to listen to my own advice. Moving a lot at a fast pace is my standard way of being.
But my two weeks with Alo Moves made me realize there are other ways to move your body. The instructors play a big role here, with Jacy Cunningham's classes helping raise my heart rate, while Roxie Jones and Kupah James kept me entertained during full-body sessions.
When I added slower, intentional breathwork, meditation, and yoga into my daily routine, the benefits of a more rounded training program became clear, mixing up instructors, workout styles, intentions, and purposes to keep things interesting.
3. It helped me learn new skills
I didn't realize how much I'd learn across the two-week challenge. I gained beginner-level skills in mindfulness, calming breathing practices, slowing my mind, and connecting my emotions with the physical sensations I'm feeling (and then letting those go).
Alo Moves has dozens of unique meditations, workouts, and educational health-focused content for all levels, along with breathwork practices and tutorials, including complete series, one-off classes, and week-long challenges to help you get started learning something new.
For those new to any type of fitness, there are classes for beginners that teach you the basics of movement in yoga, Pilates, boxing, and bodyweight calisthenics exercises. Or you could focus on particular areas, like backbends, inversions, mobility, or specific yoga poses.
But there are also fitness-adjacent sessions for personal growth and reiki if you're interested in wellbeing practices, or nutrition guides and recipes, like these quick breakfast ideas that you can prep in advance to make mornings that much easier.
4. You can take your workouts outdoors
One thing I love about Alo Moves is the beautiful settings in incredible areas of the world that many of the videos feature. There are entire series focused on natural landscapes and tantalizing locations that tap into the benefits nature can provide for the mind and body.
However, you can also find your own piece of paradise to practice (even if it's just your backyard or deck) regardless of internet access since you can download Alo Moves' videos for offline use, which also makes them great if you're traveling or low on data.
I decided that I wanted some of the benefits of outdoor exercise, so I walked to the local green and blue spaces (as I live by the ocean) and wanted to take full advantage of the extra anxiety-relieving, mood-boosting effects of moving in nature.
Of course, if you're doing your sessions outside, you'll also need to pop on a set of workout earbuds so you can still hear the instructor's guidance, which feels like it would take away from the experience. But most have a transparency mode, so you can still hear what's going on around you.
Should you subscribe to Alo Moves?
I already knew I liked Alo Moves' more physical classes, but this two-week challenge helped me discover a whole new way of training that wasn't solely focused on strengthening my muscles.
If you're more interested in high-intensity sessions, rather than grounding meditations and yoga classes, Fiit may be a better choice for you, but Alo Moves is easily one of the top options if you want to learn a new skill, boost your wellbeing, or add some mindful movement to your day.
There's a 14-day free trial so you can give it a go and see if you enjoy the classes, then it'll cost $12.99 per month or $129.99 annually, putting it in line with apps like Apple Fitness+, but with less of a focus on cardio exercise.
However, if you like structured plans to keep you motivated, Alo Moves might not be the right fit, as there aren't a lot of notifications reminding you to take your next class or long-term programs that'll keep you going for months like you'd find in Chris Hemsworth's Centr app.
But if you enjoy training at home without much equipment, Alo Moves is an excellent option. In most cases, all you need is a yoga mat or some light dumbbells to add mindful movement into your day, build mental strength, and boost your wellbeing.
Get the Fit&Well Newsletter
Start your week with achievable workout ideas, health tips and wellbeing advice in your inbox.
Rachel is a lifelong health and fitness enthusiast with 15 years of experience, a certified personal trainer, and a fitness writer with bylines at Livestrong, Verywell, and Insider. She is passionate about clearly and accessibly communicating actionable and science-based fitness advice. Alongside her writing, Rachel also holds several certifications, including nutrition, prenatal/postpartum exercise, and pain-free performance. She lives in coastal Eastern Canada, and her hobbies include jiu-jitsu, hiking, and trips to the beach.