The Sierra Designs Flex Capacitor is a fantastic hiking backpack, but not if you like to stay organized
I loved how comfortable the Sierra Designs Flex Capacitor was, but it's lack of internal organization was a deal-breaker for me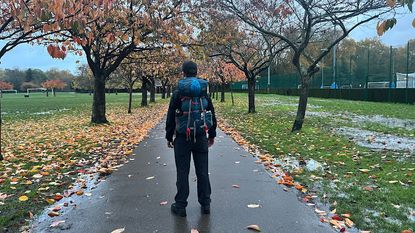 (Image credit: Future / James Frew)
If you like to be flexible with your plans, the Sierra Designs Flex Capacitor is an excellent hiking backpack. You can expand the storage from 25-40L using the adjustable straps, while the chest strap, hip belt, and Y-frame distribute the weight evenly. But there's no internal organization — just a single large pocket, which makes it difficult to find anything in a pinch.
Reasons to buy
+

Lightweight design

+

Comfortable to wear even fully loaded

+

Expandable storage area using the front straps
Reasons to avoid
-

The wide hip belt makes it hard to reach your pant pockets

-

No internal organization
I wasn't sure I'd enjoy a proper hiking backpack like the Sierra Designs Flex Capacitor. For years, I've carried around a lightweight rucksack that I inelegantly stuff into as much as possible, leaving the bag bulging at the seams.
This usually means I carry far too much weight on my shoulders, causing my lower back to arch. The best hiking backpacks, with chest and hip belts, better weight distribution, and a more rigid structure, are designed to prevent that.
During my time with the Flex Capacitor, I realized how bad my old habits were, as it felt as though I was barely carrying anything, even when the bag was fully packed. The straps were easy to adjust, and the hip strap pockets were handy.
But it could have been more organized for a bag carrying up to 40 liters. There's only one internal pocket accessed from the top, so you need to pack cleverly and still expect to spend a short while rummaging for whatever you need.
Sierra Designs Flex Capacitor review: price and warranty
The Sierra Designs Flex Capacitor retails at $200/£160, although you can find the larger capacity versions at a higher price. This makes it more expensive than the 30-liter Helly Hansen Transistor, but it's a more flexible option with expandable storage.
The bag isn't waterproof, so if you want to take it out when the skies open, you'll need to invest in the Flex Capacitor Rain Cover, which will set you back another $15 — not a lot, but I expected a premium bag like this to come with it included.
Unlike the Patagonia Altiva Daypack, which has a relatively reasonable free repair service, Sierra Designs only offers a warranty against manufacturing defects for the product's lifetime, so you'll be out of pocket for all other repairs.
Sierra Designs Flex Capacitor review: design
Most hiking backpacks have a fixed capacity, but the Flex Capacitor can be adjusted between 25 and 40 liters, so it should be flexible enough for most trips. It also comes in 40-60L and 60-75L older editions, with two newer 40-60L and 60-80L versions.
I tested the 25-40L version and used it at the most restrictive and fully expanded. You don't need to add compartments or unpack the bag; loosen or tighten the external straps as much as you need. This is useful if you want to add more to your pack during the trip.
It's a top-loading backpack with no side access, so you do need to take the bag off if you want to locate an item inside. Fully packed, the bag is supportive and sits nicely against your body, but it becomes a bit limp if you don't fill it to the top, even at the 25L setting.
The shoulder and hip straps are padded, which makes it comfortable to wear, but that's also partly because the weight is well distributed, which was a nice change from dumping the whole load on my shoulders as I've been used to.
Sierra Designs Flex Capacitor review: storage and organization
Some hiking backpacks, like the Osprey Talon Earth 22, come with multiple compartments in the main pocket for easy storage. So, if you want to keep your laptop within easy reach but away from your water bottle, you can.
In place of this, the Flex Capacitor has a single, large internal compartment. It's an odd decision, as it's pretty hard to handle when restricted to 25 liters. However, once expanded to 40 liters, it's almost impossible to find anything without unpacking first.
The Flex Capacitor's main selling point is expandable storage, but it's almost redundant if you can't actually find anything in the bag. It would make sense if you mainly want to use it for overnight stays, so you have time and space to unpack.
However, I had a much better time with the external pockets. The hip belt has two zipped pockets, which were helpful for quick access, while the two elasticated side pockets were ideal for storing my hiking water bottles.
Sierra Designs Flex Capacitor review: fit and comfort
When I first handled the bag, I was worried that the Y-shaped suspension bracket along the rear side would dig into my back. Fortunately, this wasn't the case.
I'm used to wearing lightweight day bags on dog walks, so I expected this more structured backpack to feel more awkward, but it never did. Instead, I could barely feel the bag when it was lightly packed.
The chest strap helped keep the pack close to my back, while the padded hip strap prevented the weight from landing on my lower back. The hip strap is adjustable, but when I tightened it, the long strap dangled around as there were no clips, so I messily tied it together instead.
The hip straps are pretty broad, so there's space for two easy-access zipped pockets for your phone, keys, and cards. This was handy, as the straps got in the way of my pant pockets, so I needed the extra storage space.
Most importantly, though, it was comfortable to wear for hours while I meandered around the city, up hills, and across uneven surfaces.
Should you buy the Sierra Designs Flex Capacitor?
If you're planning a multi-day hike or are heading off on a backpacking adventure, the Sierra Designs Flex Capacitor is an excellent option. The fact that you can adjust the size makes it flexible enough to accommodate extended trips.
After carrying a small rucksack around for so many years, it was a welcome relief that the straps helped distribute the weight across my body, and I found it comfortable enough to wear all day as I walked across urban and rural spaces.
But it's not very convenient if you need to find a specific item in the bag. The lack of internal organization is puzzling, as it gets messy when expanded to the full 40L.
Also consider
Fjällräven Ulvö 30
If you're looking for more organization, the 30-liter Fjällräven Ulvö 30 has seven pockets, a slimline design, and it's fully waterproof so that you won't need an extra rain cover.
Peak Design Travel
The Peak Design Travel is one of the most accessible bags to pack, with optional packing cubes for better organization. It's more of a travel bag and less of a hiking backpack, but it is great for overnight stays.
James is a London-based journalist and Fitness Editor at Fit&Well. He has over five years experience in fitness tech, including time spent as the Buyer's Guide Editor and Staff Writer at technology publication MakeUseOf. In 2014 he was diagnosed with a chronic health condition, which spurred his interest in health, fitness, and lifestyle management.
In the years since, he has become a devoted meditator, experimented with workout styles and exercises, and used various gadgets to monitor his health. In recent times, James has been absorbed by the intersection between mental health, fitness, sustainability, and environmentalism. When not concerning himself with health and technology, James can be found excitedly checking out each week's New Music Friday releases.