The 6 best B12 supplements in 2023
We've tested the best B12 supplements to help you get your daily dose of this essential vitamin without breaking the bank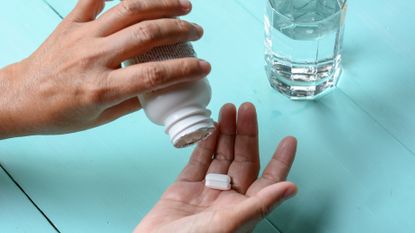 (Image credit: Getty Images)
Get the Fit&Well Newsletter
Start your week with achievable workout ideas, health tips and wellbeing advice in your inbox.
Thank you for signing up to Fit And Well. You will receive a verification email shortly.
There was a problem. Please refresh the page and try again.
Taking one of the best B12 supplements is a great way to ensure you get enough of this essential vitamin in your diet. It helps our bodies function properly, but it's also fairly common to not get enough through food alone, especially if you follow a plant-based or vegan diet.
But it isn't easy to choose between all the similar-sounding options. To help you out, we've tested all the B12 supplements we recommend in this guide for taste, how easy they are to swallow, and whether it's clear what you're getting for your money.
If you're on a vegan diet, it's vital to stay topped up, as vitamin B12 is one of the essential nutrients vegans often lack, so we've included several vegan-friendly options alongside choices for a range of budgets and dietary requirements.
Swipe to scroll horizontally
Best B12 supplements at a glance

| Product | B12 per serving (mcg) | Serving size | Easy-swallow | Capsules per pack | Vegan-friendly |
| --- | --- | --- | --- | --- | --- |
| Natrol Vitamin B12 | 5,000 | 1 capsule | Yes | 100 | Yes |
| Ritual Essentials for Women | 8 | 2 capsules | Yes | 60 | Yes |
| Now Foods B12 | 1,000 | 1 capsule | Yes | 100 | Yes |
| Ancient Nutrition Vitamin B12 | 20 | 1 capsule | No | 30 | No |
| HUM Nutrition B12 Turbo | 1,000 | 1 capsule | Yes | 30 | Yes |
| Thorne Vitamin B12 | 1,000 | 1 capsule | Yes | 60 | Yes |
The best B12 supplements you can buy right now
1. Natrol Vitamin B12
Best B12 supplements overall
Specifications
Recommended dosage: 1 capsule per day
Suitable for vegans: Yes
Capsules per unit: 100
Easy to swallow: Yes
Reasons to buy
+
Good value
+
No need to take water with them
Reasons to avoid
-
Very high dosage of B12 which may be unnecessary
-
Some users don't like the flavor
Natrol is a well-known supplement brand that you can find at most grocery stores and pharmacies, so they are a dependable option. The container isn't exactly stylish, but it is recognizable and has stayed almost unchanged since 1980.
With these pills, you'll get an impressive 208,330% of your recommended daily allowance (RDA), which sounds ridiculous, but helps improve the chances you'll actually benefit from the supplement, as your body generally only absorbs a tiny amount of this during digestion.
We found these pills an interesting alternative to other B12 options. The fast dissolve technology means the small round capsules dissolve on the tongue—in other words, you don't need to wash them down with water.
The strawberry flavor is quite pleasant and makes it easy to wait the 30 seconds or so it takes the capsule to dissolve. The Natrol B12 supplements are a cost-effective option that will last you for just over three months.
While we enjoyed taking the capsules (as much as you can do), we're not entirely sold that you need as higher a dose as this. Still, as you only need to take one a day, they're better value than many of the alternatives. And they're vegan-friendly.
---
2. Ritual Essential for Women Multivitamin
Best B12 supplement for women
Specifications
Recommended dosage: 2 capsules per day
Suitable for vegans: Yes
Capsules per unit: 60
Easy to swallow: Yes
Reasons to buy
+
Easy to swallow
+
Slow release vitamins
Reasons to avoid
-
Expensive
-
Bad after taste
Ritual are a more premium supplement brand, which you'll spot from the up-market bottle design. The company aims to produce ethical, vegan vitamins with traceable ingredients, which is reasonably rare in the supplement space.
You get 333% of your RDA per daily dose of two capsules, and there's a blend of other nutrients, like omega-3, vitamin D, and iron. The delayed-release design makes them dissolve in your small intestine, instead of your stomach, so you can absorb the nutrients more easily.
The capsules were easy to swallow, thanks to the elongated shape, but they did have a slightly oily texture. There's a mint tab in the container, which smells nice, but doesn't make up for the unpleasant after taste, which repeated on us for a while.
The Ritual Multivitamin is one of the most expensive in our roundup, costing $33 per pack or $1 per serving, but if you're willing to pay more for a nice bottle, ingredient transparency, and delayed-release technology, these might just be the best vitamin B12 supplements for you.
---
3. Now Foods B12
Best B12 supplement for vegans
Specifications
Recommended dosage: 1 capsule per day
Suitable for vegans: Yes
Capsules per unit: 100
Easy to swallow: Yes
Reasons to buy
+
Good value
+
High dosage per tablet
Reasons to avoid
-
Could be easier to swallow
-
Didn't taste great
Now Foods is a family-owned, US-based supplement brand that's been in business for over 50 years, so there's a good reputation behind them. Each B12 capsule has a frankly silly 40,000% of your RDA, alongside folate (an essential nutrient during pregnancy).
The capsules are suitable for vegans and we found them fairly easy to take—you simply let one dissolve on the tongue per day, or, you can chew it. It's convenient, but we weren't impressed with the medicinally sweet taste or that they took a fair while to dissolve.
At $12.99 per 100 servings, Now Foods is a relatively good value option. Like Natrol, this vitamin dissolves on the tongue and contains a very high quantity of B12—this large amount of B12 is probably not necessary for most people. However, if you have a B12 deficiency, this option may help you to restore your B12 levels quickly.
---
4. Ancient Nutrition Vitamin B12
The best B12 supplements for tasteless capsules
Specifications
Recommended dosage: 1 capsule per day
Suitable for vegans: No
Capsules per unit: 30
Easy to swallow: No
Reasons to buy
+
High dosage
+
Tasteless capsules
Reasons to avoid
-
Not suitable for vegans
-
Difficult to swallow
Ancient Nutrition doesn't have as long history as some of the others on this list, but the packaging is neat, and each container has 30 capsules that pack in 833% of your RDA of B12.
It also contains the brand's 'TCM (Traditional Chinese Method) Blend', which aims to "support the body as a complete system rather than separate organs, a larger concept known as 'Qi.'" It's mostly herbal extracts and there's not a lot of evidence to suggest any specific benefits, but there's likely no harm to them either.
If you worry about swallowing supplements, these aren't the choice for you, as we found the capsules were hard to swallow and you could really feel them pass down your throat.
There's also an unusual smell in the bottle, but the capsules themselves are completely tasteless. Like Ritual's Multivitamin, it's an expensive option and works out to $1 per serving. And these are also not suitable for vegans as there are animal-based ingredients in the TCM blend.
---
5. HUM Nutrition B12 Turbo
Best B12 supplement with added calcium
Specifications
Recommended dosage: 1 tablet
Suitable for vegans: Yes
Capsules per unit : 30
Easy to swallow: Yes
Reasons to buy
+
Vegan-friendly
+
No artificial sweeteners or colors
Reasons to avoid
-
One container only lasts a month
-
You don't want added calcium
HUM takes a more colorful approach, with a vivid pink label and pink pills. Each tablet has 41,667% of your B12 RDA, and packs in 30mg of calcium (3% of your RDA). They're vegan-friendly, too, making them an ideal option if you need to top up both nutrients.
You only need to take one a day, so the 30-pill container works out to be around $0.33 per serving. The tablets aren't coated, but they are pretty small, so we found them easy to swallow and taste-free.
But since they are so small, it seemed a bit wasteful to put them in such a large container, which easily could have fitted more than double the amount.
---
6. Thorne Vitamin B12
The best B12 supplement for easy swallowing
Specifications
Recommended dosage: 1 capsule
Suitable for vegans: Yes
Capsules per unit: 60
Easy to swallow: Yes
Reasons to buy
+
Tiny capsules are easy to swallow
+
Highly bioavailable
Reasons to avoid
-
Relatively expensive
-
Wasted packaging
Thorne's main business is in personalized supplements, but the company also makes several standard vitamins, like this B12 supplement. It also has a very high amount of B12, reaching 41,667% of your RDA.
The suggested dose is one capsule up to three times per day, so a container will see you through about three weeks. And there's good news if you don't like swallowing supplements; we were pleased that the capsules are tiny, and therefore super easy to swallow.
We can also confirm that they are completely tasteless. This supplement is gluten-free, dairy-free, soy-free, and vegan-friendly.
---
How we tested the best B12 supplements
As your body and nutritional needs are unique to you, we haven't looked at the long-term effects of the B12 supplements, as the effectiveness is a matter for you and your doctor.
However, if you're going to take a supplement each day, you want to know that you're taking one that is easy to swallow, doesn't taste terrible, and makes sensible claims about it's ingredients without breaking the bank.
But some expensive B12 supplements could still be good value, which is why we also evaluated whether the price of each option was fair in comparison to the alternatives.
The dosage also plays a role here, as a supplement that seems to be a good price per capsule could end up more expensive if you need to take three multiple times a day compared to a one-a-day pill.
How to choose the best B12 supplements
Price is an essential factor, as you don't want to break the bank on supplements, but the good news is that most B12 supplements contain more than 100% of your recommended daily allowance, so if you're on a tight budget, a low-cost supplement is a good place to start.
But you'll also want to decide how you want to take it. There are capsules, pills, and liquid supplements (ideal if you want to add them to food or drinks) available, so you can pick which form you'd most likely take regularly.
It's also worth reviewing the ingredients to see whether they match your dietary requirements. Although B12 is often recommended for vegans, not all B12 supplements are vegan-friendly, so it's worth checking before making a choice.
However, it is important to stay topped up if you're following a plant-based diet. "Vegetarians or vegans also benefit from taking a b12 supplement, as it's found in a lot of animal-based foods," explained registered dietician Roxana Ehsani.
Roxana Ehsani, MS, RD, CSSD, LDN is a board-certified specialist in sports dietetics and was previously a National Media Spokesperson for the Academy of Nutrition and Dietetics. She holds a Bachelor of Science in Human Nutrition, Foods, and Exercise from Virginia Tech and a Master of Science in Clinical Nutrition and Dietetics from the University of Pittsburgh.
FAQs
How do you know if you need a B12 supplement?
It can be challenging to tell if you have a vitamin B12 deficiency without blood tests, but some symptoms can indicate that you might not get enough from your diet.
Vitamin B12 is used in lots of bodily functions but is particularly important for making red blood cells, keeping our nervous system healthy, and accessing energy from food, according to a review in the journal Nutrients.
Plus, as we grow older (often above 50), "we produce less stomach acid as we age, and it can be difficult for your body to break it down and absorb [B12]," explains Ehsani.
So, if you have symptoms like low energy, pins and needles in your limbs, or muscle weakness, these could indicate a vitamin B12 deficiency. But before you head to the grocery store for a supplement, it's worth talking things over with the doctor first.
B12 also helps us process vitamin B9, known as folic acid. It's a crucial nutrient, especially for pregnant women. According to the NHS, B12 deficiency often comes hand in hand with folate deficiency anemia during pregnancy, which is why some supplements come as a B12/B9 blend.
Why do some of the best B12 supplements have such large doses?
"Taking extra B12 or at high doses hasn't been found to be toxic, so it tends to be found in high doses. There also doesn't seem to be side effects from taking high doses," said Ehsani.
Since there aren't any clear downsides, manufacturers often increase the dosage as "the body doesn't absorb B12 well—some research indicates it absorbs very small amounts," notes Ehsani, so this approach increases the chances of getting enough into your diet.
How much vitamin B12 is too much?
Although most B12 supplements contain far more than your RDA, it's a water-soluble vitamin, meaning you'll pee out anything your body doesn't use. So, even at high doses, it's unlikely to cause any health issues.
"There isn't an upper limit for vitamin B12, as high doses aren't said to be toxic, as it's a water-soluble vitamin and the body doesn't store it," explained Ehsani.
You may find your urine changes color, a consequence of the excess B12, but if this happens, it's worth speaking to your doctor to rule out any other causes.
Some research, as seen in a review in the American Journal of Clinical Dermatology, suggests that excess vitamin B12 can cause skin hyperpigmentation (darker patches of skin) and changes to hair and nails. The researchers also noted links to vitiligo, atopic dermatitis, and acne.
However, the review considered injected B12, which goes straight into your blood much faster and at higher doses than you'd get through a capsule, pill, or liquid that needs to be digested.
Who should not take B12?
"Always check with your physician before starting on a B12 supplement; certain medications you are taking might interact with B12," advises Ehsani.
According to the Mayo Clinic, those on Aminosalicylic acid (used to treat some digestive conditions) may struggle to absorb B12 from a supplement. Proton pump inhibitors, the diabetes drug Metformin and the antiinflammatory drug Colchicine have similar impacts and can inhibit proper B12 absorption within the body.
In these cases, taking an oral supplement may be pointless, and you might want to discuss alternative methods with your doctor. Sometimes, altering the time you take medication and supplements can help, but you should always seek medical advice before changing how you take a drug.
Do B12 supplements work?
So, do B12 supplements work? Well, according to Hannah Braye, Technical Advisor at Bio-Kult, whether or not they 'work' depends on a few factors.
"How long someone needs to supplement for will depend on why they are supplementing and the individual's baseline levels, dietary intake, digestive capacity for absorption, genetic variations, other health issues, medications, and the dose and form of B12 they are supplementing," she explains.
"Some people may choose or need to supplement on an ongoing longer-term basis. Long-term use is considered safe. Vitamin B12 is a water-soluble vitamin (meaning we can't store much in the body and need a regular intake), it's rare to see adverse effects, even from large doses."
However, she notes, unless you have a diagnosed deficiency in B12, high doses will not be necessary.
"Only a small amount of B12 can be absorbed, as the receptors in the gut are saturated with dosages between 1.5–2.5mcg per meal, and the percentage absorbed decreases the higher the dose you take."
Hannah is a qualified Nutritional Therapist having studied for three years at the College of Naturopathic Medicine (CNM) in Bristol, where she graduated with an award for outstanding performance. She is a member of the British Association of Applied Nutrition and Nutritional Therapy (BANT) and listed on the Complementary and Natural Health Care Council (CNHC)'s approved accredited register.
How long should you take B12 supplements for?
The good news is that if you need to top up your vitamin B12, it's safe to do so, even over longer periods. So, you can take B12 supplements for as long as your body needs, just be sure to regularly check in with your doctor or medical professional.
Braye notes that long-term use of B12 supplements is fine. However, she notes that the European Union's nutrient reference value (NRV) for B12 is 2.5 mcg a day. She says: "This is based on the average amount a healthy person needs to prevent deficiency."
So, while you can take more than that unless you have a specific reason to, it's not really necessary to consume large doses regularly.
Get the Fit&Well Newsletter
Start your week with achievable workout ideas, health tips and wellbeing advice in your inbox.
Meg is a freelance journalist and features writer based in the UK. She covers culture, entertainment, lifestyle and health. Her writing has appeared in Cosmopolitan, Shondaland, Healthline, HelloGiggles, Reader's Digest, Apartment Therapy, and more. Meg has been interested in fitness for over a decade. She loves trying a wide range of exercise techniques including yoga, hiking, pilates and HIIT.