Best B12 supplements to boost your health from home
These are the best B12 supplements to get further nourishment into your diet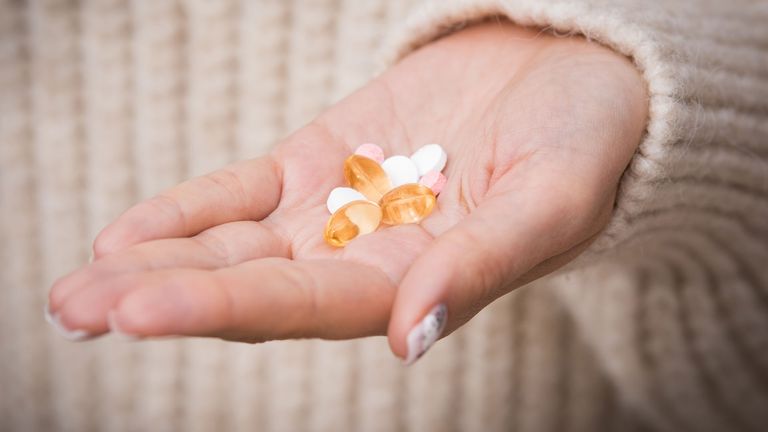 (Image credit: Getty)
Are you looking for the best B12 supplements to boost your wellbeing? We've tested a selection of supplements so you can get the nutrients you need. For vegetarians and vegans, this can sometimes be a struggle, but with these essential supplements, your intake should improve, and you should be feeling the benefits.
Of course, it's worth discussing exactly what those benefits of B12 are, with the National Institute for Health (opens in new tab) stating that B12 plays a vital role in maintaining your blood and nervous systems, and plays a role in your body creating DNA. B12 occurs naturally in meat, fish, and dairy products, so if your body struggles to absorb vitamin B12 or doesn't absorb it at all (because you follow a vegan diet, for example), then it could lead to anemia, fatigue, weight loss, and depression, among other things.
We tested a range of options to find the best b12 supplements based on the quality of the capsules, how easy they were to swallow, whether they offered good value for money, and any additional health benefits they offer.
These supplements are also great for those over 50, people with autoimmune diseases, and people with pernicious anemia, as they can have trouble absorbing vitamin B12 that comes from food. Take your pick from the top-rated B12 supplements, with options at a range of price points, or for other supplements, take a look at the best fish oil supplements.
The best B12 supplements you can buy right now
Natrol Vitamin B12
Best B12 supplements overall
Specifications
Recommended dosage: 1 capsule per day
Suitable for vegans: Yes
Capsules per unit: 100
Easy to swallow: Yes
Reasons to buy
+
Good value
+
No need to take water with them
Reasons to avoid
-
Very high dosage of B12 which may be unnecessary
-
Some users don't like the flavor
While brands such as Ritual are kind of like the pricey hipster coffee shop of supplements, Natrol is more like the dependable no-frills local cafe. The brand has been around since 1980 and has since become one of the most recognizable supplement suppliers on the market — you will find their products just about everywhere supplements are sold. It comes as no surprise that this brand's packaging isn't particularly stylish. The capsules come in a white bottle with a purple lid and a purple and green label.
The Vitamin B12 Fast Dissolve in strawberry offers vitamin B12 as cyanocobalamin at a rate of 5,000 mcg per serving — that's 208,330% of the daily recommended value. There are some known side effects of taking too much vitamin B12. However, even if you don't need this much B12, you should always speak to your doctor before starting a new supplement. The capsules also contain wheat, xylitol, starch, malic acid, beetroot extract, and citric acid.
I found these capsules an interesting alternative to other B12 options. The fast dissolve technology means the small round capsules dissolve on the tongue — in other words, you don't need to wash them down with water. The strawberry flavor is quite pleasant and makes it easy to wait the 30 seconds or so it takes the capsule to dissolve. The Natrol B12 supplements are a cost-effective option that will last you for just over three months. However, while I enjoyed the experience of taking these capsules, I'm still not sold on the idea that 5,000mcg is really necessary.
As with the Ritual supplements, the Natrol option is vegan-friendly. You do get 100 capsules to a unit, however, and you only need to take one a day so they offer better value than the Ritual supplements.
What the users say:
On the Natrol website, the B12 supplements have a rating of 4.8/5. On Amazon, this product has a rating of 4.7/5. Users praise the fact that you don't need to take these supplements with water. Some reviews claim the flavor is 'a little off' and doesn't quite taste like strawberries. One user added that because the dosage of B12 is so high, they didn't need to take these supplements every day.

---
Ritual Essential for Women Multivitamin
Best B12 supplement with added benefits
Specifications
Recommended dosage: 2 capsules per day
Suitable for vegans: Yes
Capsules per unit: 60
Easy to swallow: Yes
Reasons to buy
+
Easy to swallow
+
Slow release vitamins
Reasons to avoid
-
Expensive
-
Bad after taste
Ritual is a well-known supplement brand known for its promise to bring you ethical, vegan vitamins with traceable ingredients. Unlike some other supplement brands, Ritual has a modern, stylish approach to packaging. The Multivitamin comes in a clear, minimalist package with simple white accents. Even the capsules themselves, with their tiny white 'beadlets' are pretty attractive.
This multivitamin contains 8mcg of vitamin B12 in the form of methylcobalamin, or 333% of your daily value. The supplement is suitable for vegans. This vitamin also contains a range of other vitamins to support healthy bodily functioning including folate, Omega-3 DHA, vitamin D, iron, and vitamin K2. What makes this vitamin unique is the patented 'beadlet in oil' technology. The technology allows oily and dry ingredients to be effectively stored together in one capsule. The capsules are delayed-release which means they dissolve in the small intestine rather than the stomach, which in turn means your body can absorb the nutrients more easily.
When I tried the Ritual multivitamin, I have to say I was impressed. The chic packaging initially caught my eye. I found the capsules fairly easy to swallow thanks to their shape, although they do have a slightly oily texture. The bottle also contains a mint tab giving the capsules a minty, fresh flavor. However, I did experience some post-vitamin after tastes with a pretty unpleasant flavor. I also found the capsules repeated on me for a while after taking them.
I really appreciated the small indications on the side of the package that helps you discern how many days' worth of capsules remain in the bottle. At $30 a bottle, these pills are more expensive than most other vitamin B12 options — in fact, it comes to exactly $1 per serving. But, if you're willing to pay more for a nice bottle, ingredient transparency, and promising delayed-release technology, these might just be the best vitamin B12 supplements for you.
What the users say:
On Ritual's website, this product has an average rating of 4.5 out of five stars. Users praise the vitamins for being sustainable, well packaged, and suitable for vegans. There are some reviews that mark down the vitamins for the after taste. However, some reviews praise the initial mint flavor but would have liked to see a plastic-free bottle.
---
Now Foods B12
Best B12 supplement for vegans
Specifications
Recommended dosage: 1 capsule per day
Suitable for vegans: Yes
Capsules per unit: 100
Easy to swallow: Could be better
Reasons to buy
+
Good value
+
High dosage per tablet
Reasons to avoid
-
Could be easier to swallow
-
Didn't taste great
Now Foods is a family-owned US-based brand that has been offering all-natural supplements for over 50 years. Its B12 supplement comes in a small white bottle with a purple lid with an orange and purple label. Each capsule contains 1mg of vitamin B12 in the form of methylcobalamin, which is just over 40,000% of your recommended daily intake. It also contains folate.
The capsules are suitable for vegans and I found them fairly easy to take — you simply let one dissolve on the tongue per day, or, it can be chewed. I wasn't thrilled with the slight medicinal sweet taste and I also found that they took a little longer to dissolve than I expected.
At $12.99 per 100 servings, Now Foods is a relatively good value option. Like Natrol, this vitamin dissolves on the tongue and contains a very high quantity of B12 — this large amount of B12 is probably not necessary for most people. However, if you have a B12 deficiency, this option may help you to restore your B12 levels quickly.
What the users say
On Amazon, this product has a rating of 4.7 out of 5 stars, whereas at Walmart, this product has a rating of 4.4 out of 5 stars. Users praise this supplement for being good value for money and the fact that is gluten-free and suitable for vegans. Some reviewers take off a star or two because of the taste of these vitamins stating they have a 'fake fruity flavor'.
---
Ancient Nutrition Vitamin B12
The best B12 supplements for tasteless capsules
Specifications
Recommended dosage: 1 capsule per day
Suitable for vegans: No
Capsules per unit: 30
Easy to swallow: Uncomfortable
Reasons to buy
+
High dosage
+
Tasteless capsules
Reasons to avoid
-
Not suitable for vegans
-
Difficult to swallow
Created by two natural health experts, Ancient Nutrition is a newer supplement brand that aims to combine ancient Chinese medicine with modern science. The packaging is stylish — the B12 supplement comes in a black bottle with a black label with gold, white and purple accents.
The Ancient Nutrition B12 has 30 capsules, each of which contains 20 mcg of vitamin B12 in the form of methylcobalamin — that's 833% of your daily recommended intake. It also contains the brand's 'TCM (Traditional Chinese Method) Blend', which aims to bring "a holistic approach to your daily vitamin B-12 supplement" and to "support the body as a complete system rather than separate organs, a larger concept known as 'Qi.'" It includes bovine liver, Fo-Ti Root, Chicken Bone Broth, Beef Bone Broth, and other real food ingredients. According to Ancient Nutrition, this blend can help to support endurance during high-intensity exercise, support the functioning of the immune system and balance and support 'the life force'. While TCM is certainly full of possibilities, more studies are needed (opens in new tab) to determine the full effects on our health.
I found the capsules somewhat easy to swallow, although you can feel them going down your throat. I was also struck by the slight foody smell in the bottle. However, the capsules are completely tasteless. At $29.95 a bottle for 30 servings, this is a more expensive option. However, if you are interested in adding TCM to your daily dietary routine, this brand could be one for you.
Ancient Nutrition's B12 isn't suitable for vegans so that may be a problem for some but the real benefit here what that I found the capsules tasteless so there weren't any aftertastes to contend with.
What the users say:
On Amazon, this product has a rating of 4.6 out of 5 stars. At Target, this product has a rating of 4.7 out of 5 stars. Users praise the high-quality ingredients and the fact you only need to take one capsule a day. Some customers noted that they found the product expensive based on how many capsules they get in each unit.
---
Why take B12 supplements?
Ultimately, vitamin B12 is a vital part of any diet and many people can benefit from taking a B12 supplement. But, of course, everyone has different needs and the best vitamin B12 supplements might differ from person to person.
Most people can take vitamin B12 supplements, however, for some people, it can be especially important, such as:
Vegetarians or vegans
People over 50
People with pernicious anemia, canker sores, cataracts, Alzheimer's, osteoporosis, and/or fatique
Always check with your doctor before starting a new supplement, especially if you have any ongoing health concerns.
How we tested
Each of the products included in this guide was tested by our expert journalist. Supplements will affect each and every person slightly differently so we've been using these vitamins to give you a better idea of what they contain, and anything you need to be aware of before taking them. Below are the criteria we tested each product for.
Ingredients
It's super important to us that you know exactly what we tested and why and our first starting point is always to find out exactly what ingredients are in a B12 supplement, especially if it's a multivitamin. We then compare this against your daily recommended dosage and decipher whether you can get enough B12 from these supplements.
Recommended dosage
We made sure to note how much of each supplement you are required to take and how much often. This gave us a clear indication of whether a product offered good value for money or not.
Suitability
Not all vitamins and supplements will be suitable for everyone which is why we take note of whether a B12 supplement is suitable for vegans or have gluten-free diets.
Cost and value for money
Getting the nutrients you need shouldn't have to cost any more than necessary so we compared pricing across all the B12 supplements we tested to see whether the more expensive capsules were worth the money and if the cheaper supplements still contain everything you need.
Easiness to swallow & taste
For some, taking capsules or tablets can be very challenging so we test each and every B12 supplement by taking them ourselves and observing how easy they are to swallow. Some supplements are dissolvable on your tongue so we time how long this process takes.
The taste, while subjective, is another important factor we test. We try each capsule and note down whether they taste like the intended flavor or anything else you may need to know about after tastes too.
Features
When we test B12 supplements, we note anything that makes one supplement stand out over the others. We ask if any of the supplements claim to do something that others don't, and we also consider the overall aesthetics of the product as well as whether
Meg is a freelance journalist and features writer based in the UK. She covers culture, entertainment, lifestyle and health. Her writing has appeared in Cosmopolitan, Shondaland, Healthline, HelloGiggles, Reader's Digest, Apartment Therapy, and more.