Best desk lamps to make working from home easier
These are the best desk lamps to upgrade your working station, with picks that are gentle on your eyes and wallet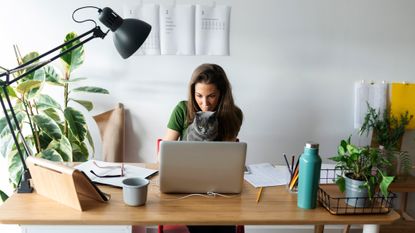 (Image credit: Getty Images)
With one of the best desk lamps straining your eyes to finish a workday will be a thing of the past. Perfect for illuminating your study or bedroom while you work or relax, there's no doubt that one of these lamps is essential to completing your work from home set-up. Small and often affordable, this purchase is one that can help you adjust better to the time of day while still doing all of the activities you need to.
Adjusting your desk lamp as the evening begins is kinder on your eyes too, as well as helping set a more ambient mood. After all, your home working environment should be a relaxing one, rather than adding any strenuous feeling into your routine. One of the standout features of many of the best desk lamps for your eyes is that you can adjust the brightness level and sometimes even the color of the light. If you really want to secure the best home office lighting for your eyes, then there are advanced lamps that give off blue light to help fight SAD symptoms.
If you want a light with those specific sun-boosting features, then head over to our best SAD lamps guide. If you know it's one of the best desk lamps that you need, simply keep reading to establish which of these great picks are right for you.
The best desk lamps you can buy right now
1. TaoTronics LED Desk Lamp
The best desk lamp for most people
Specifications
Size: 43 x 18 x 18 cm
Brightness: 410 lumens
Kelvins: 2700K-6000k
Reasons to buy
+
Seven brightness settings
+
Five lighting modes
+
USB charging
Reasons to avoid
-
Slightly top heavy design
-
Bulbs can't be replaced
With so many features crammed into its sleek modern frame, this LED lamp from TaoTronics would be a great buy even at twice the price. Designed to be gentle on your eyes while working and reading it has five colour options and seven brightness levels.
The LED bulb colours vary from bright white to warm yellow, which is great if you want to change the mood from working to relaxing. Adjusting the brightness and colour is really simple with a swipe of the finger on the base.
The base isn't especially heavy and can topple if accidentally knocked, but we love how you can rotate the head side to side through 90 degrees and vertically through 135 degrees, and the added bonus of having a USB port for gadget charging finishes this great all-round design.
2. Dyson Lightcycle Morph Light
The best premium desk lamp
Specifications
Size: H52.3 x W20 x D41.4 cm
Brightness: 1000 lux
Kelvins: 2700K to 6500k
Reasons to buy
+
Lasts up to 60 years
+
Smart technology
Reasons to avoid
-
It's so expensive
-
Needs smartphone app
We're used to Dyson reinventing everyday appliances, so it comes as no surprise they've created a desk lamp packed with a ridiculous amount of smart technology.
The Lightcycle Morph is a wi-fi and Bluetooth connected task light, ambient light, and indirect light all in one that tracks the sun's position in the sky and adjusts the lamp's colour temperature and brightness throughout the day. If a cloud covers the sun, the lamp compensates!
It can even adjust the light according to your age - as we get older, we need up to four times more light - the work you're doing and can even help adjust your mood.
It's easy to see why the light costs so much, but it works wonderfully producing the perfect light for most occasions. It's also flawlessly made in metal and can be tilted and rotated meaning it can switch easily from a task to ambient light.
3. Ikea SVALLET
The best budget desk lamp
Specifications
Size: 35 x 16 cm
Brightness: 470 lumens
Kelvins: 2700k
Reasons to buy
+
Sustainable design
+
Stylish and compact
Reasons to avoid
-
Fixed angle
-
Brightness and warmth can't be adjusted
The small ribbed 11cm diameter shade and grey angled stand are made from recycled plastic which also means this is one of the more sustainable options as well as the cheapest.
You can't angle the light, but we found the angle great for reading and working on a laptop. The lamp doesn't come with a bulb (would you expect it to, at this price?), but these can be bought separately. Ikea recommends its E14 bulb, which has a lovely opaque finish. While the light isn't especially bright, it does offer a warm soft glow. Brighter bulbs are also available.
4. Anglepoise Type 80 Desk Lamp
The best desk lamp for interior style
Specifications
Size: H48 x W17.5 x D32cm
Brightness: 470 lumens
Kelvins: N/A
Reasons to buy
+
Modern classic
+
Fully adjustable
Reasons to avoid
-
Investment price
-
Dominates a small desk
Anglepoise has been making practical and beautiful desk lights since 1932 and rightly deserve 'design icon' status and this combination of beautiful design, practicality and build quality has continued with the launch of the new Type 80 design.
Supplied with a long lasting replaceable 10W LED bulb the 16cm-diameter shade works brilliantly as a dedicated task light, but by including a small halo ring towards the back of the shade it lets light spill through onto a wall, which creates a lovely effect after the home office has shut for the night.
The cable is hidden inside the frame to help cleaner lines and the on/off switch is integrated seamlessly into the shade. Available in matte Rose Pink, Pistachio, Grey Mist and Matte Black each is made from powder coated metal and will last a lifetime.
5. Lumie Desklamp
The best desk lamp for boosting energy
Specifications
Size: H55 x W29 x D20cm
Brightness: 10,000 lux
Kelvins: 2700 - 4700k
Reasons to buy
+
Extremely bright
+
Designed to boost concentration
Reasons to avoid
-
Awkward controls
-
Unrefined design
While the Lumie Desklamp is unlikely to win many awards for style, what it lacks in good looks it more than makes up for with health enhancing features. The ultra bright blue tinted light has been designed to help treat SAD (Seasonal Affective Disorder), lift mood when you're stuck at your desk and also boost concentration.
To benefit from the mood boosting lamp it needs to be directed into your face for 30-60minutes per day, but you don't need to look directly at it. It takes some getting used to when you're sitting at a desk, but the light does flood your workstation with light which is great in winter.
The brightness of the light is adjustable - four settings - although the touch sensitive controls are a bit of a faff as you can inadvertently switch it off, but you'll appreciate the ability to dim the light at times as the maximum 10,000 lux is seriously bright.
6. Groov-e Apollo Lamp
The best multifunctional desk lamp
Specifications
Size: H35 x W13 x D13cm
Brightness: 50 lumens
Kelvins: N/A
Reasons to buy
+
Wireless charger and speaker built in
+
Space saving design
Reasons to avoid
-
Not the best sound quality
-
Fixed LED bulb
A superbly practical lamp design if you have a tiny desk or just hate clutter, because this compact model boasts 5W wireless charging for your smartphone or tablet and a built-in Bluetooth speaker for streaming your songs as you work.
Impressively the LED lamp has three modes to choose from; bright (good for task lighting), warm and cool. And while the built-in 3W Bluetooth speaker can't compete with a proper hi-fi or standalone speaker, it is loud and clear enough for a quiet office.
The Groove-e Apollo is also USB powered, meaning you can plug it into your laptop or a portable power bank and take it with you wherever you need to work and the flexible next makes positioning the light easy.
Why choosing the best desk lamp is so important
If you pick the right one, the best desk lamps can help ease eye strain and aid concentration - particularly important given that The Vision Council reports 59% of American adults experience digital eye strain. This eye strain common in office workers includes symptoms like sore or dry eyes, headaches and migraines, and blurred vision.
This has become even more common over the last 18 months, as the College of Opthometrists has dubbed the phenomenon "coronavision". We're all inside more, looking at screens more, and 22% of study respondents believed their use of screens, and vision, was getting worse over lockdown.
A good desk lamp can create the optimal viewing environment, emitting natural-seeming light to illuminate your workstation and providing brightness on dark days. Yellow lights don't emit blue wavelengths you get from screens, and it's this "blue light" that has been linked with increased stress and disruption to our circadian rhythms, interfering with our sleep.
Blue light has also been shown in studies to stimulate the production of cortisol in the body. Known as the "stress hormone", cortisol increases our feelings of stress, activating our flight-or-flight response, and encourages our body to store fat more easily.
An eye-friendly computer setting can kibosh blue-light's harmful effects, just like an e-reader can. A lower brightness screen coupled with a strong light is the best way to see what you're doing without affecting your health over long periods. A stylish desk lap also elevates the style of your workstation, helping to create a space where you feel comfortable working all day.
How to choose the best desk lamp for your home office
Our pick of the best desk lamp for home working is the TaoTronics LED Desk Lamp, thanks to its seven brightness levels, adjustability, and value. However, if money is no object, the Dyson Lightcycle Morph is hard to beat, boasting smart features that automatically adjust the brightness according to the time of day - further helping save you from the dreaded eye strain.
The main use of a desk lamp is to provide practical task lighting for when you need to concentrate on a particular area for writing, typing, or drawing. However, if you have squeezed an office into a living area, the desk lamp can also provide ambient lighting for after work hours, helping you to create a calmer, more relaxing space.
But what to look for? Here are a few factors to consider:
Size
There's no solid rule about the size of lamp you choose, but if it takes up valuable work space you know it's too big. Many of the latest LED models are incredibly slim yet powerful. Meanwhile, clip-on designs help save desk space if you can attach them to a nearby shelf.
Light source
Often lamps that feature traditional screw-in and bayonet bulbs don't come with one supplied, so you'll need to budget for these. While potentially annoying at the time, buying separately does allow you to choose the brightness and color temperature.
Meanwhile, lamps with fixed LED bulbs are great value and have impressive dimmable options, but bear in mind that if one bulb breaks then the lamp is often irreparable.
Brightness
As for the power and brightness of a bulb or lamp, you need to look out for two figures; lumens (lm) and kelvins (k).
Lumens measure how much light you are getting from a bulb; the more lumens the brighter the light. Kelvins, meanwhile, represent the color temperature of a bulb.
Around 2700k is considered a warm 'soft' white, while 4000 - 5000k is a much brighter, cooler light. At the top end of the scale, anything over 5000k is akin to daylight.
Soft white light is generally best for avoiding eye strain over long periods of time, whilst brighter cool light should be used in short bursts.
Positioning
Speaking of eye strain, another factor to consider is your lamp's positioning. "Reduce glare and reflections where possible by making sure the screen is pointed away from light sources," advises Charlotte Cook, Optometrist and Clinical Development Coach at Bayfields Opticians and Audiologists. You also want to avoid light shining directly into your eyes.
Models that allow you to adjust the angle of your lamp come in useful here, and have the added benefit of providing targeted illumination when you have a specific job at hand.
SAD lamps
Finally, lamps specially designed to treat seasonal affective disorder (SAD) - such as the medically-certified Lumie Desklamp - can help boost your energy levels, especially when the nights draw in. We've rounded up more of the best SAD lamps, if that's specifically what you're looking for.
Can lighting cause headaches?
It's true that certain kinds of bright and flickering light can cause headaches and are to be avoided as much as possible while you're working – fluorescent lights are often to blame, though you probably don't have these at home. The blue light emitted from a computer screen is known to interfere with our sleep patterns and should be switched off (or use an app to take out the blues) as the evening draws on but light in your home office can also help or hinder your eye - and head - health.
Blue-green light causes the most photophobia, a sensitivity to light that can cause headaches, migraines, and tension headaches. When choosing a desk lamp, look for one that has a gentle yellow colour that can counteract the glare of blue light and help you avoid headaches, and consider adding a yellow-toned shade to the main room light, too.
Get the Fit&Well Newsletter
Start your week with achievable workout ideas, health tips and wellbeing advice in your inbox.
Becks is a freelance journalist and writer with more than 7 years of experience in the field. She writes health and lifestyle content for a range of titles including Live Science, Top Ten Reviews, Tom's Guide, Stylist, The Independent, and more. She also ghostwrites for a number of Physiotherapists and Osteopaths.
Health has been a big part of Becks' lifestyle since time began. When she's not writing about the topic of health, she's in the gym learning new compound exercises. And when she's not in the gym, she's most probably reading.