Best office chair: support your back while sitting at your desk
The best office chair is there to make desk work much more comfortable and supportive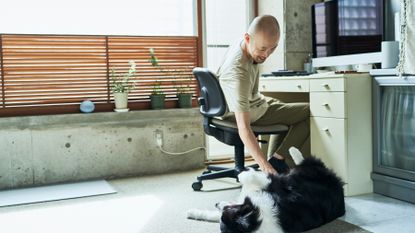 (Image credit: Getty)
The best office chair can be an essential tool for preventing unwanted back pain while working, and as a result, boost your concentration and productivity. Some of us spend more hours at our desks than we do anywhere else, which makes having a good desk chair all the more important for your wellbeing.
Just as it is beneficial to invest in a comfy bed and supportive sneakers, like as some of the best shoes for walking, your body will also thank you for arming your back with a supportive chair. Whether you spend all your time working at your desk, have a few days working from home and others spent in the office, or only occasionally use a home office space for life admin, you'll want an office chair that won't make you slouch or feel uncomfortable.
Our roundup of some of the best office chairs below includes quality models suited to varied budgets, different designs to appeal to individual tastes, as well as some of the most popular IKEA office chairs on the market right now.
There are a few things you'll want to look out for when choosing the right office chair for you. It will help to consider things like how high a back you want your chair to have, what adjustability options you require, such as moving your chair up or down so your feet can firmly touch the ground, and how much you can tilt the angle of the chair. If you suffer from lower back pain while sitting down then you'll want to check if the seat features lumbar support.
We discuss these specs and more below in Fit&Well's guide to the best office chair…
1. The IKEA JÄRVFJÄLLET
The best office chair for most people
Specifications
Seat height: 46-57cm
Seat width: 52cm
Max weight: 110kg
Lumbar support: Yes
Heigh adjustable: Yes
Tilt lock: Yes
Reasons to buy
+
Great back support
+
Fully adjustable
Reasons to avoid
-
Headrest too high for shorter users
-
Flimsy armrests
There are several IKEA office chairs worthy of the best buy, not least because each model is subjected to heavy loads and components tested up to 300,000 times.
But the JÄRVFJÄLLET stands out for us thanks to the combination of impressive value and must-have features. You can adjust the height, the seat can be tilted forward and back, and best of all, you can slide the nice wide seat forward and back to suit the length of your legs.
Lumbar support is also fantastic, especially for this price, offering all-round support for long days at the desk, and while the headrest might be a bit high for some, it's nicely padded and adds further to the overall comfort.
Armrests are available for $30/£25, but we found them to be quite flimsy, so it might not be worth the extra cost.
---
2. Herman Miller Mirra 2
The best premium office chair
Specifications
Seat height: 42.5-56.5cm
Seat width: 49.5cm
Max weight: 136-159kg depending on model
Lumbar support: Yes
Height adjustable: Yes
Tilt lock: Yes
Reasons to buy
+
Ergonomic support
+
Fully customisable
Reasons to avoid
-
Expensive
-
Large footprint
Designed to use the least material possible without sacrificing comfort or performance, the Mirra 2 is one of the most recognisable, and desirable office chairs available. And with a plethora of gorgeous colours and customisable options, including a choice of two highly breathable and flexible back rests it's easy to see the appeal.
The chair has been designed to adjust to and support your slightest movements, and while it doesn't have a big squishy seat, every aspect can be adjusted and you'll be all the more productive for it.
It's quite a large model with a wide base and larger than average arm rests, so measure carefully, but you won't be disappointed if you can squeeze it in.
---
3. AmazonBasics Mesh Back Office Chair
The best budget office chair
Specifications
Seat height: Adjustable
Seat width: 60.9cm
Max weight: 125kg
Lumbar support: Yes
Height adjustable: Yes
Tilt lock: Yes
Reasons to buy
+
Phenomenal value
+
Breathable design
Reasons to avoid
-
Minimal lumbar support
-
Non-adjustable arm rests
If you're glued to the laptop from dawn until dusk we'd strongly recommend you spend a little more on your office chair, but if you just need something for a few hours a day that isn't a kitchen chair, this design from Amazon is hard to beat.
It's ergonomically designed and has a cushioned seat and soft back that's breathable for added comfort. It has height adjustment (although not on the arm rests) and can be tilted and locked into the best position for your body. Like the IKEA chairs, the castors are weight sensitive, so there's no danger of it rolling away.
Impressively, especially given the price, you can tilt the chair both forward and back and adjust how much effort you need to apply to rock back in your chair.
---
4. HÅG Capisco 8106
The best office chair for sit/stand desks
Specifications
Seat height: 410 - 550/660/810mm (depending on height option)
Seat width: 49cm
Max weight: N/A
Lumbar support: Yes
Height adjustable: Yes
Tilt lock: Yes
Reasons to buy
+
Brilliantly versatile
+
Encourages movement
Reasons to avoid
-
Atypical design
-
Not great for relaxing
It's an unusual looking chair, but the Capisco is the sort of design you'll find in an upmarket architect's office, mainly because it is the most versatile design we've ever seen.
The saddle-shaped back and seat mean you can sit forward - as you'd imagine - but also perch on it sideways, or straddle it backwards, whatever feels most comfortable. This unusual configuration encourages you to move about instead of sitting motionless for hours staring at your laptop, and with a choice of adjustable heights, it can work brilliantly if you use a sit/stand desk.
The HAG Capisco 8106 is also impressively customisable with dozens of fabric types and colours available, three different max heights, two footrest designs and three castors for hard floors, carpets and fixed stools.
---
5. IKEA HATTEFJÄLL
The best office chair for style on a budget
Specifications
Seat height: 41-52cm
Seat width: 50cm
Max weight: 110kg
Lumbar support: No
Height adjustable: Yes
Tilt lock: Yes
Reasons to buy
+
Comfortable and stylish
+
Adjustable height and tilt
+
10 year guarantee
Reasons to avoid
-
Fabric stains easier than leather
-
Armrest height not adjustable
Smooth curves, small footprint and interior friendly colour options (grey and dusty pink woven fabric) mean this chair won't stand out if you've been forced to turn your bedroom into an office during the day.
Available with or without armrests, the deep seat and use of high quality polyurethane foam gives you plenty of cushioning while the pneumatic mechanism makes adjusting height quick and easy. There's also a nice smooth tilt mechanism, but you can't lock it in position. We also like the fact the castors don't roll unless you're putting pressure on them, so it will still be in the same place when you sit back down.
The steel frame and aluminium components feel robust, and the 10 year guarantee shows how confident IKEA is about their office products.
---
How to choose the best office chair for you
It's an eye-opening statistic, but eighty-one per cent of us spend between four and nine hours a day sitting at our desks. Given what we now know about why sitting is bad for you, choosing the right chair is even more important - especially as many of us are now working even longer hours from home.
But no matter how many hours you spend at your desk, the fundamentals of a good office chair remain the same to ensure the right level of comfort and support. These are the key factors to consider...
Adjustability
A key consideration is finding a chair that fits the height of your workstation. An adjustable seat height that allows you to place your feet squarely on the floor is essential.
Being able to adjust the angle is also a bonus as ergonomically it's good to have your hips the same height or slightly higher than your knees.
If you will be sharing your chair with someone and you're very different heights, make sure it's fully adjustable to fit all your needs.
As a rule, if a chair can't be adjusted it shouldn't be used for more than two hours a day.
Support
Your chair should be supportive of your body in a number of comfortable postures. Backrests and lumbar supports can help reduce strain on your spine, and make sure they're as adjustable as possible and support upper and lower parts of the back, especially if you're sharing the chair.
Any physiotherapist will also tell you that the correct sitting posture includes arms at a 90-120 degree angle, with your elbows fully supported - which makes armrests another key consideration.
Chairs on castors help promote more movement throughout the day, although put a protective mat down to preserve floorboards.
Quality
The best office chairs are built to last, with quality metal components where possible.
Your chair shouldn't just look good, it should also feel good and comfortable. Although a plain black mesh chair might not look very extravagant, the mesh material will provide a nice level of breathability as you work.
It's really important that you can adjust the settings of your chair and the stronger material used to build an office chair will mean the more reliable these controls will be.
Get the Fit&Well Newsletter
Start your week with achievable workout ideas, health tips and wellbeing advice in your inbox.
Becks is a freelance journalist and writer with more than 7 years of experience in the field. She writes health and lifestyle content for a range of titles including Live Science, Top Ten Reviews, Tom's Guide, Stylist, The Independent, and more. She also ghostwrites for a number of Physiotherapists and Osteopaths.
Health has been a big part of Becks' lifestyle since time began. When she's not writing about the topic of health, she's in the gym learning new compound exercises. And when she's not in the gym, she's most probably reading.