Cyber Monday deals: 25% off TRX body-blitzing home workout kits
Get into shape at home with these unmissable Cyber Weekend TRX deals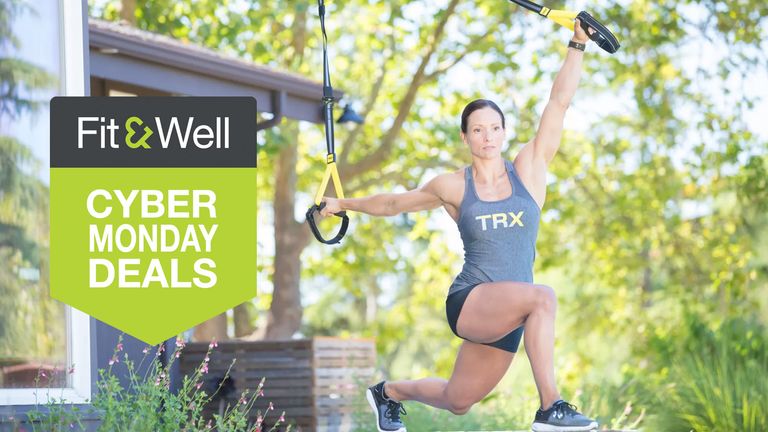 (Image credit: TRX)
We have more Black Friday and Cyber Monday fitness deals for you to take advantage of in the form of three complete home workout kits that utilise your body weight to provide a full-on body-blitzing sweat session.
We included TRX's suspension training system in our round-up of the best workout equipment for home, because they offer 'Total Resistance eXercise' with just a few items of essential kit. Devotees of the brand love how it helps deliver a full body workout without the burden of bulky weights and home gym equipment.
And this Cyber Weekend, you can save 25% on variety of TRX home suspension training sets at Best Buy. Prices start at just $74.99 for the Fit System Suspension Trainer, whilst if you're serious about your home workouts, the Elite System - the daddy of suspension trainer sets - is marked down to $149.99. Great fitness gifts to give this Christmas, perhaps?
Take a look at the deals below now, and remember to click quick - these deals won't last forever!
TRX Fit System Suspension Trainer | Was $99.99 | Now $74.99 | Saving $25 at Best Buy
With all the basics including easy-to-use door anchors, this suspension trainer set is great if you're just starting out on your home fitness journey. It includes with two digital workouts and a workout poster to help you on your way and a handy storage bag for when not in use.View Deal
TRX Strong System Suspension Trainer | Was $149.99 | Now $112.49 | Saving $37.50 at Best Buy
If you've mastered the basics, the 'Strong' set comes with the same equipment, but offers a key card featuring eight digital workouts - helping you to keep your workouts varied and motivating.View Deal
TRX - Elite System Suspension Trainer | Was $199.99 | Now $149.99 | Saving $50 at Best Buy
Serious about busting a sweat at home with a killer bodyweight workout session? This is the set for you. The Elite Suspension Trainer kit comes with a set of four TRX resistance bands, helping you to maximize your resistance training routines. Feel the burn!
Black Friday & Cyber Monday fitness deals: retailer quick links
With more than 20 years experience under her belt, award-winning writer and editor Rebecca Barnes has created health, wellbeing, beauty and lifestyle-related content for countless consumer and trade publications including Daily Express, Tatler, Good Housekeeping and Cosmopolitan. A Pilates fan, Rebecca loves participating in online exercise and dance classes; she is also partial to an indulging spa treatment and has been lucky enough to visit some of the world's most beautiful spas and health retreats during the course of her career.