At $300 off I'd take this Black Friday adjustable dumbbell deal over any Bowflex offers
This JAXJOX DumbbellConnect offer is a genuinely good deal (I should know, I use them most days)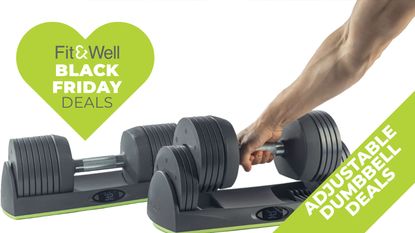 (Image credit: Jaxjox)
This JAXJOX DumbbellConnect Black Friday adjustable dumbbell deal is so good it will save you enough money to buy… a second set of JAXJOX DumbbellConnect adjustable dumbbells. Although, having used them in my home workouts for the past few months, I can assure you that one pair is all you need.
They have an MSRP of $499.99 but, in the run-up to Black Friday, Best Buy slashed their price by 40%. Then, just a couple of days later, the retail giant knocked another $100 off the cost, so you can now pick up a set for $199.99 at Best Buy (opens in new tab).
I was lucky enough to test the JAXJOX DumbbellConnect (opens in new tab) earlier this year and was so impressed that I've made them an integral part of my training ever since. The fact they offer eight different weight settings (from 8lb to 50lb) in one neat package allows me to put the strength-building principle of progressive overload (opens in new tab) to perfect use. It also means my home workout space has never looked neater, which is a big bonus.
So, as a fitness writer and regular user of the JAXJOX DumbbellConnect adjustable dumbbells, I feel I'm qualified to say that this Black Friday offer from Best Buy is genuinely an excellent deal. Scroll on to find out more about these free weights' strengths and weaknesses to decide if they're the right fit for your fitness routine.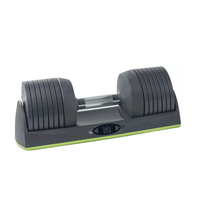 (opens in new tab)
JAXJOX DumbbellConnect| Was $499.99 | Now $199.99 at Best Buy (opens in new tab)
Save an incredible $300 on these adjustable dumbbells with this Black Friday weights deal. These clever items offer eight different weights in one compact package, and you can change the load in seconds using the digital docking stations. Don't miss out on this 60% saving before the deal ends.
Should you buy the JAXJOX DumbbellConnect this Black Friday?
The JAXJOX DumbbellConnect offers eight different pairs of dumbbells (weighing between eight and 50lbs) in one compact package. To change the weight, all you have to do is place the dumbbells in the digital docking trays and select the weight you want using up and down buttons.
This process only takes up a few seconds, which is great for intense lifting sessions. I was previously wasting valuable workout time changing plates on spinlock designs, so this has been a game-changer.
One of the big reasons I scored the JAXJOX DumbbellConnects more highly than similar rivals like the Bowflex SelectTech 552i (currently discounted $80 at Best Buy (opens in new tab)) is their shape. I found the slimmer, smaller plates didn't catch on my torso when performing exercises like bicep curls. The addition of buffers between the handles and the plates also provided a good place to grip the dumbbells when performing exercises like goblet squats. I was also a big fan of the medium knurling (or grooves) on the handles, which made sure they didn't become slippery when wet.
If you prefer functional training styles like CrossFit, I would recommend buying a rubber-coated fixed weight dumbbell rather than these free weights. This is because using them for dynamic movements like snatches or clean and presses isn't advised, as these dumbbells (like any adjustable dumbbell) aren't designed to be dropped. But for strength training movements like squats, lunges, rows and presses I found they performed immaculately.
The only other downside I found was that their docking stations need to be charged up to work, which is a slight drawback if you exercise in a garage with no mains supply. However, when a full tank lasts five days or more, this isn't too much of a concern.
Looking for more discounts? See our round-up of the best Black Friday weight deals or browse through a selection of this year's seasonal fitness savings
Harry Bullmore is a fitness writer covering everything from reviews to features for LiveScience, T3, TechRadar, Fit&Well and more. So, whether you're looking for a new fitness tracker or wondering how to shave seconds off your 5K PB, chances are he's written something to help you improve your training.
When not writing, he's most likely to be found experimenting with a wide variety of training methods in his home gym or trying to exhaust his ever-energetic puppy.
Prior to joining Future, Harry wrote health and fitness product reviews for publications including Men's Health, Women's Health and Runner's World. Before this, he spent three years as a news reporter with work in more than 70 national and regional newspapers.