13 ways to tone your arms that won't feel like working out
Great arms aren't just made in the gym! Here's 13 alternative ways to tone and slim down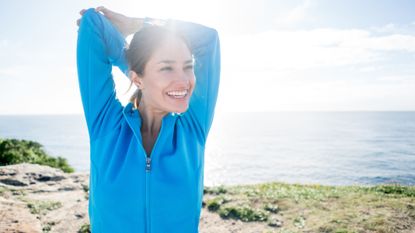 (Image credit: Getty Images)
Want to wave goodbye to wobbly arms and sport a more sculpted look? It's a common goal, but not everyone has time in their busy schedule to spend hours pumping iron or doing push-ups.
With that in mind, we asked celebrity trainer, performance coach and founder of Twenty Two Training Dalton Wong for his top tips on how to lose weight on your arms and get a sculpted look without having to lift a single weight. You'll find his 13 alternative suggestions below, from everyday tasks to fun pursuits.
Of course, the traditional methods are still worth exploring. If that's the route you'd prefer to go down, check out our 30-day arms challenge - and whilst you're at it, pick up a pair of the best adjustable dumbbells to use whilst completing it! Meanwhile if you're looking to work the upper arms, take a look at our guide to the best bicep workouts.
Rowing
Take your rowing game from the gym to the river. "Rowing is a great exercise for the arms but also the back. It's a great way of getting some cardio and also working your supportive back muscles," Wong explains.
Can't get out on the water? Consider making space for one of the best home rowing machines in your spare room or garage.
Grocery shopping
Next time you head to the supermarket, switch the trolley for a basket. This is an instant calorie burner and will increase arm strength and build muscle mass over time.
Just be sure to alternate arms rather than keeping the basket on your dominant side to avoid building more strength in one arm and neglecting the other.
Ball games like basketball or netball
Wong is a fan of the 'nothing but net' approach to toning one's arms. "Dribbling, shooting and blocking are a great shoulder workout! The deltoids get great exercise too, since you have to shift your arms in a multidirectional movement."
Ironing
Though not necessarily a fun activity, the constant movement of sweeping the iron along tiresome creases for an hour targets and tightens the arms. As with food shopping, just make sure you swap your arms over between garments - and take care not to burn yourself using your less dominant side!
Tennis or table tennis
Pull on your whites, head to your local court and enjoy a spot of tennis.
Wong says: "Forehand, backhand and smashes are great for your shoulder muscles, especially the supportive ones like your rotator cuff. Each forehand and backhand motion works a different rotator cuff that helps improve your shoulder health."
Yoga
"Each downward dog helps in breath and movement which is amazing for our health and wellbeing,' Wong explains. 'But those downward dogs also are great for sculpting your triceps." Get started at home with our pick of the best yoga mats.
Laundry
The thought of hanging out laundry is never the most exciting chore, Wong's wisdom turns laundry day into arm toning day.
"While we should always lift using our legs and core, when we are lifting we are also using our arms for support by holding the object. This support is great for your biceps!"
Swingball
Don't be fooled by this 70s family favorite. A couple of rounds of this racquet game, paying specific attention to your forehand and backhand swing, will easily get those arms in shape. It's highly competitive and good fun, too.
Plus, a garden Swingball tournament is a fun way to get the whole family moving and active - weather permitting, of course.
Dancing
"I suggest that you play your favourite song and dance it out!" Wong says. "You may not be the best dancer but all that arm swinging is great for toning. It's like a five-minute HIIT class."
If you need a bit more guidance, then look no further than our 40-minute jazzercise workout video. Instructor Jen's enthusiasm will quash any feelings of self-consciousness in no time!
TV Commercial Challenge
Combine your TV time with an arm workout, suggests Wong. "Next time you're watching TV and the ads come on, get down into a plank position!
Besides training your core, it also helps build and tone your shoulders." Why not challenge the whole family to get involved for a fun way to break-up TV time?
Gardening
With many of us spending more time at home at the moment, gardening has risen in popularity - but it might surprise you to know that gardening is a workout in itself. "Weeding, raking, planting or potting is a great workout for the back and shoulders," Wong agrees.
And that's not the only benefit. "Getting outside is a perfect antidote to help us relieve stress," he adds.
Golf
Whether you head to the driving range or your local course, golf can help you towards your arm goals. "Each swing you make is great for your core but also an amazing workout for your arms,' confirms Wong.
Just be sure to ditch the buggy and walk the course; not only will carrying your clubs help tone your arms, it'll also help you walk 10,000 steps a day.
Get the Fit&Well Newsletter
Start your week with achievable workout ideas, health tips and wellbeing advice in your inbox.
Kirsty is an accomplished journalist specialising in the wellness industry. She has previously written for titles including Grazia, Popsugar, Metro.co.uk, Elle UK and the Sunday Telegraph. You'll find her running around Windsor Great Park at 6am most mornings (before her toddler, Clementine Lilac, wakes up), followed by a virtual barre class with the team at Psycle London – where that barre burn is just so addictive. Kirsty loves to stock up on new activewear; because, let's face it, you can never have too many pairs of sculpting leggings. She's always keen to try/endure the latest workouts to come to London. Kirsty also enjoys rustling up nutritious family meals and indulging in her newfound hobby: flower pressing.