Are you fit enough to run?
Before you start to run, make sure you have gone through this checklist to ensure you're as fit as can be to avoid injury or other health complications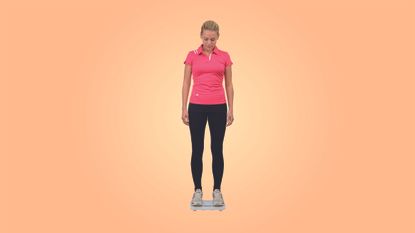 (Image credit: Future)
Get the Fit&Well Newsletter
Start your week with achievable workout ideas, health tips and wellbeing advice in your inbox.
Thank you for signing up to Fit And Well. You will receive a verification email shortly.
There was a problem. Please refresh the page and try again.
The first thing you must do before embarking on running as a lifestyle choice is to speak to a health professional, and make sure you feel 100 per cent fit, healthy and prepared with all the best advice possible.
Running puts a lot of pressure on your body, and is physically demanding, especially when you're just starting out, so be very aware of any niggling pains that crop up. If you have any health conditions that may affect your running, such as pregnancy, being over- or underweight, heart troubles, high blood pressure or diabetes, always speak to your GP for advice before embarking on a training programme.
Devising a running training plan will differ depending on what your reasons for running are. The biggest motivation is weight loss, and choosing a training plan suited to your physical needs is vital. If you're overweight, then building up your running gradually over a longer period of time at a slower pace is necessary.
When you visit the doctor, they will assess your height, weight and blood pressure, so if you are starting to run because you want to lose weight, then tell them so, and they will be able to offer advice regarding any dietary alterations, or other relevant tips to aid you in your programme.
If you're currently overweight, then running will put a far greater pressure on your heart and body. For a few weeks before starting a running training plan, walk regularly three to four times a week, slowly increasing the pace until you feel ready to add a few short bursts of speed – this walk/run method is the best plan for beginners to steadily build up fitness.
Read through the checklist, and ensure that you follow our advice closely to be as safe as possible.
Before running visit a health professional and make sure you have ticked all of these boxes:
Healthy Running: You can use these figures to calculate your BMI, which is one test of health. However, if you are lean and muscular, your BMI might be high, even though you are perfectly healthy.
Blood Pressure: Maintaining an active lifestyle can lower blood pressure, but take it easy to begin with. Build up slowly and don't let yourself get too out of breath. Stop before exhaustion hits.
Waist-to-hip Measurement: A more useful BMI alternative. Measure waist and hips to get your ratio (divide the former by the latter), which shouldn't be more than 0.8 for women and 0.95 for men.
Lung Capacity: Your lung capacity will increase with training, resulting in you getting breathless less easily. A doctor will assess how much air your lungs can take and if there are any underlying issues.
Pregnancy: Exercise can be done, but only if your body is used to it. Don't start a running plan if you have never done it before as it is too intense. Try cycling, walking or swimming instead.
Pick your training plan: Choose a plan suited to your age, body weight and fitness level. Don't overdo it; slow and steady is the key to achieve your targets.
Diet overhaul: Making changes to what you put into your body will aid in weight loss and fuel you to run. Keep a log of everything consumed in one week to identify problem areas.
Gauge your health
The Body Mass Index is a gauge for weight management. It is calculated based on your weight divided by the square of your height. While it's a useful guide for beginners, it treats all weight, whether healthy muscle or unwanted fat, the same.
There are alternatives, such as the waist-to-hip ratio, which works on the theory that too much abdominal fat causes major health problems, or the body fat percentage, which is done on a machine that works out how much of your weight is 'fat', separating it from muscle. You can find these machines in health stores and pharmacies, and there are at-home models, too.
Healthy running
Follow these quick tips when you're first starting out as a runner:
Don't overdo it
Build up gradually
Take walking breaks to catch your breath
Don't run if feeling unwell
Keep a running log and record how you feel
Relax and run with friends • Enjoy yourself
Eat healthily
Get plenty of sleep
Run regularly to beat the aches
Get the Fit&Well Newsletter
Start your week with achievable workout ideas, health tips and wellbeing advice in your inbox.
Launched in 2020, Fit&Well.com is all about helping you meet your health and fitness goals in ways that are fun and achievable. With news and features on fitness, weight loss, running, nutrition, yoga, wellness and more, we're committed to helping you wherever you are on your fitness journey. We break down the best fitness tech, with reviews, buying guides and the latest deals on fitness and wellness kit, from dumbbells to diffusers.
We cater for all difficulty levels here. It doesn't matter if you're a beginner in the world of fitness or you're gearing up for your tenth marathon: we're all moving towards the same goal – creating a healthier, happier you. From guides on getting started doing walks around the block, to creating the perfect work-from-home space, to eating to fuel your first triathlon. It's all here.