Bala Bangles: Why the Insta-famous wearable weights are worth the investment
Considering getting a pair of Bala Bangles but unsure if they're worth the spend? Not even sure what Bala Bangles are? Allow us to enlighten you...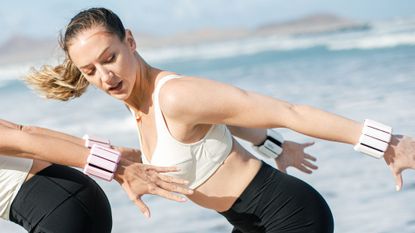 (Image credit: Louisa Drake)
Get the Fit&Well Newsletter
Start your week with achievable workout ideas, health tips and wellbeing advice in your inbox.
Thank you for signing up to Fit And Well. You will receive a verification email shortly.
There was a problem. Please refresh the page and try again.
You might not recognize the name, but you've probably seen Bala Bangles gracing a host of fitness influencers and celebrities on social media.
Reese Witherspoon and Kim Kardashian are major fans of the weighted workout bangles, and have both been spotted wearing Bala bangles during sweat sessions on their Instagram accounts. You might also have spied these colorful bands inside some of the most elite fitness studios or on your favorite instructors on Zoom, as they quickly become the accessory of choice for barre and Pilates-based workouts.
Worn around the wrist or ankles to add extra oomph to your workouts, Bala Bangles hail from LA (where else?) and can make a great alternative to some of the best adjustable dumbbells or best kettlebells if you're looking to work with weights.
Louisa Drake, founder of the eponymous Louisa Drake Method, is also a big fan of Bala. 'I reached out to Natalie Holloway, the lady behind the husband-and-wife team who created Bala,' she told Fit&Well. 'She was a yoga teacher and used her expertise to revamp this classic 80s item of kit.'
Such was demand during the first coronavirus lockdown that the waiting list ran into several months, with Drake adding: 'I had so many requests for Bala bangles that the demand led to us selling them online, as Covid-19 meant we were working out more at-home.'
With high praise from some of the best instructors in the business, it's easy to see why these weighted bangles have become such a hit. Below we outline 9 reasons they live up to the Insta hype...
1. They pump up your workouts
Not only do these bangles look way more stylish than traditional weights, when worn on the wrists or ankles (or – go big - on both), they add a new dimension to your workout by upping the level of resistance and strength. This results in a higher heart rate, increased fat burn and faster muscle build.
2. They're suited to all workout styles
The fact that Bala bangles are so easy to slip on and off during exercise and are portable enough for travel means that the options for Bala-suitable exercise are endless. They're suited to activities including yoga, barre, Pilates and stretching, as well as cardio and HIIT-focussed training like cycling, boxing, hiking and bootcamp.
We've even seen Bala fans wearing them to clean the house or when out for a walk in order to amp up the calories burned day-to-day!
3. They're easier to clean than regular body weights
The weights themselves are made from recycled stainless steel wrapped in a durable smooth silicone, which makes them far easier to clean than traditional fabric body weights. Let's face it, if you've ever had your gag reflex activated by putting on fabric weights that are still soaked in your (or - worse still - someone else's!) sweat, this will be a huge positive.
4. And easier to use than dumbbells
Many people find body weights easier to use than weights you have to actively grip, such as dumbbells and kettlebells.
Drake says: 'Adding Bala Bangles into your at-home workout kit offers a great alternative to always holding hand weights or dumbbells. You can free up the hands and wrists and can switch them quickly to your ankles instead of holding a weight behind the knee during lower body workouts - a more fluid way of moving during workouts.'
5. Fitness instructors and customers swear by them...
If you are still debating whether your workout requires a pair or two of these bangles, then let Bala's rave five-star reviews speak for themselves. With over 1,300 positive reviews from Bala devotees on its website, ranging from first-time buyers to a range of fitness instructors, the proof is truly in the pudding.
One recent reviewer raved: 'I used to use sandbag ankle weights, but they'd leak sand all over the place and felt so unstable. These are utter perfection. Thye feel super secure, there's zero leakage, and they are adorable. One of the greatest investments I've made in my fitness regime.
6. ...as do a host of celebrities
Bala weights are a firm favourite with actor James Franco (who runs in the 1lb bangles) and tennis star Maria Sharapova (who wears them in most of her workouts). Sharapova is also one of the investors in Bala Bangles, along with Sofia Richie, Charlotte McKinney and celebrity stylist Rachel Zoe.
7. One size fits all
Whether you want to slip them around your wrists for arm-based workout, or your ankles to feel the burn in your legs and butt, Bala's one-size-fits-all bangles feature strong Velcro fastenings allowing for a custom fit, no matter what your size. Even better, the strong fastenings ensure they won't slide out of place midway through a workout.
8. Three weight levels available
Depending on your workout needs, the bangles are available in ½ lb, 1lb and 2lb weights – the 1lb option being the most popular Bala bangles for new customers. With this range of choice, whether you prefer high-intensity training like boxing, or lower impact options such as mat-based exercises, there is a Bala bangle for you.
9. 13 cute colors available
Want to match your weights to your yoga mat or your favourite workout kit? Bala has a rainbow of hues available, from banana yellow to deep blue, heather grey and blush pink (the most Instagrammable colour, IOHO).
There's even special edition prints and effects available in glitter, marble design and Pride rainbow print, depending on your mood and preference.
Bala Bangles are available from shopbala.com and selected retailers. The brand also make Bala Bars and The Power Ring.
Get the Fit&Well Newsletter
Start your week with achievable workout ideas, health tips and wellbeing advice in your inbox.
Kirsty is an accomplished journalist specialising in the wellness industry. She has previously written for titles including Grazia, Popsugar, Metro.co.uk, Elle UK and the Sunday Telegraph. You'll find her running around Windsor Great Park at 6am most mornings (before her toddler, Clementine Lilac, wakes up), followed by a virtual barre class with the team at Psycle London – where that barre burn is just so addictive. Kirsty loves to stock up on new activewear; because, let's face it, you can never have too many pairs of sculpting leggings. She's always keen to try/endure the latest workouts to come to London. Kirsty also enjoys rustling up nutritious family meals and indulging in her newfound hobby: flower pressing.