Veganuary: BOSH!'s top tips for easy, healthy, mood-boosting vegan meals
The BOSH! vegan Youtube channel and cookbook authors, Henry Firth and Ian Theasby, tell us how to eat happier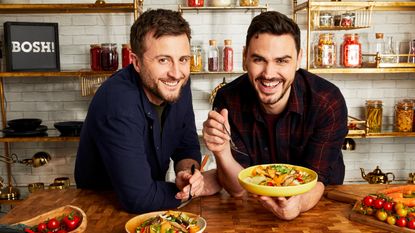 (Image credit: Getty Images)
BOSH!'s Henry Firth and Ian Theasby used to be big meat-eaters a few years ago. Since then, the duo of home cooks have launched wildly successful YouTube and Instagram channels, five cookbooks (making our best vegan cookbooks list) and a load of successful collaborations with some of the biggest names in food.
We spoke to the duo about all things vegan – how to boost your mood in one of the most depressing times of the year, why meat-eaters might try vegan recipes (even if you don't make a shift towards 100% veganism) and how to shop for a healthy, happy vegan diet packed with flavour and fun.
Fit&Well You guys are working with Kallo on vegan recipes to boost your mood. What kind of ingredients and recipes should we be using to see off the January blues?
Henry: We've all been in quite a sad phase, I would say. A lot of people are at home in quarantine, including ourselves, and it can be quite a melancholy time. So I do think food is one of those moments that you can use to lift your mood. It has a real impact make you happy or make you sad. Our tendency as humans is to go for comfort food, which is often beige, and has the perfect mix of salt, fat and refined carbohydrates. It makes us feel good, but crisps, doughnuts… they all make us feel bad afterwards.
We looked into what kind of foods make people feel actually joyful, and happy, and what was interesting is the top 15 foods that make people feel good. They're all vegetarian (except salmon). Coffee was in there, grapes, chocolate… And chilli, when you eat chilli you have a rush of endorphins.
There's some science behind it all, they're all serotonin-boosting foods. As humans, we love sweet things and the taste of fat, but if you can find healthier sources of those sugars and fats, that's really good. So that means things like nuts, which are high in natural fats, and fruit, which is full of natural sugar, are going to be really pleasing to eat and help people feel good.
Fit&Well: If you had some golden rules for vegan cooking, what would it be?
Henry: The first is "eat the rainbow". We're not talking about eating Skittles, because they're not good for you, but getting as many different plant foods in with different colours as possible. They're packed full of phytonutrients which basically just means plant chemicals that do different good things within your body. So get as many colourful plants into your body as possible. That's number one.
Ian: The next rule is focused on one specific colour, and the colour is green. Just remember to get your greens in, whether that's eating spinach or kale in a green smoothie or as part of a salad. That's a really great way of just getting like some very good, necessary nutrients into your body like iron and zinc, magnesium and calcium. So yeah, you need to really consider the greens. And the green smoothie every day is a great way to do that.
Henry: The third golden rule would be "mix up your plate". And when we say mix up your plate, there's a rule you can google called the "vegan power plate", which is really just having a mix of healthy carbohydrates and proteins and fats in every meal. A good rule of thumb is to aim for about 50% carbohydrates from fruit and veggie sources, 25% of the meal should be your source of protein, to make sure you're eating enough protein on a vegan diet – so that would be like your soya, your legumes, that kind of thing – and then about 25%, will be coming from whole grains.
That's going to be a really good balanced meal, but you don't need to worry so much about specifics: just make sure you've got a bit of protein, a bit of carbs and a bit of fat on every plate.
Fit&Well: What about shopping? What kind of approach do you take in the supermarket?
Ian: We use "the 80/20 principle", which is all about constructing our sort of weekly meals. If you're heading to the supermarket and you're looking at your trolley, 80% of the food in there is going to be pretty healthy stuff with lots of vegetables and legumes, whole grains, that kind of thing. And then 20% of it will be a little unhealthy: maybe some chocolate brownies, vegan ice cream, burgers. As much as food is fuel, it needs to be a little bit fun as well. The 80/20 principle is a really good way to make sure you're getting a nice, well balanced diet.
Henry: You don't have to be a nutritionist to eat a vegan diet, it's really not that hard. But it is good, as a human that is alive in a body, to do a bit of thinking about what nutrition your body might need. A multivitamin with B12, for example, is something you want to probably get if you're on a vegan diet. The UK Government recommends we should all be taking vitamin D in winter. And supplementation is a good thing. (Editor's note: If you're curious about vitamins, take a look at our best vitamins for women over 50 and our best supplements for joints)
Fit&Well: You both used to be big meat-eaters. What's the meat recipes you miss most, and have you tried to recreate it as vegans?
Ian: Yes, we were both big on meat for every meal. Literally it would be a bacon sandwich for breakfast, lunch would be a chicken sandwich or pork sandwich from the local place, and for dinner, we'd have fish and chips or something like that.
When we both decided we wanted to provide people with recipes, that made the transition to a plant based diet easier by offering familiarity, so in our first cookbook, we took our old favourites and made them plant based without using meat replacements. So we have got the ultimate chilli, in which we replace beef with mushrooms that we blitz in a food processor, to replicate the texture of ground beef.
Henry: Even meat-eaters who eat healthily might go for things like salmon and new potatoes with lots of broccoli, and even those kind of things we've tried to recreate – for example, we recently created salmon from tofu.
Fit&Well: One of the criticisms often levelled at a Vegan diet is that it can be quite expensive. How do you keep things cheap while still tasting right?
Henry: It doesn't have to be expensive at all. In actual fact, if you look at a typical meat eater's plate, the most expensive thing will probably be the meat or the fish. And it should be, as hopefully expensive meat is higher welfare, high quality. So by cutting that out, you obviously are going to make a saving.
I think that a lot of the time when people think it's expensive is when they are going down the supermarket isle picking up packets that say vegan on them. So might be vegan sausages or vegan burgers, or vegan, fresh pasta, or any of the crazy things that have been launched. If you're looking to save money, which we are now in 2021 because we're locked down like everybody else. I think avoiding those products is a really good idea and just sticking to whole foods, whole grains, basically what they want a whole food plant-based diet.
Fit&Well: So what attracts you guys and your viewers to veganism as a whole?
Ian: Yeah, I think that's one of the interesting things about veganism. There's three solid pillars that people will gravitate towards: one is environmental impact and reducing carbon footprint, another is the obvious kind of animal welfare implications, because most of the meat we eat – as much as we probably would like to think otherwise – is probably not good.
The third is people's health as well, because getting loads more veggies inside the body can't be bad. A lot of people will start with one, and end up caring about all three.
Fit&Well: Final question: neither of you are professionally trained chefs, but it hasn't stopped you guys from making a splash. Do you feel like not being constrained by the classical side of things has helped you guys approach food in a new way?
Henry: We've got so much respect for chefs, but I think it's helped us to be basic. No self respecting chef would make a beans-on-toast recipe. I think if you're a badass chef, you want to impress people with how clever you are and the different ingredients and flavours you can bind together. But often it can rule a lot of people out. So we're very accessible in our recipes, because we are just home cooks.
Ian: If we can do it, then other people can do it, it's not a bridge too far, and our recipes aren't that difficult to cook.
Get the Fit&Well Newsletter
Start your week with achievable workout ideas, health tips and wellbeing advice in your inbox.
Matt Evans is an experienced health and fitness journalist and is currently Fitness and Wellbeing Editor at TechRadar, covering all things exercise and nutrition on Fit&Well's tech-focused sister site. Matt originally discovered exercise through martial arts: he holds a black belt in Karate and remains a keen runner, gym-goer, and infrequent yogi. His top fitness tip? Stretch.