Fitbit Sense vs Apple Watch 7: which fitness watch should you buy?
The older Fitbit Sense and the Apple Watch Series 7 are similarly priced, but there are plenty of differences.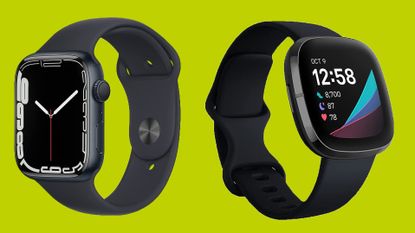 (Image credit: Fitbit/ Apple)
Although the Apple Watch Series 8 and Fitbit Sense 2 have now launched, the Apple Watch Series 7 and first-generation Fitbit Sense are still a great option. With newer models available, the two older devices are often heavily discounted, but are still packed with health and fitness-tracking features.
As retailers work to clear 'old' stock, it's worth noting that both of these models are still among some of the best fitness trackers (opens in new tab) you can buy. In fact, the newer models offer relatively little new features for their higher price.
The Apple Watch Series 8 adds a temperature sensor that can track ovulation and car crash detection, while the Sense 2 adds a variety of new workout modes and makes the EDA scan a more passive tool that you don't need to trigger.
We'd argue neither is worth the upgrade, and with discounts expected on the Apple Watch Series 7 and the first Fitbit Sense, the two seem to be once again competing for your attention. Here are our impressions of both, as well as which you should choose.
Fitbit Sense vs Apple Watch 7: price
The Fitbit Sense debuted at the high price of $299.95/£299.95 in September 2020 alongside the Versa 3, but we've now seen it as low as $179.99 fairly regularly at the likes of Amazon.
The Apple Watch Series 7, seen below, is a little more complicated because Apple has removed it from sale so the race is on to secure older stock. The device launched with 41mm and 45mm variants back in 2021, but the former is very tough to find without opting for a used version.
On the other hand, the 45mm option can be found for as low as $295 to $310, depending on color and whether you want a cellular connection. That's a steep drop from the $429 it cost new in that size.
Fitbit Sense vs Apple Watch 7: design
Much of the Fitbit Sense's design language appears to have been borrowed from the Apple Watch, with a rounded square design, bright display, and silicon straps.
Look a little closer, though, and the differences become apparent. For one, the Apple Watch has two physical controls on one side – a side button, and the Digital Crown. The Fitbit Sense, on the other hand, has a single capacitive (touch-sensitive) button.
There's also a larger screen on the Apple Watch 7 thanks to the way its display cascades over the edges of the chassis, whereas the Fitbit Sense display is flatter. Apple's 1.9-inch screen also has more pixels (484x396) than Fitbit's 1.58-inch one (336x336).
Fitbit Sense vs Apple Watch 7: features
While they may look somewhat similar, the Fitbit Sense and Apple Watch 7 are very different devices, and that's primarily down to how they're categorized.
The Fitbit Sense is, in the most basic sense, a fitness tracker, while the Apple Watch is a smartwatch. That may seem like splitting hairs, but there are sizeable differences and different pros and cons that go with both of those designations.
The Fitbit Sense, for example, is made for tracking your steps, heart rate, blood oxygen level, and more, but essentially ties into an app on your phone to present much of the data and do a fair amount of the heavy lifting.
The Apple Watch, on the other hand, is intrinsically linked to your iPhone (Android users need not apply), and that means it can do things the Fitbit can only dream of. It can store music to play directly to your earphones, it can type and send messages, you can install apps on it, and it can link directly to other third-party workout apps like Strava or Fitbod.
You can also get an Apple Watch with a cellular connection (although you'll need a plan from your carrier to take advantage of it), which means you can make calls, send and receive messages, and more without having your phone with you.
Fitbit Sense vs Apple Watch 7: performance
Whether you need all of those features or just want a nudge to get off the couch every so often is up to you, but in our testing, we've found both devices to be more than capable of tracking workouts consistently with each other thanks to built-in GPS on both.
It's worth noting, though, that you'll have to charge the Apple Watch more often. It'll be gasping for a charge after a day and a half (on a good day), and the more you use it, the more you'll see diminishing returns.
On the other hand, the Fitbit Sense will hit six days of battery life, including overnight sleep tracking. That means if you're always on the go, it could be the option for you.
Finally, it's worth noting that while the Fitbit Sense 2 now has 40 workout types, the Sense 1 only has half of that number. That may mean you struggle to find something that fits the activity you're doing, whereas Apple Watch is consistently getting new, sometimes obscure workout types added.
Fitbit Sense vs Apple Watch 7: verdict
The Apple Watch Series 7 and the Fitbit Sense are very different devices, and the price gap certainly reflects that.
If you're looking for a wearable that packs a remarkable amount of tech into a device that fits on your wrist, the Apple Watch is a great purchase if you can find it at a discount.
On the other hand, if you're looking for something solely focused on fitness (or you have an Android phone), the Fitbit Sense is a good option.
Lloyd Coombes is a freelance technology and fitness writer and reviewer for Fit&Well, with bylines at other Future publications, including Live Science, TopTenReviews, Space.com, and TechRadar. He regularly tests out the latest gadgets, including fitness trackers, headphones, and gaming accessories. When he's not reviewing hardware, Lloyd writes about video games at Dexerto.com.