Fitbit Sense vs Fitbit Sense 2: which should you buy?
Which of Fitbit's most expensive trackers should you buy? Let's find out who wins between the Fitbit Sense vs Fitbit Sense 2.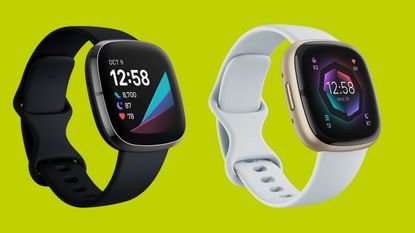 (Image credit: Fitbit)
Fitbit Sense vs Fitbit Sense 2: Is there a clear winner? The Fitbit Sense was, for a while anyway, the company's most expensive and feature-packed tracker – but the arrival of the Fitbit Sense 2 will likely have you wondering which one you should buy.
While both are easily among the best fitness trackers around, there are some subtle differences between the two that may make all the difference in your personal use case. There are some things that'll get better with the Fitbit Sense 2, since the launch version is awaiting some key updates.
There's also not a huge deal of difference in the design between each, meaning if you're looking for a more slimline device you may be better looking at the Fitbit Charge series or the cheaper Fitbit Inspire lineup.
Whether you buy the Fitbit Sense or the Fitbit Sense 2, you're getting an excellent fitness tracker, and will be able to collect a wealth of data about your body and its systems. But, to find out which is for you, read on.
The original Fitbit Sense is one of the most feature-packed in Fitbit's lineup, offering workout tracking, health monitoring, and heart health features. Now the Sense 2 exists, you can often pick up the Sense at a discount.
For
Apple Watch-style design
Comprehensive range of health and fitness sensors
Often available at a discount
Against
Need to manually check stress levels
Fitbit Premium required for many exercise features
The Fitbit Sense 2 adds all-day stress tracking and a slightly tweaked design, but offers a similar experience to the original Sense. Worth it if you're getting a smartwatch for the first time, but Sense owners won't find a pressing reason to update.
For
All-day stress monitoring
20 new workout modes
Slightly thinner and lighter
Against
Similar experience to the Fitbit Sense
Fitbit Premium required for many exercise features
Fitbit Sense vs Fitbit Sense 2: Price and Release Date
The original Fitbit Sense launched in September 2020 for $299.95/£299.95 and was very well received.
Its successor, the Fitbit Sense 2, arrived in late August of 2022, allowing for almost two years of the first device before sweeping in with some subtle, but potentially important, differences. It costs the same as its predecessor.
Now that the second version is out, though, we've seen the original Fitbit Sense drop to prices as low as $179 – a 40% drop.
Fitbit Sense vs Fitbit Sense 2: Style and design
The Fitbit Versa 3 and the Fitbit Sense shared the same chassis, and while the Sense 2 appears to follow that trend there are some subtle differences.
The biggest change on the new model is that there is now a physical button as opposed to the touch-sensitive side button offered by the original Sense. That's likely to be a matter of personal preference, but it could be more responsive with sweaty hands.
Other than that, the main differences are that the Sense 2 is a little thinner than its predecessor (by just under 1.2mm), and it's also a little lighter (by six grams). It's not a lot, but if the original Fitbit Sense felt overly bulky, this may get it closer to a sweet spot for you.
Fitbit Sense vs Fitbit Sense 2: Health tracking
Both the Fitbit Sense and the Fitbit Sense 2 offer almost identical tracker capabilities. There's heart rate tracking, blood oxygen tracking, a skin temperature sensor, sleep tracking, step tracking, and plenty more.
All of this data is viewable in the Fitbit app, and can also record directly in the likes of the Apple Health app.
The main difference this time around is that whereas the EDA scan (intended for tracking your levels of stress) on the Fitbit Sense was a nominative process, it's constantly running on the Sense 2. This means to track your levels of stress, you'll no longer need to place your hand over it. This is done through a new electrical sensor on the underside of the Sense 2.
The only other addition is twenty new workout modes, taking the total number up to forty. New options include HIIT, CrossFit, dance, and weightlifting selections.
Fitbit Premium also returns, unlocking the Daily Readiness Score which is influenced by your workouts, recovery, sleep, and dietary data.
Fitbit Sense vs Fitbit Sense 2: Smart features
Despite Google owning Fitbit, the tech giant is still yet to put its Wear OS operating system on a Fitbit device. That means that the Fitbit Sense 2 offers almost the same functionality as the Fitbit Sense 1 did two years ago.
That's not necessarily a bad thing since the Fitbit app is easy to navigate and its data is easy to extrapolate, but there are features, like taking calls via Bluetooth devices, that are coming after launch.
Google Assistant also isn't here just yet, making this firmly a fitness tracker as opposed to an Apple Watch/Pixel Watch bothering smartwatch with additional app support and smarter integration with your phone.
Fitbit Sense vs Fitbit Sense 2: Verdict
The addition of another twenty workout modes and a more automated EDA tracker are helpful additions for those that will use them, but it feels hard to justify an upgrade from the Fitbit Sense to the Sense 2 – or to make the decision to buy the latter over the former.
That could just be a side effect of the first Sense being so well-stocked with sensors and tech, but unless you're desperate for those new features and a slightly slimmer design, it's a tough ask to spend $100 extra.
Lloyd Coombes is a freelance technology and fitness writer and reviewer for Fit&Well, with bylines at other Future publications, including Live Science, TopTenReviews, Space.com, and TechRadar. He regularly tests out the latest gadgets, including fitness trackers, headphones, and gaming accessories. When he's not reviewing hardware, Lloyd writes about video games at Dexerto.com.