Five delicious fat-burning smoothie recipes for weight loss
Try these tasty smoothie recipes for weight loss as part of a healthy balanced diet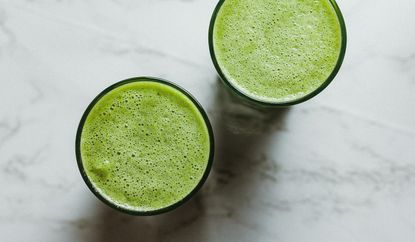 (Image credit: Unsplash)
Get the Fit&Well Newsletter
Start your week with achievable workout ideas, health tips and wellbeing advice in your inbox.
Thank you for signing up to Fit And Well. You will receive a verification email shortly.
There was a problem. Please refresh the page and try again.
Smoothies are a fast and easy way to up your fruit and veg intake – and a blend of the right fat-burning ingredients can boost weight loss, too.
After a year at home due to Covid-19, many of us have been using our best blenders to come up with new healthy drinks. So we invited nutritional therapist Becs Steele to share her top five smoothie recipes for weight loss.
Incorporating a nutrient-dense smoothie into your routine can help avoid the pounds creeping on by keeping hunger levels in check, says Becs, and they will fill you up with good nutrients like fiber and protein (meaning you are less likely to snack or give into unhealthy cravings).
Becs, who is an integrative health coach who specializing in helping people overcome anxiety and depression through nutrition, says: "Smoothies are great as part of a healthy balanced diet, but one smoothie itself isn't going to magically help you lose weight.
"A healthy lifestyle with regular exercise, good sleep and a colorful rainbow of nutritious foods is the best way to drop pounds – and keep them off."
Check out Becs' tasty recipes below.
Banana and almond smoothie
Ingredients & Method:
1 cup unsweetened almond milk
1/2 banana (frozen is better)
1/4 cup oatmeal
1 tsp almond butter
1 tbsp ground flaxseed
1 tsp vanilla extract or vanilla bean paste
5-6 ice cubes (leave out if using a frozen banana)
Blend all ingredients until smooth and enjoy.
Becs says: "The protein in the almond butter and flaxseed means you will feel fuller for longer, while antioxidant-rich almonds are high in healthy monosaturated fats, fiber, protein and other important nutrients."
[Editor's note: if you need more protein in your smoothies and shakes, our best protein powder for weight loss list is a great place to start]
One study found that eating almonds every day could lower cholesterol and also help blast belly fat, according to studies.
Almonds contain an amino acid called L-arginine that when used after a workout can help the body burn more fat.
Keto avocado and coconut smoothie
Ingredients:
1/2 avocado
3/4 cup coconut milk
1/4 cup almond milk
1 tsp fresh grated ginger
2 tbsp ground nut powder
Handful frozen berries
1/2 tsp turmeric
1 tsp lemon or lime juice
1 cup crushed ice
Method:
Add the avocado, milks, ginger, ground nut powder, berries, turmeric and lime juice to a blender and mix until smooth.
Add the crushed ice and sweetener to taste.
Blend again until smooth.
Adding a pinch of black pepper activates the curcumin in the turmeric and makes it more easily absorbed without changing the taste of the smoothie.
"This is a really creamy, low carb sugar-free smoothie that is high in anti-inflammatory properties and antioxidants," says Becs. "The avocado is full of good fat and fiber, which keeps you full and means you won't overeat. It also helps regulate your blood sugar – making you less likely to store fat as energy.
"Meanwhile coconut milk is full of medium chain fatty acids (lauric acid), which have been shown to boost metabolism, as well as vitamins and minerals," says Becs.
Green goddess smoothie (vegan)
Ingredients & Method:
1 cup almond, rice, or soy milk
1/2 cup kale
½ cup spinach
1/2 a green apple
3-inch piece of cucumber
1/2 an avocado
1 kiwi fruit, skin removed
Blend all ingredients until smooth.
"These ingredients pack a powerful nutritional punch and work together to kickstart your metabolism," says Becs. "Green smoothies are a great way to get extra veg in your diet, which helps with liver detoxification. Avocados are full of healthy fats that keep you feeling full longer while cucumbers also work to keep you sated with their hydrating properties.
"Kiwis are excellent sources of fiber (great for digestion) and kale is packed with omega-3s - essential fatty acids that boost brain, eye, gut and heart health - as well as magnesium."
Tropical berry smoothie (vegan)
Ingredients and method:
1 cup of fresh strawberries
1 cup mixed berries fresh or frozen
1/2 banana frozen
1 tsp ground flaxseed
8 oz light coconut milk
1/4 cup desiccated coconut flakes
Peel the frozen banana and chop the stalks off the strawberries, then blend all ingredients until smooth and drink immediately.
"Strawberries are full of soluble fiber so they are great for getting the digestion moving. A healthy gut helps promote weight loss," says Becs. "Plus the fatty acids found in coconut can reduce appetite and increase fat burning, so this combination can help you lose weight.
"Coconut milk contains small amounts of MCT (medium-chain triglycerides) fats which have been shown by studies to increase metabolism and specifically help reduce abdominal or visceral fat."
Red Velvet smoothie
Ingredients and method:
2 cups coconut milk
2 cups of ice cubes
1/2 avocado
1/2 small beetroot
3 tbsp of cocoa or cacao powder
1/4 tsp vanilla extract
1 pear, chopped and deseeded
If you have a weak blender, cook the beetroot first for 20-30 minutes and allow to cool. Put all the ingredients into a blender and mix until smooth.
Becs says: "Beetroots are full of antioxidants and low in calories with virtually no fat, yet they are full of fiber, which is good for the digestion and can help aid weight loss.
"Naturally sweetened with pear, this creamy smoothie also has good fats from the avocado and the coconut can help crush cravings. It provides sugar for quick energy while the fat digests slowly – a winning combo that prevents hunger and cravings, keeping blood sugar levels regulated."
Get the Fit&Well Newsletter
Start your week with achievable workout ideas, health tips and wellbeing advice in your inbox.
Maddy Biddulph is a freelance journalist specializing in fitness, health and wellbeing content. With 25 years in consumer media, she has worked as a writer and editor for some of the bestselling newspapers, magazines and websites in the US and UK.
She is also a qualified L3 personal trainer and weight loss advisor, and helps women over 40 navigate menopause by improving their physical and mental strength. At Maddy Biddulph Personal Training, she runs one-to-one and small group training for menopausal women who want to get fit to ease symptoms and feel like themselves again.