The health benefits of carrots: 7 important reasons you should aim to eat more
They don't just help you see in the dark - our list of health benefits of carrots will convince you to make the most of this root veggie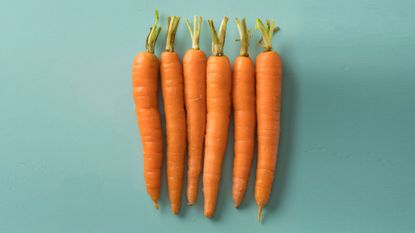 (Image credit: Getty Images)
If this list of the health benefits of carrots doesn't encourage you to include more of the root vegetable in your daily diet, nothing will. Although from the results of a recent survey, it doesn't sound as though many people need much convincing...
Researchers for the British Nutrition Foundation asked children and adults to name their three favorite vegetables. For children ages 5 to 17, carrots were the clear winner with over 65% picking the orange veggie. For adults, carrots were picked by 80% of those asked, ranking them second favorite - just pipped to the top spot by tomatoes.
But whilst they might tick all the boxes in the taste and texture department, carrots are healthy for you in numerous ways too. Packed with several important nutrients, studies reveal several health benefits of carrots, some of them pretty surprising.
Not only are carrots healthy, they are inexpensive and extremely versatile. Eat them raw, boiled, steamed, stir-fried, whole, chopped, julienne – they add color and flavor to any plate.
That said, when it comes to maintaining the beta carotene content of the carrot (one of their most valuable nutrients), a study published in the journal Food Science and Biotechnology found that raw carrots retained this compound better than any other cooking method.
This was also supported by another study which reported a decrease of beta carotene in carrots after boiling. A good tip would be make use of raw carrots in your next health boosting smoothie - just make sure your blender is up to the task! See our guide for the best blenders to whip up healthy smoothies, soups and juices.
But if cooked carrots are your preferred choice, fear not. Several studies, such as the ones published in the American Journal of Clinical Nutrition and European Journal of Nutrition have found that you can increase the absorption of beta carotene from cooked carrots by eating them with fats - so try drizzling them in olive oil, coconut oil or tossing in butter. Check out our guide to the best steamers for preserving the flavour, texture and nutrient value of your veggies.
So, what can we expect from including more carrots in our diet? Here are six amazing health benefits of carrots.
1. Full of important nutrients
Like all veg, an 80g serving of carrots – that's equivalent to one large carrot or three heaped tablespoons – counts as one of your five-a-day. Within that one serving you'll get about 8% of your 30g recommended daily amount (RDA) of fiber, 7% of your 40mg vitamin C RDA and 6% towards your 3,500mg potassium RDA.
But one of the biggest nutritional wins from a carrot is one of its many plant compounds – beta carotene. According to a study published in the journal Nutrition Research and Practice, carrots are the most important source of dietary beta carotene, and it's this compound that gives the carrot its distinctive orange color.
Once consumed, our bodies convert the beta carotene into vitamin A, with one 80g serving supplying more than twice the RDA of vitamin A needed by adults, which is 700 µg a day for men and 600 µg a day for women.
According to the NIH, vitamin A is essential in supporting the immune system, reproduction and vision (more on which below). It also helps organs such as the the heart, lungs and kidneys function properly.
What's more, according to the British Nutrition Foundation, vitamin A deficiency is a serious public health problem worldwide, and many children and adults have poor intakes of this nutrient.
2. Boost eye health
Your parents may have been on to something when they told you, "Eat your carrots, they're good for your eyes." Because it's true - carrots are one of the best eye health foods around.
In a study from Harvard University, researchers found that those who consumed the highest levels of beta carotene pigments had a 25 to 35 percent lower risk of the advanced form of age-related macular degeneration compared to those who consumed the least amount.
Another study from the University of California Los Angeles also found that women who consumed carrots at least twice per week had a 64 percent lower risk of developing glaucoma.
3. Anti-ageing properties
Thanks to their abundance of carotenoids like beta-carotene, lutein and alpha-carotene, carrots are great for protecting against cellular damage from free radicals, slowing down the cellular aging process.
But as well as fighting free radicals, carrots also offer protection against another sign of ageing – inflammation.
In a study published in the journal Phototherapy Research, researchers found the anti-inflammatory benefits of carrot extract to be significant even when compared to anti-inflammatory medicines like Ibuprofen and Aspirin.
4. Anti-cancer properties
Research from the American Institute for Cancer Research shows eating carrots may decrease your risk of developing mouth, oesophagus, lung, stomach, and other cancers. In a recent study published in the journal Nutrition, researchers found that diets with a carrot intake of 2–4 carrots or more each week had a 17% decrease in risk of colorectal cancer.
Another dietary study published in the American Journal of Clinical Nutrition also concluded that eating a diet rich in lutein, a compound found in carrots, can help protect against colon cancer.
This cancer-protective effect was also seen in a meta-analysis study from the Journal of the National Cancer Institute, which looked at the effect of blood carotenoid levels on breast cancer risk. Researchers found that women who ate a diet that included plenty of carrots – a good source of carotenoids such as beta carotene and lutein - had a reduced risk of breast cancer.
Meanwhile, another study from the European Journal of Nutrition also found that men who ate carrots at least three times a week were 18 percent less likely to develop a tumour.
5. Improve oral health
Crunchy, firm vegetables like carrots act as natural abrasives and help to scrape off plaque and food particles from your teeth. In a study from the journal Physiology & Behaviour crunchy veggies like carrots and celery were also found to greatly increase the production of saliva, which studies show can help clean away trapped food and neutralise the bacteria that can cause cavities and bad breath.
The high fiber content of carrots also offers oral-health benefits. In one lengthy study published in the Journal of the American Geriatrics Society, researchers tracked the diets of nearly 630 men, over an average period of 15 years, to see whether certain fibre rich foods were able to reduce gum disease.
Once the review was over, researchers found that carrots and other high-fibre foods did help to decrease gum disease and oral-health issues in men, particularly in those who were over the age of 65.
6. Help protect the heart
In a study published in the British Journal of Nutrition, researchers categorized intake of fruits and vegetables into four color groups: green, orange/yellow, red/purple, and white. Of the four categories, foods with deeper shades of orange and yellow, particularly carrots, were found to be the most protective against coronary heart disease.
7. Boost brain health
Brain feeling foggy? Chew on a carrot. In one study published in the British Journal of Nutrition, researchers conducted a range of tests into the relationship between high plant food intake and cognitive function. Of all the plant foods tested, they found that carrots in particular had one of the greatest positive effects on cognitive performance.
Research from the Journal of Alzheimer's Disease also suggests that beta carotene in carrot juice may boost brain function and reduce the risk of Alzheimer's disease, whilst a study published in the Journal of Agriculture and Food Chemistry found that daily consumption of carrots can help reduce the risk of stroke by 68%.
Get the Fit&Well Newsletter
Start your week with achievable workout ideas, health tips and wellbeing advice in your inbox.
Angela has been a health writer for over 10 years, contributing to a range of online and print publications including Women's Health, Women's Fitness, Your Fitness, Top Santé, Healthy, and Good Housekeeping. She writes about all aspects of health and wellbeing, with a special interest in nutrition and the therapeutic application of food. A qualified nutritionist and a recipe developer, she is the founder of Dara Dara Nutrition and has developed recipes for titles including GoodtoKnow. In her spare-time she likes to throw netballs, hula hoops and yoga poses (or what poses as yoga!) and has recently taken to the bass guitar. Fortunately for her neighbors, she's invested in some headphones.