7 ways to practice hygge to help you through the pandemic
What the world needs now is the Scandi art of hygge, in all it's cosy, comfy, health-boosting glory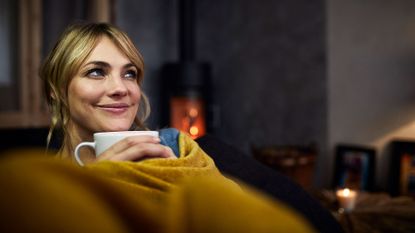 (Image credit: Getty Images)
When the world outside turns cold and dark, crank up the cosiness in your life with the help of a little Scandinavian hygge.
Pronounced 'hoo-gah' (in case you were struggling), hygge is the lifestyle trend that Scandinavians swear by, which roughly translated means 'cosiness' or 'comfort'. And considering that Denmark and Norway (where the concept is most prevalent) have consistently been in the top five of the World Happiness Report's annual 'happiest countries' list since 2013, there must be something in it.
Dr Melanie Wynne-Jones says there's plenty to back up claims that hygge helps make you happier. 'Hygge links to several psychological therapies that boost our mood – such as mindfulness – make us feel more valued and helps us focus on the things that make us happier.'
It has other health benefits, too. 'By slowing us down, it can lower our stress levels and reduce our risk of cardiovascular disease,' says Dr Mel.
And, with so many of us increasingly confined to our homes and feeling overwhelmed by the challenges posed by the coronavirus pandemic, now is the perfect time to introduce a little hygge into your life. Here are seven ways to do just that this winter.
1. Make the 'everyday' special
'Hygge is good for your emotional wellbeing, as it's about being kind to yourself – loving yourself and others,' explains hygge expert Meik Wiking from the Happiness Research Institute in Copenhagen.
'Perhaps Benjamin Franklin said it best: "Happiness consists more in small conveniences or pleasure that occur every day than in great pieces of good fortune that happen but seldom".'
To put this into practice, add a touch of comfort to your daily routine and take time to savour the moment. It doesn't have to be something grand or costly. Try simply setting the table for tonight's dinner with your best crockery, or adding your favourite bath oil to the tub when you take a soak.
Whatever you do, be sure to live the experience 'mindfully' by concentrating on the physical sensations around you – the tastes, smells, sounds and feel of things.
2. Light some candles
The Danes burn more candles per person than anyone else in Europe according to the European Candle Association, each getting through a whooping 13lbs of candle wax a year.
Candlelight is a great way to soothe the senses – particularly on these cold, dark winter nights – and plumping for a scented one can give an added health boost. Smells stimulate nerves in the nose that send messages to your brain's limbic system, which helps control heart rate, blood pressure and breathing. Try lavender, vanilla or jasmine for their calming properties.
Just be sure you burn candles long enough to allow the whole surface around the wick to liquefy. This avoids the formation of that annoying tunnel in the middle of your candle, which will affect how it burns.
And remember, never leave a burning candle unattended. Alternatively, invest in one of the best diffusers for essential oils to get the same scent sensation without the naked flame.
1. Invest in blankets and bed socks
Feeling snug in bed can reduce your risk of waking in the night because you're cold.
It's particularly important to keep extremities toasty, as sleep expert and physio Sammy Margo explains: 'A study at the Sleep Laboratory in Switzerland found that as the body winds down for sleep, its temperature regulation system redistributes heat from the core to the extremities.
'Having cold feet demands more from this system and upsets the release of sleep/wake hormone melatonin. Cashmere socks are best for their natural heat regulating properties.'
4. Embrace the great outdoors
Denmark gets cold come winter (the average temperature in January and February is 32 degrees Fahrenheit - just over zero degrees Celsius), but the Danes still enjoy an outdoors lifestyle. So don't resist the season; instead, pull on your coat, hat, gloves and scarf and head out for a bracing walk.
Regular walking has been shown to reduce your risk of chronic illnesses, such as heart disease, type 2 diabetes, asthma, stroke and some cancers. Plus walking to lose weight can be effective too. But to be of benefit it needs to be of moderate intensity - which means faster than a stroll.
 So make sure you pick up your pace where possible (most of the best fitness trackers feature heart rate monitoring to help with this) and try to get out for half an hour at least five days a week for a (socially distanced) walk.
5. Play games with family and friends
At the heart of hygge is a feeling of connection and belonging - something that is super important right now. Set aside dedicated time to turn of the TV and instead play games with the other members of your household to strengthen that sense of togetherness. It can be cards, or board or parlour games (chess is particularly on-trend right now, thanks to Netflix's latest hit The Queen's Gambit) - just make sure you switch off screens and focus on enjoying the moment.
And don't be afraid to dish out plenty of hugs to the winners - and losers! - in your social bubble. 'Touch releases the neurohormone oxytocin, which makes us feel happy and reduces stress, fear and pain,' explains Meik.
If you're separated from your loved ones, organise regularly Zoom calls and take it in turns to play quiz master instead.
6. Make your home hygge-friendly
The Danes call it hjemmehygge (home comfort) and it's central to social life in Denmark.
Meik explains: 'Every home needs a hyggekrog, which roughly translates as 'a nook'. It's the place in the room where you love to snuggle up in a blanket, with a book and a cup of tea.'
And make sure you bring nature indoors (think bowls of pine cones or pebbles), and have items in your home that not only look good but are good to feel – let your fingers run across a wooden table or your hands cup a warm ceramic mug.
7. Feast on 'feel-good' comfort foods
Homemade shepherd's pie, a pot of slow-cooked chilli, a bowl of warming soup... There are plenty of warming and nutritious dishes to nourish you on a cold winter's day - both in terms of nutrition and your emotional wellbeing.
For Scandis, the best way to start is often with a bowl of steaming hot porridge. 'Porridge isn't only warming and comforting, it's also a good source of slow-release energy and supports healthy digestion,' says nutritionist Cassandra Barns.
'The beta glucan fibre in oats can help keep cholesterol in check, too. It's the perfect wholesome comfort food.' Top with some fruit for added sweetness and nutrients.
Get the Fit&Well Newsletter
Start your week with achievable workout ideas, health tips and wellbeing advice in your inbox.
Tanya has written about health, fitness and lifestyle for the past 20 years. She is currently Health Editor of Woman's Weekly and writes regularly for women's lifestyle titles including Woman & Home, Woman and Woman's Own. She has also written for newspapers such The Express and Australian titles where she spent a year travelling and working. Tanya is an avid runner, and is a particular lover of parkruns and half marathons. She completed the London Marathon in under four hours – but that was 20 years ago, and she hasn't been brave enough to run that far again since. Although she thinks next year might be time! She's also a keen tennis player and walker who has climbed Kilimanjaro and the UK's three highest peaks (Ben Nevis, Snowdon and Scafell Pike). Post-lockdown, Tanya walked half of the 100-mile South Downs Way, "dragging" her family - two teenage daughters, one husband and a loopy Weimaraner called Luna - with her. She plans to walk the other half soon – when the rest of the family are back talking to her!