6 Instagram fitness stars that'll help you hit ALL your #BodyGoals
Want to firm up your thighs, trim your tum, or tone up all over? Look no further than these inspirational Instagram fitness accounts...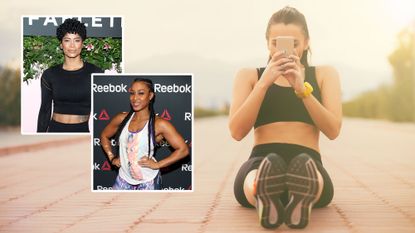 (Image credit: Getty Images)
When you're following a fitness regime, a little inspiration can go a long way - and Instagram can play an important role in this.
If you've ever scrolled through the #fitspiration hashtag or followed a fitness influencer, then you'll no doubt have experienced that for yourself.
Indeed, a 2016 study published in the journal BioMed Research International monitored the activity levels of two groups of students - one who had an Instagram account that was used as a motivational tool, and another who did not. The results shows that the former group were completed almost three-times more workouts than the latter over the course of the study.
With that in mind, below we've listed six Instagram fitness stars that will provide all the inspiration you need when it comes to your specific #BodyGoals. Whether you're wondering how to get abs or stronger legs, want to tone and lose weight on your arms or otherwise, give these fit women a follow...
All-over #BodyGoals: Alexia Clark (2.1m followers)
Follow: @alexia_clark
It's true what her bio says; Alexia is the queen of workouts. Her profile is full of amazing fitness videos, demonstrating just how she keeps that awe-inspiring figure in tiptop shape.
Need inspiration to start that new fitness routine? Look no further. Her abs are enough motivation to get us dropping down and doing a burpee.
Alexia says: 'Five seconds in the mirror; that's the max time you should spend checking progress. The more you analyze your body in front of the mirror, the harder you are going to be on yourself.'
#BackGoals: Hannah Anderson (29k followers)
Follow: @hannahandfitness
You won't be giving this Insta star the cold shoulder – fitness blogger Hannah is always updating her followers with her workouts and delicious recipes.
One thing she's spent a lot of time honing is her back and shoulders, and it's boy does it show. When it comes to how to do pull-ups and deadlifts, this woman is the one.
Hannah says: 'Give it your best shot, beat through the mindset that you "can't", don't compare yourself to others and most importantly have fun.'
#ArmGoals: Lita Lewis (546k followers)
Follow: @followthelita
Fitness and wellness coach Lita advocates regular movement - a sound mantra, but what's most impressed us is her incredible arms. The Openfit ambassador loves a good dumbbell arms workout, typically grasping a rather intimidating 20kg weight. If your own arms aren't quite ready to take on that sort of challenge, invest in a set of adjustable dumbbells that you can add and reduce the weight off as your ability allows.
Lita says: 'We tend to focus a lot of our energy towards changing our physical appearance but here's a wild thought, when was the last time you asked yourself how you FEEL??? I'm convinced that how you actually feel is so much more important than how you appear.'
#LegGoals: Massy Arias (2.8m followers)
Follow: @massy.arias
Health coach and ultimate yummy mummy, Massy's Instagram is full of fantastic (and seriously tough) workouts that she fits around looking after her adorable little girl – proving that there is never an excuse to not fit in a killer workout. And with legs like Massy's on our Insta feed, it's all the toning inspiration we need to get us to make that extra effort.
Massy also shares some delicious and nutritious recipes on her page, to make sure her followers are keeping fit and healthy in every aspect of their lives.
Massy says: 'What does being fit mean to you? Is it having endurance, strength, agility, mobility, flexibility, balance, is it having muscles and low body fat, or the body awareness of a dancer? To me, being fit comes in so many different ways. If you have a body, you, my friend, are an athlete.'
#AbGoals: Carly Rowena (170k followers)
Follow: @carlyrowena
Carly is one of the UK's top fitness bloggers, and her abs will inspire you to sprint to the gym before you finish reading this sentence – we're putting on our workout shoes on just thinking about it. Give her a follow for some true motivation, positivity and great workout tips – and the best reason to crank up your workouts and give some advanced ab exercises a go.
Carly says: 'When I first joined the gym it was because I had this unrealistic idea of perfection in my head. I thought that for some reason punishing myself on the treadmill would make me like myself more, WRONG. Then one day I discovered weights and within a short amount of time I felt stronger, powerful, independent and capable of anything. From that day onwards, my mind and my body have been in sync.'
#BootyGoals: Kaisa Keanen (1m followers)
Follow: @kaisafit
Kaisa is a personal trainer, fitness educator and influencer, who is all about getting people to enjoy movement. While her whole figure is incredibly toned, it's her dream derrière that has got us re-committing to our 30-day squats challenge.
Above all, Kaisa shows how much fun you can have when you're doing it. Her strength is also backed up with a wealth of knowledge, so you know you're getting advice that will really work, so give her a follow.
Kaisa says: 'Over the past 10 years I have dedicated the majority of my life to learning about the human body. From going back to school and getting my Masters in Sports Performance to mentoring under some of the most intelligent trainers in the industry, I have been on a mission to understand the human body and, more importantly, my own body.'
Get the Fit&Well Newsletter
Start your week with achievable workout ideas, health tips and wellbeing advice in your inbox.
Emily is a writer with plenty of experience in women's lifestyle. She has written for titles including Now, Look, and Woman's Own about health and fitness; from the ideal home workouts and combating everyday ailments to boosting your wellbeing and mental health. Fitness-wise, she has always enjoyed a healthy competition in netball or football, and is keen on her walking, running and spinning classes. Emily's top fitness tip? The best workout partner is an outstanding playlist - it'll help you power through those my-muscles-are-turning-to-jelly moments.