'I tried laughter yoga to see if it made me happy - here's what happened'
Fans rave about the benefits of laughter yoga - but would it put a smile on our writer's face, or just end in awkwardness?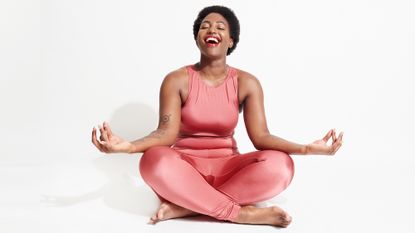 (Image credit: Getty Images)
No one would describe me as an extrovert, so when my editor suggests I give laughter yoga a whirl, I quietly lower my head and pretend to carry on typing.
I've a vague idea it involves fake guffawing in front of a group of strangers. Laughter yoga is said to beat stress, boost mood and give you a bit of a workout, and Oprah and Goldie Hawn are fans, but I don't think it's my cup of tea. I'd prefer to use my best yoga mat for actual yoga - or so I think.
When I turn up at Nargis Ahmad's class on a Monday morning, I'm greeted by several members with warm hugs – no handshakes here (I should note that classes became virtual in the wake of the coronavirus pandemic). One new member and I bond over shared fears of shedding our shyness and letting go.
The laughter yoga warm-up
We start with simple arm swinging and deep-breathing warm-up routines. So far, so bearable. Then we do the 'throwing out' exercise, swinging alternate arms across our bodies and punching them forwards (as if we are physically hurling our negative thoughts away), while making a whooshing noise. I find it quite therapeutic, but am suspicious Nargis is easing us in.
Then out come the balloons, the idea being that these add fun and energy to the class. We throw the balloons into the air and with every pat we're told to let out a 'ha', 'he' or 'ho'. With no eye contact needed, I try to ignore everyone around me and focus on my balloon.
The belly laughs section
Next up it's the belly laughing segment of the class, which is more the sort of thing I was worried about.
We're asked to walk around the room, holding our stomachs and forcing out hearty laughs while – cringe! – making eye contact with everyone. This not only increases oxygen supply around the body, but also relaxes the facial muscles, which can become tense when we're anxious. What's more, like genuine laughter, it releases mood-boosting endorphins.
I'm so out of my comfort zone. I nervously let out timid giggles as I creep around. But when one regular member mouths 'we're mad, aren't we?' I genuinely crack up and start to relax. The 'madness' is starting to feel invigorating.
Learning to let go
Halfway through the hour-long class my inhibitions start to disappear. When we perform 'catching a laugh' (reach your hands into the air while laughing), then mimic pure excitement by jumping around the room giggling, I've completely thrown myself into it.
With all this moving and energetic guffawing I'm getting a cardio workout, too – apparently just 10 minutes of hearty laughter is roughly equivalent to 30 minutes on the rowing machine.
We finish the session with relaxation and meditation, calming the mind with deep breathing. Bliss!
Laughter yoga: my verdict
Laughter yoga is based on the belief that forced laughter provides the same mind and body benefits as spontaneous laughter. And it's true – despite faking laughter for the majority of the class, I still have that feel-good boost you get from watching your favorite comedy box set.
While the jury's still out on the claimed positive effects on arthritis, asthma and diabetes, I can attest to its stress-beating and energy-boosting properties; my mind and body feel relaxed and it's a great way to let off steam.
I head to work in high spirits – and with balloons popping out of my work bag, I definitely feel I'm taking the joy with me!
Visit nargisahmad.co.uk/laughter-relaxation-group for more information. Find a laughter yoga class at meetup.com/topics/laughter-yoga.
Get the Fit&Well Newsletter
Start your week with achievable workout ideas, health tips and wellbeing advice in your inbox.
Natalia is a health and fitness journalist who has written for the likes of Woman & Home and Marie Claire, and likes to practice what she preaches when it comes to staying fit and well. She loves the outdoors and would happily swap the treadmill for the trail at any opportunity. As such, in her free time you'll likely find her up a mountain somewhere. She has hiked eight of the major mountain ranges across four continents, including the Appalachians, the Smokies, the Sierra Nevadas (where she hiked to the top of Half Dome during her honeymoon) and the Atlas Mountains, as well hitting the summits of Snowdon and Pen-Y-Fan (Brecon Beacons), Table Mountain in South Africa and the Blue Mountains in Australia. She was also a fencer for 13 years, wielding an epée for Team GB during her teenage years. Having recently welcomed a baby, Natalia is currently getting back into her fitness routine, and has her sights set on completing a triathlon, something she and her husband started out on before their bundle of joy arrived.