Love Island's Laura Whitmore on social media and keeping fit in lockdown
Love Island presenter Laura Whitmore talks fitness, yoga and how to keep your social media use healthy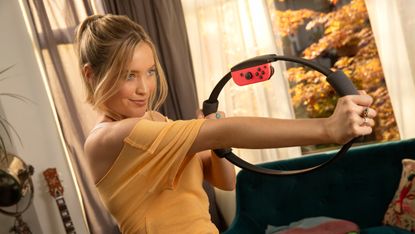 (Image credit: Nintendo)
Between shooting Love Island, writing a book and becoming the new face of Nintendo Ring Fit Adventure, model and presenter Laura Whitmore is a very busy person. She sits down with Fit&Well to tell us how she stays healthy, why she has no workout routine, and how to maintain a healthy relationship with social media – even when it's the only relationship we have to the outside world during lockdown.
F&W: You're obviously a very busy person with a lot of projects on the go. How do you balance that and take the time to keep fit?
LW: I didn't have a lot of routine in my life before lockdown, so I have to keep things in my life that fit around my schedule. I love running, so I used to throw my trainers in my bag and get on with my day, especially when I was working with MTV or ITV in Australia or Cape Town. I could finish a day at 10pm and go for a run, or get up at 5am and go for a run before shooting started.
Because I like things that fit into my schedule, home workouts like yoga have always been a priority for me. I can just roll out of bed, do it for 10 or 20 minutes, then have a shower and a coffee. I can't drive to the gym on Tuesday at 5pm every week, so I have to jump in and find opportunities to do things whenever I can.
F&W: What's your main goal when working out?
LW: For me, a lot of working out is to do with my mental well-being and having time away from my phone. It clears my head. That's why I like yoga, too: it's something that takes my mind away from everything else that's going on in my life.
I need purpose when I work out. So when you do yoga, the more you do it you're like, "Oh, I can touch my toes before, I couldn't get my leg there before and I can now". That progression is quite nice to see, and it gives you that little bit of motivation to carry on.
F&W: You're working with Nintendo on Ring Fit Adventure right now. Do you think some people can be a little intimidated by the idea of working out?
LW: I definitely think so! The first time I moved to London, I joined a North London where everybody looked like gods and goddesses. I thought: "I came to the gym to not feel like I'm being judged." Not that they were actually judging me, but I definitely felt that. So I definitely like working out at home.
The other important part is finding the exercise that works for you. I'm no use at weights at all – I'm just terrible, I have no upper body strength! But I'm quite flexible and I can run. It's important to make exercise fun, and you have to make it accessible to everybody. This is why Ring Fit Adventure works, it adjusts to your fitness level and you can see that progression as you go on.
F&W: In the past, you've talked about trying to achieve a balance about social media use. How do you go about doing that?
LW: It's all about balance. For my work, I need to be on my phone – it's how I put out information and talk to my audience. But I also am just a person, and sometimes it's nice to have a day off.
During lockdown, I really leaned on my social media because it was my connection to the outside world. However, I have to say to myself: "Okay, if I'm having a day off, or having dinner with my partner or my family, I need to leave it in the other room". I think I'm still trying to work out that balance.
F&W: People often have the difficulty of comparing themselves to people they see on social media, and framing their progress in a negative way because of it.
LW: You're never going to get a real representation of someone from an Instagram grid. It's not real life. I'm the same: I try and be as honest and as authentic as possible, but there's been times I put up pictures of myself looking happy, when it's been a really sad time.
"Everyone else is better than you, or thinner than you, or more successful than you. Look at that picture on Instagram". Nobody knows the fight someone else is going through behind the scenes. I think we're getting used to that now, but we need to stop comparing ourselves to other people [on social media].
I'm actually writing a book at the moment, which is coming out next year, and I did some research into the imposter syndrome. I've interviewed so many people over the years, from movie stars to rock stars, and everybody feels like that. They all say "I don't know how I got here".
F&W: What's your fitness been like in lockdown?
LW: I think we've learned during lockdown that working out at home can be for the whole family, and you don't have to spend a fortune to get fit. Go for a run, play a game, do something in your living room. You don't have to go to an expensive studio, but if it works for you and you like going – I know I've gone to workout classes and I love them – more power to you. But you don't have to spend a lot of money to get fit.
A lot of people have learned to get fit without the the gym over the last six months. I was working out with my friend, and we were using tins of soup and filling up water bottles to use as weights, or doing back presses against the sofa. Even now, when playing the Switch, I don't need the newest sports gear to be doing it. You just have to find what works in your life.
F&W: Finally, what does your day-to-day diet look like?
LW: There's no consistency at all! One week I'm so good, and then the following week I'll have a packet of biscuits for breakfast (not that I recommend this!). I've had days where I'm in studio for hours, and a shoot over runs, and I decide "You know what? I need Haribo". That's okay. Because tomorrow will be a better day.
I'm all about balance: if I hit the sugary food too much, then I might decide not to have a glass of wine that evening. It's very important to me to keep that positive relationship with food, making sure you're not feeling guilty. If I stop myself from having something, I will crave it more and I'm more likely to binge.
I do feel though, however, if I work out in the morning, it changes my mindset for the day, I'm more likely to be healthier if I've made the effort in the morning.
Liked this?
Get the Fit&Well Newsletter
Start your week with achievable workout ideas, health tips and wellbeing advice in your inbox.
Matt Evans is an experienced health and fitness journalist and is currently Fitness and Wellbeing Editor at TechRadar, covering all things exercise and nutrition on Fit&Well's tech-focused sister site. Matt originally discovered exercise through martial arts: he holds a black belt in Karate and remains a keen runner, gym-goer, and infrequent yogi. His top fitness tip? Stretch.