'I started meal prepping and it changed my life for the better'
Our busy writer tries discovers the benefits of meal prepping, including healthier eating and less food stress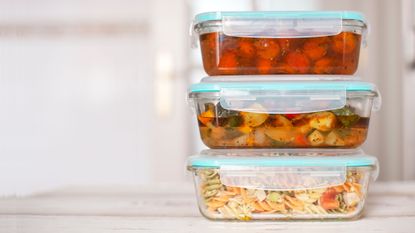 (Image credit: Getty Images)
Over 13 million posts on Instagram are devoted to #mealprep so it's clearly a pretty big deal.
Making food ahead of time so you aren't spending a fortune at a take-out spot may sound mundane. But in the wellbeing world, it means prepping healthy meals for the next three to five days, to ensure you don't eat unhealthy - often sugar and fat-laden foods. But it takes time, patience and a ridiculous amount of Tupperware!
As a busy woman (as well as my day job as a health and fitness editor, I also lead fitness classes before work and in the evenings), I figured meal prep would help me stay healthy, swerve sugar cravings and save me time during the week.
Armed with lots of Insta inspiration, a stack of leftover takeaway boxes and a week's supply of food, I set to work...
My meal prepping experience
It's Sunday afternoon so I'm blessed with time, as I cook four portions of chilli for my weekday lunches. A 500g pack of mince goes in the pan, along with two sliced onions, two tins of chopped tomatoes and a tin of kidney beans.
I want rice too, so I leave it cooking on the stove. Oh, and don't forget the veg – for me, kale, broccoli and carrots have to play a part in this. I use my best steamer to prep them, as steaming is one of the best ways to retain the nutrients.!
Next up, breakfast. You could opt for overnight oats; easy and carb-rich – great for refuelling after a workout. Me? I eat tinned sardines on the daily with veg and seeds.
I open four tins of sardines. The first is scooped out into a Tupperware, mashed a little with herbs and spices. The others are scraped out, chucked in a box and left unmixed with cumin and turmeric on top.
I had dinner plans sorted so it was just snacks – my weakness. Carrot sticks sliced up, and nuts and rice cakes decanted from big packs into small bags.
The cooked food ready, I divide it into the waiting boxes and leave it to cool, while the sink looks like a massacre of pans, cutlery, chopping boards. But, I'm finally done
My meal prepping verdict
There's a lot of pros and cons to food prep, obvious ones being: Pro = the food, Con = the making. But the biggest pro was the amount of time saved in the week. When I got in at 9.30pm, I wasn't fretting about the next day's food and waking up in the morning was a simple grab 'n' go before leaving the house.
If you're trying to figure out how to eat healthily, food prepping is a savior on that front too. One study found that those who plan their meals are less likely to be overweight or obese, and I definitely found that I was conscious of preparing healthy meals.
It also meant that sugary office snacks weren't even tempting – I had my own healthy snacks. Oh, and I knew that all my meals contained nothing processed or unnatural.
The only downside is my Sunday afternoons are no longer a lazy affair. Now they're filled with food shops and cooking – and a messy kitchen! However, it's time well spent; another study found that being short on time was one of the most significant barriers to achieving a healthy diet.
Top meal prepping tips
Think about your prepping methods to ensure you choose the healthiest ways to cook. In addition to steaming vegetables, I prefer to grill lean meats such as chicken and fillet steaks. The best grills - such as the Tefal OptiGrill+, our number one choice - are heaven sent in this respect.
If you've got the freezer space, buy your meat and fish in bulk from your local butcher or fishmonger, or an online delivery service such as Butcher Box. This will take the stress out of your food prepping.
Similarly, you could also consider using on the best food delivery boxes. These companies deliver everything you need to make delicious and nutritious meals right to your door - all you have to do is prep them. Opt for family-size portions to make enough servings to see you through a week.
Lucy is a freelance journalist specializing in health, fitness and lifestyle. She was previously the Health and Fitness Editor across various women's magazines, including Woman&Home, Woman and Woman's Own as well as Editor of Feel Good You. She has also previously written for titles including Now, Look, Cosmopolitan, GQ, Red and The Sun.
She lives and breathes all things fitness; working out every morning with a mix of running, weights, boxing and long walks. Lucy is a Level 3 personal trainer and teaches classes at various London studios. Plus, she's pre- and post-natal trained and helps new mums get back into fitness after the birth of their baby. Lucy claims that good sleep, plenty of food and a healthy gut (seriously, it's an obsession) are the key to maintaining energy and exercising efficiently. Saying this, she's partial to many classes of champagne and tequila on the rocks whilst out with her friends.