Real life weight loss: 'I lost 90lbs and eight dress sizes - here's exactly how I did it'
Aged 51 and a US size 18, mum-of-four Sarah Blackwell joined a gym and dropped an incredible eight dress sizes - here's how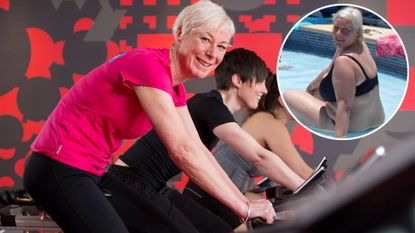 (Image credit: Future)
Get the Fit&Well Newsletter
Start your week with achievable workout ideas, health tips and wellbeing advice in your inbox.
Thank you for signing up to Fit And Well. You will receive a verification email shortly.
There was a problem. Please refresh the page and try again.
As the runners around me surge forward, I begin to move. My body feels fit and strong and I'm buzzing with excitement at the challenge of the 5km run ahead. It's hard to believe that just a few years ago I was over 85lb (6st) heavier.
During my teens my weight fluctuated. I went from suffering with an eating disorder at 13 to having a strong, lean body a few years later after working at a circus. My body changed again in my early twenties when, after meeting my then husband John, I had three children in quick succession – Joe, now 34, Aaron, 32, and Elly, 28 – and piled on the pounds.
Hitting the scales at 182lb (13st) after my daughter was born, I knew I needed to change. I cut down on carbohydrates and kept fit by practising my past circus skills, such as juggling. Aged 25, I became an outdoor instructor, running a programme for disadvantaged women, which helped keep me trim.
In the early 90s, John and I sadly split. But embracing the change, I gained qualifications in mountaineering, climbing, caving and canoeing, as well as a degree in Countryside Recreation Management. My love life picked up, too – in 1995 I met someone new and in 1998 we had a son, who's now 21.
Feeling happy, fit and healthy, my weight was a stable 133lb (9st 7lb). I even fulfilled a childhood dream, opening Forest Schools Kindergarten, a nursery in Sheffield where 80% of the children's time is spent outdoors.
Relationship difficulties saw me turn to food for comfort. With business going well, I should have been on top of the world, but my busy schedule began to impact on my home life. Bringing up four children was stressful and our relationship hit a bump in the road.
I gorged on carbs and knocked back a bottle of wine every night. My weight crept up and by 2014 I was (210lb) 15 stone.
Splitting from my partner in 2015 was a frightening step. Aged 50, I was single and overweight. I hardly recognised myself. I hated going out – even avoiding an old friend when she flew over from the US. I convinced myself I was too old to change my ways.
My daughter Elly disagreed. To show me what I was missing, she persuaded me to go and watch her compete in a triathlon. Although I felt unfit and lethargic, the energy and enthusiasm of the participants was contagious. I knew then that I wanted to change, but I didn't know where to start.
To get me going, Elly bought me some personal training sessions. I was delighted but daunted and dreaded my first one. But Alex, my PT, was so kind and encouraging, and with his help I began running and completing HIIT workouts, training with dumbbells and barbells. It was intensive but I loved it.
As well as stepping up my exercise, I improved my diet. I cut my portion sizes in half, cut out refined sugar and cut down on grains, following a Paleo regime. I even quit smoking – a habit I'd taken up over 40 years ago. After about six months I'd dropped to 168lb (12st). Then, in February 2016, Elly encouraged me to try a 5K Parkrun. Embarrassingly, I only managed 50 metres before I was completely out of breath. This only made me more determined. I stuck to my diet, worked harder in my PT sessions, started to swim regularly and also took up spinning.
Spinning helped me boost my strength and stamina. At first, the classes were exhausting – everyone else was speeding up and adding gears, while I was sweating and almost crying! But listening carefully to the instructor, I learned to pace myself, engage the correct muscles and increase my speed. Spinning three to five times a week, I felt fitter and stronger and the pounds kept dropping off.
In the September I signed up to another 5K run and completed it in 25 minutes. I was ecstatic.
A year and a half on from Elly's thoughtful gift, I couldn't believe it when I signed up to do the Edinburgh half-marathon, and also a triathlon! It's incredible to think how far I've come. I feel fit and healthy and I'm so proud of what I've achieved.
Excitingly, I've even become an inspiration to others. A friend I met on holiday towards the start of my journey has a picture of me on her fridge to motivate her own weight loss. I truly believe that if I can get myself back from the state I was in in 2015, then anyone can do it. You just have to take that first step.'
Get the Fit&Well Newsletter
Start your week with achievable workout ideas, health tips and wellbeing advice in your inbox.
Lucy is a freelance journalist specializing in health, fitness and lifestyle. She was previously the Health and Fitness Editor across various women's magazines, including Woman&Home, Woman and Woman's Own as well as Editor of Feel Good You. She has also previously written for titles including Now, Look, Cosmopolitan, GQ, Red and The Sun.
She lives and breathes all things fitness; working out every morning with a mix of running, weights, boxing and long walks. Lucy is a Level 3 personal trainer and teaches classes at various London studios. Plus, she's pre- and post-natal trained and helps new mums get back into fitness after the birth of their baby. Lucy claims that good sleep, plenty of food and a healthy gut (seriously, it's an obsession) are the key to maintaining energy and exercising efficiently. Saying this, she's partial to many classes of champagne and tequila on the rocks whilst out with her friends.